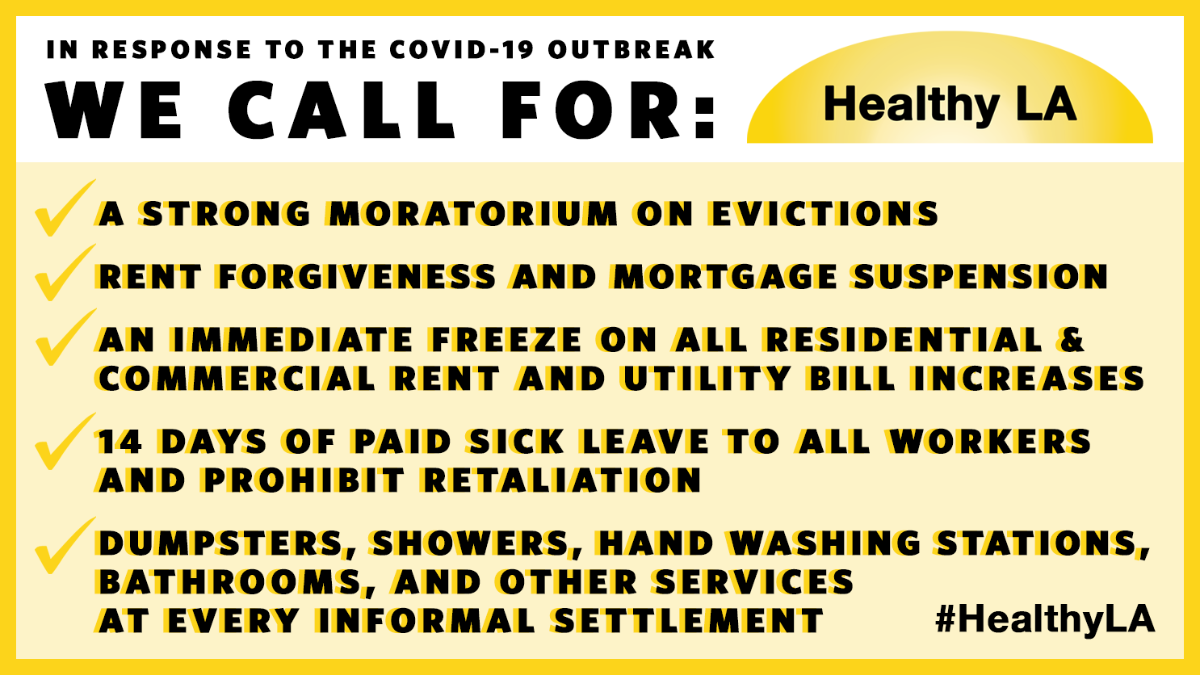 Time Range For Action Alert:
March 23, 2020

to

March 24, 2020
SIGN THE PETITION: Help Shape LA's COVID-19 Response
As COVID-19 triggers a national state of emergency, and a statewide call to stay home and stay sheltered, many Angelenos are forced to put their health on the line simply to keep a roof over their heads. 
Our city councilmembers have shown great leadership in their response to this crisis so far. In this precarious time, it's crucial that their next actions be bold, decisive, and for the good of our most vulnerable friends and neighbors. 
Click here to sign the petition and help shape LA's Covid-19 response.
We have joined over 150 other advocacy organizations, worker centers, labor unions, service providers, religious congregations, community groups, affordable housing developers, public interest lawyers, public health and safety organizations, and many more to form the Healthy LA coalition. 
We know that the economic and public health impacts of COVID-19 will be devastating for our most vulnerable communities. In Los Angeles, more than 60 percent of renters already spend almost a third of their household income on rent each month — and 57,000 people are without housing altogether. With the previously unthinkable restrictions that have now been placed on working Angelenos, countless more will soon be unable to stay in their homes or put food on the table. 
Sign the HEALTHY LA petition to clarify specific steps Los Angeles City Council should take to address these economic hardships. 
Everyone is affected by COVID-19 and our neighbors in crisis deserve more. All Californians need immediate action to protect our health and our livelihoods. Stay connected for updates on our county and statewide actions. 
Add your name to call on Los Angeles City Council to protect residents, renters, and houseless Angelenos.
Then call AND email your City Council member before this Tuesday's City Council meeting and urge them to take action. You can use the following script:
Hello, my name is [your name] and I am your constituent from [your neighborhood]. I am calling as part of the Healthy LA coalition to ask [councilmember's name] to enact stronger protections for our community in response to COVID-19 and to call on Council President Nury Martinez to hold an emergency City Council meeting this week to vote on these urgent policies.
Our families and vulnerable community members need immediate action to protect our health and our livelihoods. 
I urge [councilmember's name] to draft and support motions to: [select from below or refer to petition] 
Enact a strong moratorium on evictions related to both nonpayment of rent and the presence of unauthorized occupants and pets, as well as all "no cause" evictions. Nobody should be evicted during an emergency that requires people to shelter in place.

Implement an immediate freeze on all residential and commercial rent increases and LADWP utility bill increases in Los Angeles. Prohibit landlords from charging late fees.

Work with the State and financial institutions to continue suspending mortgage payments for homeowners and landlords, and forgive rent obligations for the duration of the crisis, including a recovery period after the state of emergency is lifted.
Provide 14 days of paid sick leave to all workers and prohibit retaliation against those who take it. Workers must feel safe to stay home through their illness for the public's safety.

Immediately supply dumpsters, showers, hand washing stations, bathrooms, vermin abatement, soap, and water to every informal settlement in Los Angeles. 
****
[Spanish Call Script]
Hola, mi nombre es [tu nombre] y soy tu constituyente en [tu vecindario]. Estoy llamando como parte de la coalición Healthy LA para pedirle [nombre del miembro del consejo] que promulgue protecciones más fuertes para nuestra comunidad en respuesta a COVID-19 y para pedirle al presidente del Consejo, Nury Martínez, que programe una reunión de emergencia del Consejo de la Ciudad esta semana para votar sobre estas políticas urgentes. 
Nuestras familias y los miembros vulnerables de la comunidad necesitan medidas inmediatas para proteger nuestra salud y nuestros medios de vida. 
Exijo al [nombre del miembro del consejo] a redactar y apoyar mociones para: [seleccionar a continuación o consultar la petición] 
Promulgar una fuerte moratoria sobre los desalojos relacionados tanto con la falta de pago de la renta como con la presencia de ocupantes y mascotas no autorizados, además de desalojos "sin causa". Nadie debe ser desalojado durante una emergencia que requiere que las personas se refugien en su hogar.

Implemente una congelación inmediata en todos los aumentos de renta residenciales y comerciales y aumentos de la factura de servicios públicos LADWP en Los Ángeles. Prohibir a los propietarios cobrar tarifas por pagos atrasados.

Trabaje con el estado de California y las instituciones financieras para continuar suspendiendo los pagos de la hipoteca para propietarios, y busque opciones para perdonar las obligaciones de alquiler durante la crisis, incluido un período de recuperación después de que se levante el estado de emergencia.
Brinde 14 días de licencia por enfermedad remunerada a todos los trabajadores y prohíbe las represalias contra quienes lo toman. Los trabajadores deben sentirse seguros para quedarse en casa debido a su enfermedad para la seguridad del público.

Suministre inmediatamente contenedores de basura, duchas, estaciones de lavado de manos, baños, eliminación de alimañas, jabón y agua a cada asentamiento informal en Los Ángeles. 
 LIST OF LA CITY COUNCILMEMBERS
Find your City Councilmember: neighborhoodinfo.lacity.org
Councilmember Gil Cedillo, CD 1
(213) 473-7001; Gilbert.Cedillo [at] lacity.org ()

Councilmember Paul Krekorian, CD 2
(213) 473.7002; councilmember.krekorian [at] lacity.org

Councilmember Bob Blumenfield, CD 3
(213) 473-7003; councilmember.blumenfield [at] lacity.org ()

Councilmember David Ryu, CD 4
(213) 473-7004; david.ryu [at] lacity.org ()

Councilmember Paul Koretz, CD 5
(213) 473-7005; Paul.koretz [at] lacity.org ()

Councilmember Nury Martinez, CD 6
(213) 473-7006; councilmember.Martinez [at] lacity.org ()

Councilmember Monica Rodriguez, CD 7
(213) 473-7007; couniclmember.rodriguez [at] lacity.org ()

Councilmember Marqueece Harris-Dawson, CD 8
(213) 473-7008; councilmember.harris-dawson [at] lacity.org ()

Councilmember Curren Price, CD 9
(213) 473-7009; councilmember.price [at] lacity.org ()

Councilmember Herb Wesson, CD 10
(213) 473-7010; councilmember.Wesson [at] lacity.org ()

Councilmember Mike Bonin, CD 11
(213) 473-7011; councilmember.bonin [at] lacity.org ()


Councilmember John Lee, CD 12
(213) 473-7012; Councilmember.Lee [at] lacity.org ()

Councilmember Mitch O'Farrell, CD 13
(213) 473-7013; councilmember.ofarrell [at] lacity.org ()

Councilmember Jose Huizar, CD 14
(213) 473-7014; councilmember.huizar [at] lacity.org ()

Councilmember Joe Buscaino, CD 15
(213) 4737015; councilmember.buscaino [at] lacity.org ()
Issues referenced by this action alert: