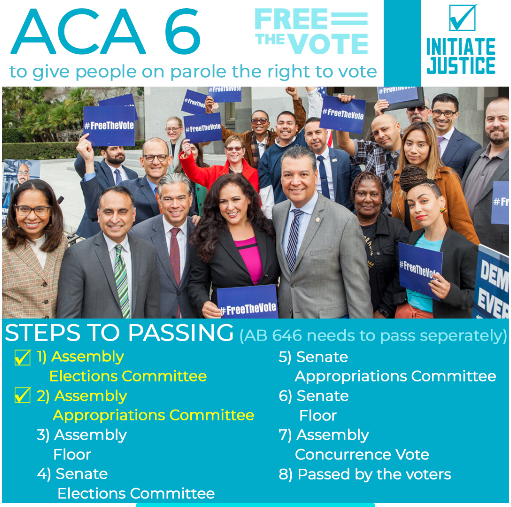 Time Range For Action Alert:
August 12, 2019
Dear League Members and Friends,
WE NEED YOU TO TAKE ACTION BEFORE AUGUST 12th..... !
LWV California is asking for our help to pass ACA 6 – a proposed constitutional amendment that will give Californians on parole the right to vote and allow those who have served their time the opportunity to re-integrate and re-engage in their communities.  Because it is a constitutional amendment, it needs a 2/3rds vote of the legislature to qualify for the March Primary ballot. 
Our coalition partners met with Assembly Member Cervantes last week.  Apparently, she would like to hear from her constituents before making a final decision. The Assembly re-convenes on August 12th.
We are asking those of you who live in AD 60 to contact her office and urge her to support ACA 6 before August 12th.  Also, if you have contacts in the district, or know of any local groups interested in this issue, we appreciate you forwarding this email to them.  ACA 6 Talking Points
Here is ASM Cervantes' contact form.  Simply fill in your information, paste a favorite talking point (or whatever you'd like to say) and submit.    
 LWV Riverside will be sending a letter to her office, but a quick note from her individual constituents might carry more weight.  LWV California is a co-sponsor of this measure - your efforts are greatly appreciated!
Joan Donahue, President
League of Women Voters Riverside
Issues referenced by this action alert: