Location
Hyatt Regency & Liaison Hotel
Washington DC
District Of Columbia
District Of Columbia US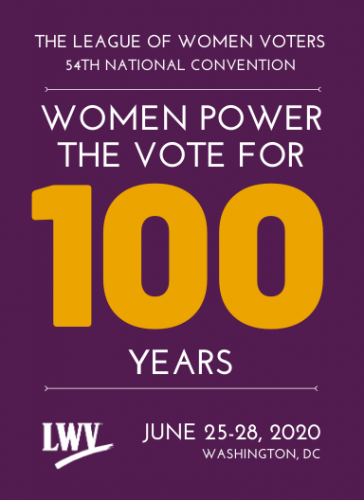 First Call: 2020 Convention 
THE LEAGUE OF WOMEN VOTERS' 54TH NATIONAL CONVENTION
JUNE 25 - JUNE 28, 2020

LWVNCA is proud to host the 54th Natiional Convention at the Hyatt Regency and Liaison Hotel - Capitol Hill in Washington DC. 
We invite our League members to save these dates and plan to join fellow passionate and engaged League leaders for our biennial national gathering to be held in Washington, DC in 2020.
Continue checking for new information and watch the bi-weekly League Update for Program information,  schedule at a glance, updated  information on registration, hotel lodging, DC attractions, and more.
To read the First Call, click here
 https://www.lwv.org/league-management/manage-your-league/council-convent...
Tags: