Location
Hyatt Regency on Capitol Hill
400 New Jersey Avenue, NW,
Washington, D.C.
District Of Columbia
20001
District Of Columbia US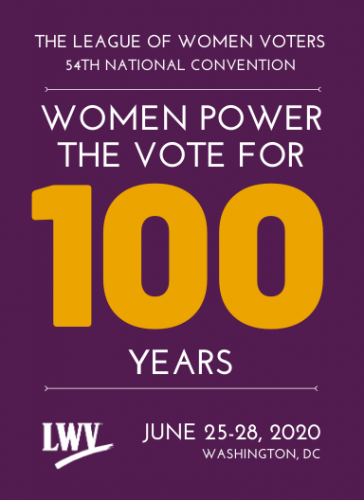 Thursday, June 25, 2020 - 8:30am

to

Sunday, June 28, 2020 - 12:00pm
Add to Calendar
2020 Convention   Will be virtual, click link for details 
This was far from an easy decision but with the health and safety of our members as our primary concern, we have decided to transition Convention to a virtual event
THE LEAGUE OF WOMEN VOTERS' 54TH NATIONAL CONVENTION 
JUNE 25 - JUNE 28, 2020
LWVNCA is sad to announce that due to the Covid-19 pandemic, the 54th National Convention will be taking place as a virtual event.  LWVUS will be providing details as they develop.  Check the Convention Page link (above and below) and the bi-weekly League Update for latest information.  We are so sorry we will not be able to see you "in-person" -- maybe next time!
Originally scheduled to take place at the Hyatt Regency Hotel on Capitol Hill in Washington DC, from June 25 to June 28, 2020 the following info is no longer operative. 
Rooms have been reserved at three DC hotels on Capitol Hill, all located within a block of each other, for the 2020 Convention: Hyatt Regency, Yotel Liaison Washington and Washington Court Hotel.  Reserve from the LWVUS Convention page, link below.
We invite our League members to save these dates and plan to join fellow passionate and engaged League leaders for our biennial national gathering to be held in Washington, DC in 2020.
----------------------------------------------------------
VOLUNTEER TO WORK AT CONVENTION!
LWVNCA is recruiting volunteers from D.C., Maryland & Virginia to help with running Convention. Use Sign-up Genius (SUG) to participate.  Here is information from Zaida Arguedas and Diane Kolb about how to work at the "2020 LEAGUE OF WOMEN VOTERS-100th ANNIVERSARY CONVENTION". Please click on the button below to view the online sign up sheet.
When the LWVUS Convention is held in Washington, League members from Maryland, Virginia, and the District of Columbia are called on to volunteer to help with many tasks. This historic Convention marks the 100th Anniversary of the League of Women Voters and It will take place June 25-June 28, 2020 at the Hyatt Regency Capitol Hill, 400 New Jersey Avenue, NW, Washington.
Everyone who volunteers will receive:
**One ticket to the Capitol Steps performance June 26
**$10 transportation stipend (hotel is convenient to Union Station metro)
**On the day that you volunteer, you will have the opportunity to sit in on an official session, hear debates and speakers.
SignUp Genius is a helpful recruitment tool, used for the last two national conventions, that enables you to select day(s), time(s) and the task(s) you would like to volunteer for. The early bird gets the worm, so the sooner you sign up the more likely you will be able to select the task, the day, and the time that best suits your schedule.
----------------------------------------------------------
PURCHASE TICKETS TO SEE THE CAPITOL STEPS AT CONVENTION, JUNE 26, 7:00 PM
https://www.lwv.org/league-management/council-convention/convention-2020...
The Capitol Steps will be performing a live show at the 2020 Convention on Friday, June 26 at 7pm in the ballroom of the Hyatt Regency.
Proceeds from the ticket sales will go to the League of Women Voters of the National Capital Area.  Tickets are $45 if purchased before Convention and $50 if purchased onsite. 
-------------------------------------------------------------------------
For other info about Convention, continue checking the LWVUS Convention website and watch the bi-weekly League Update for Program information,  schedule at a glance, updated  information on registration, hotel lodging, DC attractions, and more.
https://www.lwv.org/league-management/manage-your-league/council-convent...
Tags: