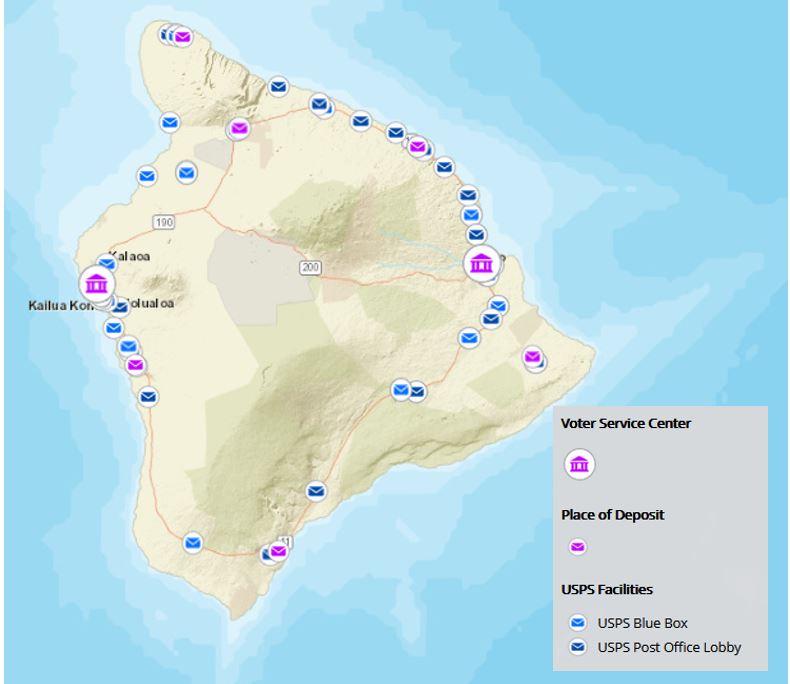 Ballots mailed by Oct. 7
Contact the Hawaii County Clerk if you haven't received your ballot by Oct. 16 - Tel: (808) 961-8277
Drop Boxes open from Oct. 14
Click here for a map of Voter Service Centers and secure Drop Boxes. Below is a list of locations.
Return ballots by Oct. 27 by mail
After Oct. 27, ballots can be returned by places of deposit / drop boxes until 7 p.m., Nov. 3.
General Election on Nov. 3
All places of deposit and drop boxes will close at 7 p.m.
*** VOTE EARLY! ***
*** View your candidates and ballot here ***
Hilo County Building
25 Aupuni St, Hilo HI  96720
West Hawaiʻi Civic Center
74-5044 Ane Keohokālole Hwy, Kailua Kona HI  96740
Rodney Yano Memorial Hall


82-6145 Māmalahoa Hwy, Captain Cook HI  96704

(across from Manago's)
Police Stations
Waimea Police Station
67-5185 Kamamalu St, Waimea HI  96743
Rodney Yano Memorial Hall
82-6145 Māmalahoa Hwy, Captain Cook HI  96704
Pāhoa Police Station
15-2615 Keaʻau-Pāhoa Rd, Pāhoa HI  96778
Naʻalehu Police Station
95-5663 Māmalahoa Hwy, Naalehu, HI 96772
North Kohala Police Station
54-3900 Akoni Pule Hwy, Kapaʻau HI 96755
Laupahoehoe Police Station
Puʻualaea Homestead Rd, Laupahoehoe HI 96764
Services
Receive return envelopes for mail ballots
Provide voting machine services for persons with special needs
Provide voting services as provided by law
Voters who missed the October 5, Voter Registration Deadline will be able to register and vote.
Dates & Hours
Dates: October 20 - November 3
Hours: Monday - Saturday 8:00 am - 4:30 pm
General Election Day, Tuesday November 3: 7:00 am- 7:00 pm
Locations