Location
Waimea Middle School's STEAM Learning Center, Demonstration Lab (Z105) (ground floor)
67-1229 Mamalahoa Highway
Hwy. 19
Kamuela,
Hawaii
96743
Hawaii US
Saturday, January 11, 2020 - 10:00am
Panel Discussion - Big Island's Political Parties Prepare for the 2020 Election
Please join the League of Women Voters of Hawai'i County and Common Cause Hawai'i to learn more about how the Democratic, Green, Libertarian, and Republican parties are preparing for the 2020 Election and Vote by Mail through a panel discussion with party leaders (listed below alphabetically by party name):
The panel discussion will be co-moderated by Sandy Ma, Executive Director of Common Cause Hawaii, and Donna Oba, Vice President of LWV Hawaii.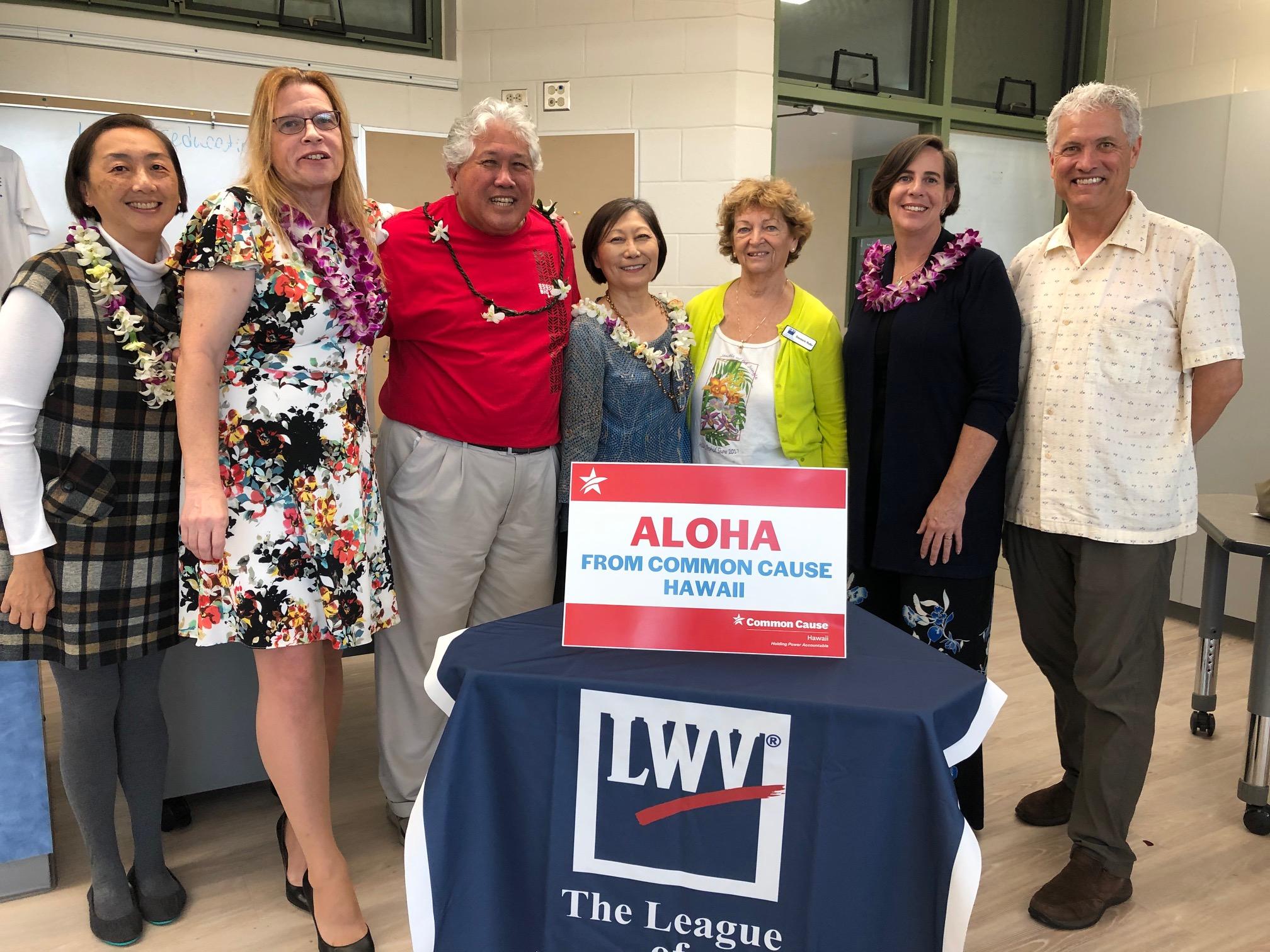 LWVHC Program Planning
Program planning is an essential League tool for focusing and prioritizing our work and ensuring that League resources have the most impact. Each League Member has the opportunity to influence the selection of "issues of emphasis," and this process is part of what makes the League a grassroots organization. More details and the Program Planning Document can be found in the Fall-Winter 2019 Newsletter.
SCHEDULE
Saturday, Jan. 11th, 2020
9:00 a.m. - LWVHC members register
9:30 a.m. - LWVHC Program Planning Meeting (open to public)
10:30 a.m. - 12:00 p.m. - Panel Discussion: The Big Island's Political Parties Prepare for the 2020 Election (open to public)
Light refreshments
LOCATION
Waimea Middle School
STEAM Learning Center Demonstration Lab (Z105) Ground Floor
67-1229 Mamalahoa Highway (Hwy 19), Kamuela HI 96743
FOR MORE INFORMATION
Contact Rosemarie Muller at lwvhawaiicty [at] gmail.com or (808) 933-8683 (message only).
Click here for a PDF flyer for the Panel Discussion.

The League of Women Voters is a nonpartisan political organization that encourages the informed and active participation of citizens in government, works to increase understanding of major public policy issues, and influences public policy through education and advocacy.
Common Cause is a nonpartisan grassroots organization dedicated to upholding the core values of American democracy. We work to create open, honest, and accountable government that serves the public interest; promote equal rights, opportunity, and representation for all; and empower all people to make their voices heard in the political process.