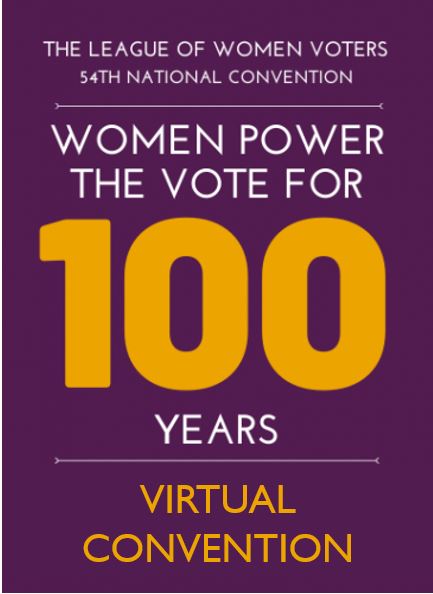 Thursday, June 25, 2020 (All day)

to

Saturday, June 27, 2020 (All day)
Update on Convention 2020
The LWVUS board and staff have been observing the COVID-19 pandemic closely and considering how it could impact our upcoming 54th LWVUS Convention scheduled to be held at the end of June in Washington, DC and we know many of you have been wondering the same. We appreciate your messages and the support offered as we've taken the time needed to thoughtfully consider all options. 
This was far from an easy decision but with the health and safety of our members as our primary concern, we have decided to transition Convention to a virtual event.   
We are still working through all details on this virtual Convention but can share the following with you: 
Business sessions will be held on June 25-27 and we are planning the agenda with consideration towards all time zones. 
We will host a full plenary and are working closely with our parliamentarian to observe all governance guidelines for a virtual space. All requirements around delegates, quorum, and how we conduct our business will remain the same. Detailed instructions will be sent to all delegates ahead of the first plenary session. 
We will be including the Convention Awards as part of this virtual experience and details can be found at https://www.lwv.org/league-management/council-convention/2020-convention-awards 
All current registrants will receive a full refund. An email from our registration software will be sent with instructions. We are offering registrants the option to convert their registration fee to a donation to LWVEF.  
We are working with the hotels on all existing hotel reservations. All reservations will be cancelled at no penalty. We will alert you of any action required on your part as we receive that information from the hotels.  
While it is unfortunate that we cannot gather in person to celebrate our 100th Anniversary and all of the amazing work our Leagues have done over the past two years we are grateful to have technology available to us that will allow us to gather virtually. We are dedicated to making this a celebratory and productive experience.  
Registration for the virtual Convention will open in early May and we will provide further announcements and instructions as we have them. 
If you have any questions please contact Christina Davis, Special Projects Manager, at cdavis [at] lwv.org. This announcement and other details can be found here.