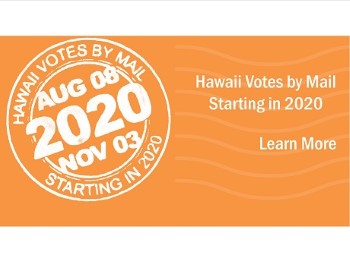 What is Vote By Mail?
Act 136, SLH 2019

requires all elections in Hawaii to be conducted by mail starting in 2020.

Ballot packages will be mailed and received by all registered voters approx. 18 days before Primary Day (August 8, 2020) and Election Day (November 3, 2020).

10 days before the primary and election days, one Voter Service Center will open in Hilo and one in Kailua-Kona to receive hand-delivered mail-in ballots, offer same day registration, and in-person voting.
Who Votes By Mail?
Every registered voter in Hawai'i.
Register to vote online and check/update your voter registration address here with (a) your Hawai'i Driver's License or Hawai'i State ID, and (b) your social security number.
Voters who will be away during the election may request for their ballots to be mailed to another address by submitting a one-time absentee application online through the Office of Elections. Application forms are available in English, Ilocano and Chinese.
What are Ballot Packages?
Ballot
Secrecy Envelope
Return Envelope (postage prepaid)
Voting Instructions
Ballot packets are mailed to all properly registered voters approximately 3 weeks before the election. If you do not receive your ballot packet, contact your County Clerk's Office.
Once you have voted your ballot, simply place the ballot in the secrecy envelope, and then place into the return envelope. Be sure to sign the return envelope. A return envelope without a signature will not be counted.
Upon receipt of your return envelope, the Clerk's Office conducts a signature validation.  After your signature is validated your ballot will be forwarded to State Election Officials to be counted.
Key Things to Remember for Vote By Mail
Your voted, completed ballot package must be mailed back and received by 7 pm on primary and election days. Post-marked ballots don't count.
Don't wait until the last minute to mail back your voted, completed ballot package, because the mail won't be delivered by 7 pm.
Alternative 1 - Hand in your voted ballot in person to a Voter Service Center.
Alternative 2 - Deposit your voted ballot package in a Drop Box / Place of Deposit by 7 pm on primary day and election day. Locations of Ballot Drop sites will be available in May 2020.
Alternative 3 - Return your voted ballot directly to your County Clerk's office.
If you make a mistake, misplace, or damage your ballot, you may request a replacement ballot with your County Clerk's office.
For More Information
Warm mahalo to Common Cause Hawai'i for helping share this information!