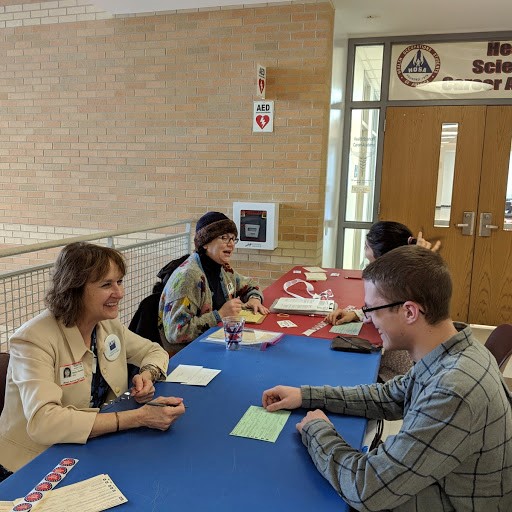 Voting is a right and a responsibility of all citizens.
Voting is the single most powerful way each of us, as a citizen, contributes our views to local, state, and national governments. We have listed some resources to help you. Click on the links below to find what you need.
Frequently Asked Questions about Voting in Illinois
What are the requirements for voting in Illinois? To exercise your right to vote, you must be registered. Laws vary from state to state.
Not sure you are registered to vote? You can verify your voter registration status.
In Illinois, you can register to vote on Election Day, as well as before then in several different ways:
Register to vote online here.
You can register to vote by mail. Click on the links below to find instructions for registering by mail in your county.
You can also register in person at your county clerk's office during regular business hours. Check the requirements for registering to vote before you go.
In Illinois, you can register to vote on Election Day at your assigned polling place. If you are already registered to vote, you can find your polling place online.
Next elections
General Election: November 3, 2020
New Illinois Elections Law provides for Voting by Mail
On June 16th, 2020, the governor signed a new elections law.  Safety concerns associated with the COVID-19 pandemic were the impetus for this law. (The provisions in the law are repealed as of January 1, 2021.)
There are two primary provisions:
It facilitates an application process by which eligible voters can obtain and use mail-in ballots for the 2020 general election, and
It enacts changes to ensure the safety of and enhanced participation in the 2020 general election.
The application process to vote by mail:
All local election authorities must send (by regular mail or email) ballot APPLICATIONS (not ballots) to all persons who voted in any of the most recent three elections (the 2018 general election, the 2019 consolidated election, or the 2020 general primary election), including voters who registered or changed their addresses after the 2020 general primary election.  
However, all voters may apply for a mail-in ballot online to help ensure a smooth and timely process (see county links, below). Voters must apply for ballots in their county of residence. Voters will receive their official ballot no earlier than September 24th, 2020, and not later than October 6th, 2020.  
Mail-in ballots can be returned to your County Election Commission in one of three ways: 1. Mail-in your ballot using the envelope you receive with the ballot 2. Return your ballot to a county dropbox 3. Return your ballot in person to any county early voting site or to your usual polling place on election day. Full instructions for Kane County voters can be found here.
If a voter applies for a ballot after October 2nd, 2020, the ballot must be mailed to the voter no later than two business days after the election authority's receipt of the application.
Links to use to apply for ballots in the Aurora Area:
Election Day will now be a holiday in Illinois for schools, state employees, and local government offices (except election authorities). This will allow schools to safely serve as polling places on Election Day if needed.
Election authorities must establish a central voting site where anyone in the jurisdiction can vote on Election Day, regardless of their precinct. 
Curbside voting is permitted under the law but not required. At least two election judges for the polling place (one from each party) must be designated per vehicle, and Illinois Department of Public Health guidance must be followed. 
Early voting hours at polling places will be expanded at permanent polling places to help prevent overcrowding for those voting in person. These expanded hours are 8:30 a.m. to 7 p.m. on weekdays and 9 a.m. to 5 p.m. on weekends. 
Do you want to register to vote in Illinois or have you moved since the last election? Register to vote with the Illinois Online Voter Registration form. It is easy to do! Not sure if you're already registered? You can confirm your registration here.
*The LWVAA chapter will post further information about these changes as it becomes available. Please ask any questions you have as comments on the chapter's Facebook page or send an email to our League and we will do our best to get answers for you.