For the answers to the most frequently asked questions about Election Day, check out the LWV Ohio Voter Q&A Series and share with your friends on Facebook.
Voter Information
The next election in Hamilton County is November 7, 2023 for a primary election.  Early Voting begins on October 11, 2023.

The polls will be open on November 7, 2023 from 6:30 am to 7:30 pm. You must be registered to vote by October 10, 2023 in order to participate in this election. Hamilton County Board of Elections will be staying open until 9pm that day for any who wish to register. Remember to update any address or name change by this date also!  
If you would like to vote by mail for the November 7, 2023 primary election, the application can be found here.  Fill it out and mail in the request your county's board of elections as soon as possible.  

Vote411.org provides a customized ballot, candidate profiles, full ballot language information, and, post-election results. Data is supplied by the League of Women Voters, candidates, and the Board of Elections.
Click here for our print  Voter Guide and here for additional Issue 1 information from our state office.
Voter Guide
BE AN INFORMED VOTER! 
Go to Vote411.org to find what's on your ballot, and where to vote! Voter Guides are at the office.  Email or call to arrange to pick up some for your neighborhood or group.  
Quick Voting Tips for Ohio
Remember to bring proof of identity to the polls when you vote. To learn more about acceptable forms of identification, visit the Ohio Secretary of State's website.
The polls are open 6:30 a.m- 7:30 p.m.
To find your voting location in Hamilton County go to Vote411 or call the Hamilton County Board of Elections or the League of Women Voters (513-281-8683).
You may register at any Bureau of Motor Vehicles office, any municipal building, any branch of the Hamilton County Public Library or at the Hamilton County Board of Elections, 4700 Smith Rd.
Voter registration closes 30 days before a General, Primary or Special Election. To inquire about your voter registration or where you vote contact the Hamilton County Board of Elections
Registration and Voting in Ohio
Are you registered to vote? Do you want to change your party, your address, your name? What will happen on Election Day?
Informed Voter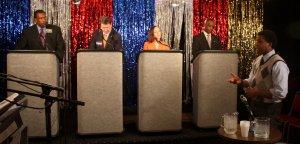 Voting in Kentucky
See information from the League of Women Voters of Kentucky.
Voting in Indiana
See information from the League of Women Voters of Indiana.