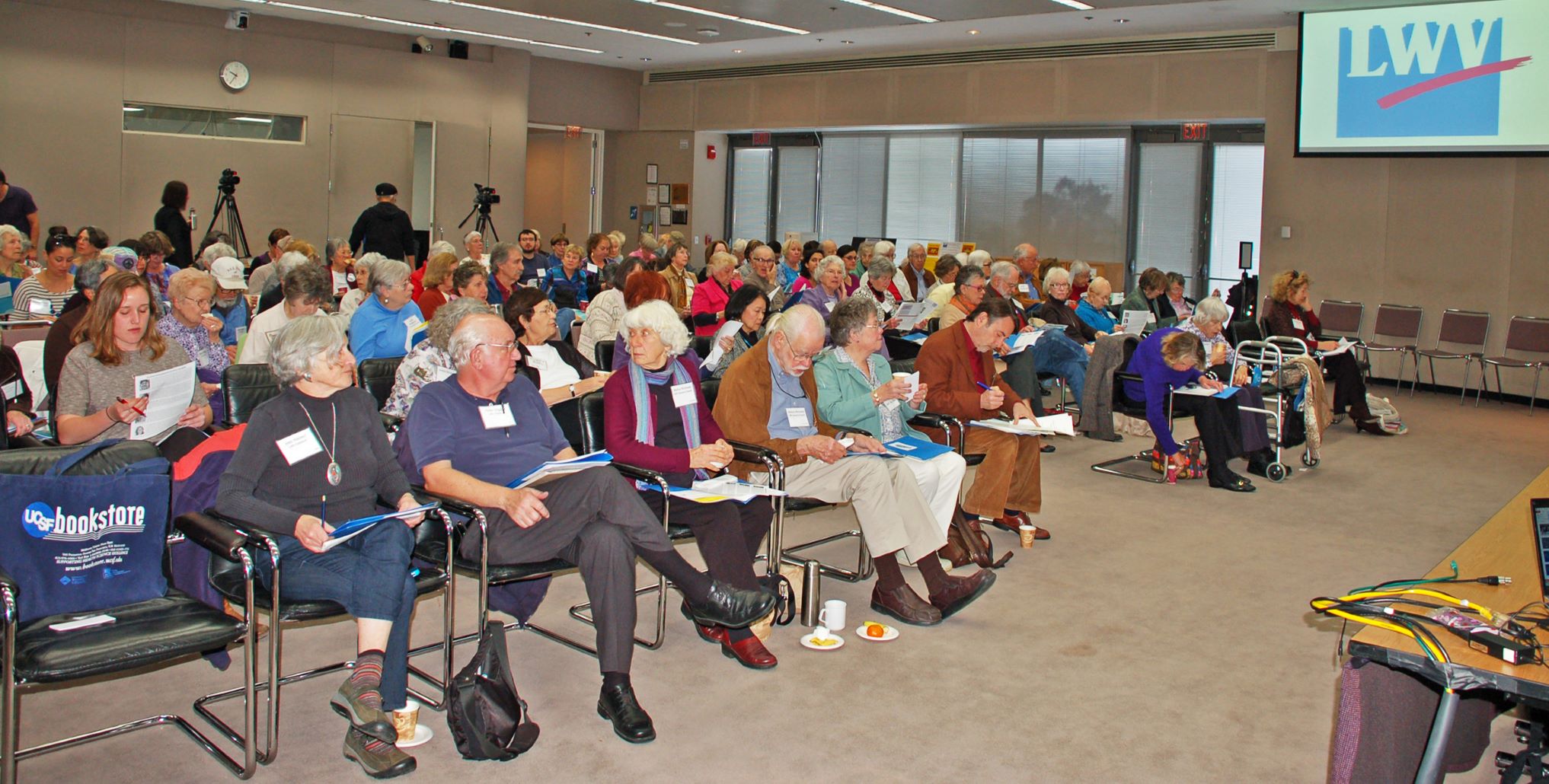 We publish a range of issue papers and resource documents. We also archive materials from past League Days. Events more recent than 2015 are listed individually on the left-hand menu.
2015 League Day - Addressing Climate Change in the Bay Area
Introduction by Linda Craig, President LWVBA
Bay Area Monitor 40th Anniversary - video
Welcome to the new Napa County League - video
Presenters
Individual Speakers
Panel 1: Measures to Achieve 2050 GHG Targets
Supervisor John Gioia, member, BAAQMD, Calif. Air Resources Board  Video
Panel 2: Adapting to Sea Level Rise
Assemblyman Rich Gordon, Select Committee on Sea Level Rise  Video
Bruce Riordan, Climate Change Consultant, Joint Policy Committee  Video   Slides
Linda Dismore (Diz) Swift, member, Berkeley Public Works Commission  Video   Slides
Panel 3: Local Impacts of Climate Change
Jenny Bard, Regional Air Quality Director, American Lung Assn. in CA  Video   Slides
M. Paloma Pavel PhD, Co-Founder, Breakthrough Communities  Video
Timothy Burroughs, Chief Resilience Officer, City of Berkeley  Video
2014 League Day - A New Vision on Bay Area Open Space
Presenter & Affiliation
Keynote Address: Wendy Pulling, Director of Conservation Programs, The Nature Conservancy  Video
Panel 1: Progress in Open Space - speakers plus Q & A  Video

Jeremy Madsen, Greenbelt Alliance
Sam Schuchat, CA State Coastal Conservancy
Beverly Lane, East Bay Regional Park District

Panel 2: Economic Benefit of Open Space - speakers plus Q & A  Video

Andrea Mackenzie, General Manager, Santa Clara Valley Open Space Authority
Karen Gaffney, Conservation Program Planning Manager, Sonoma County Ag. Preservation and Open Space District  

Panel 3: Future Challenges  Video

Matt Brennan, Senior Engineering and Hydrologist ESAPWA
Nat Seavy PhD, Pacific Coast and Central Valley Research Director, Point Blue Conservation Science
Jen Foxx, Executive Director, Bay Area Open Space District
2013 League Day - Water: California's Gold
Presenter & Affiliation
2012 League Day - Housing and the Bay Area's Future
Presenter & Affiliation
Additional League Day 2012 footage available here.
2011 League Day - Reduce, Reuse, Recycle: Taking it to the Next Level
Presenter & Affiliation
2010 League Day - Big Steps, Little Steps to Addressing Climate Change
To view presenter's remarks, click on the notes bubble at top left of slide. Not all slides contain a notes bubble.
2009 League Day - Water: California's New Gold
2006 League Day - State of The Bay
Issue Papers
Issue papers are intended to explore areas that are still somewhat controversial among Bay Area Leagues and murky in regional decision making processes. The perspectives are NOT an attempt to portray a League consensus or to state League positions. Posting on the League Website with the opportunity for continuing discussion may open new paths in the difficult terrain of regional decision making.
Transit Hubs 2002 Transit Hubs for the San Francisco Bay Area (see also Survey in Resource Documents below)
LAFCO 2003 Local Agency Formation Commissions
Resource Documents
The documents below include a range of reports, addresses, and goal statements: