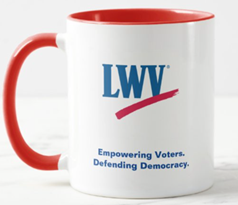 What is a caucus?
It's a conversation among people with a common set of beliefs, usually about political issues.
What is The Wednesday Caucus?
It's a conversation among people who believe, along with the League of Women Voters, that democracy is not a spectator sport. It's a group of people who want to share information, camaraderie, and courage. Will you join us?
Bring your coffee and come for a small-group online discussion.
Learn from League members and guests.
Bring your questions about the League's work in all its policy and program areas.
Contribute a resource you've found helpful.
Gather energy and enthusiasm for the democracy-strengthening work YOU want to do.
Join our Caucus host online on the last Wednesday of every month at 10 a.m. for a lively hour.
Our next meeting will be December 27, 2023.
Everyone is welcome. Please register using the button.
See you at The Wednesday Caucus!