SEPTEMBER 2020 PRESS RELEASE: LEAGUE OF WOMEN VOTERS SOLANO COUNTY (LWVSC) 
All About VOTE BY MAIL aka ABSENTEE BALLOT
            For one hundred years, the League of Women Voters has been all about the vote—voter registration, public policy pro and con studies—work that preserves our democracy, a government of, by and for the people.
            This year's presidential election is being held in the middle of a pandemic, COVID-19, and the League of Women Voters believes that your vote is your voice, and that even in a pandemic, no one's voice should be silenced. Therefore, the Solano County League wants to ensure that voters know how to cast their ballot by mail.   
Note: All registered voters in California will receive a vote-by-mail ballot.
Citizens, eighteen (18) years old on election day, or older, can participate in the November 3rd  election if registered by
October 19, 2020
.  Contact the Voter Registrar of Solano County or visit
www.sos.ca.gov/elections/ballot-status
to verify the status and accuracy of your registration.
            When you receive your vote-by-mail ballot, make sure it counts. Completely fill it out in ink. Don't forget the down ballot, local candidates and initiatives that impact day-to-day life in our communities.  Then sign the envelope, double checking that your signature is clear and easily verifiable. Signatures must be comparable to the signature on your voter registration card, ID or drivers' license. While most vote-by-mail ballots get counted, too many are rejected because they arrive too late, there's no signature, or the signature doesn't sufficiently compare to the one on file.
Mail the ballot back in time for it to arrive by election day, November 3, 2020, the earlier the better. Postmarks don't count, but your vote-by-mail ballot must arrive in the county that sent it by 8 P.M. on Election Day.
            From October 5 to November 3, voters can drop off ballots inside the following office building locations: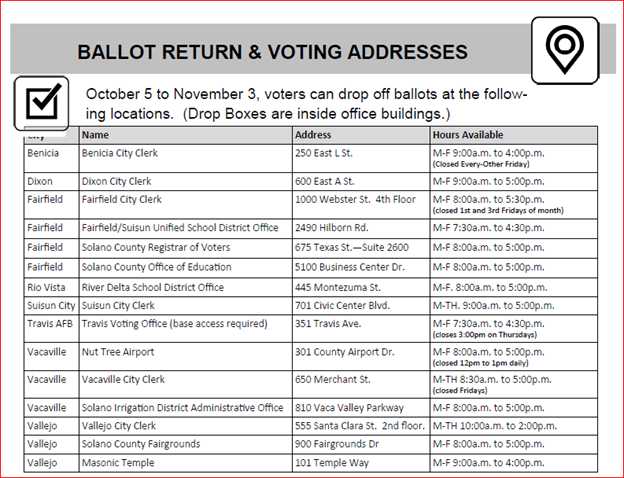 On October 29, 30, 31, November 2, and November 3, voters can stay in their cars and hand ballots to poll workers "Curbside" at the following locations: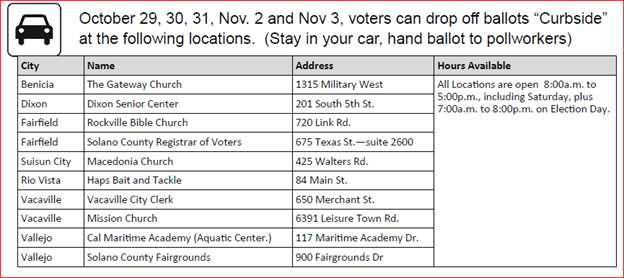 The League of Women Voters knows that democracy works better for all when voters are informed.  Your Solano County League is committed to that mandate and provides non-partisan, localized, and easy to use election information about candidates, propositions, and initiatives at the Voter's Edge website:
https://votersedge.org/ca
. Honor your responsibility and vote, encouraging your family and friends to vote as well.  When your ballot arrives, host a ballot party, via Zoom if necessary, to discuss the pros and cons of propositions as well as the resumes and policy positions of candidates, to determine how they will impact you, your family and your community.
            Select a point person to run down the checklist with your group before you return your ballot to make sure you:          1) wrote in ink
2) properly marked your choices (including local choices)
3) signed your envelope clearly and legibly.
            To avoid the risk of delayed mail, schedule a group drop-off date, either by a walk or car caravan to the nearest drop-box location. Show your neighbors and the world that you honor your citizen's responsibility as stewards of our democracy. 
            Finally, note that if you make a mistake, or can't vote early, you can drop off your ballot on election day, November 3, 2020, at any polling place or get a provisional ballot to make sure there are no errors to disqualify your vote. Remember, the more votes cast, the louder each of our voices.
Questions?
Please contact Alice Fried, Communications Committee, LWVSC,
alicefried89

[at]

gmail.com