The League of Women Voters takes action on an issue only when we have a position addressing that particular issue. Members must study and come to consensus on an issue, in order to form a position. This thorough grassroots process ensures that our advocacy is well considered by a broad range of people, understood by our members.
It is the consensus statement that becomes a position. Firm action or advocacy can then be taken on the particular issue addressed by the position. Without a position, action/advocacy cannot be taken.
The LWV of Sussex County has not undertaken local studies on new issues, but bases action on existing state and national positions. Typically,  the local League undertakes considerable research on local issues to determine how to apply state and national positions to the local/county situation.
The League of Women Voters Delaware
The LWV of Delaware Advocacy Corp information and Position Papers can be found here.
       The LWVDE produced a guide on how to conduct effective advocacy. An updated version (April 2018) can be found here. It was written to give you a short course on the legislative process in Delaware and to offer practical information about influencing it. We encourage you to take advantage of our state's "uniqueness" and to become knowledgeable about and involved in your government.
The League of Women Voters of the United States
LWVUS has numerous positions published in a document called Impact on Issues.  It contains a short summary of all of the League's public policy positions which can be used as a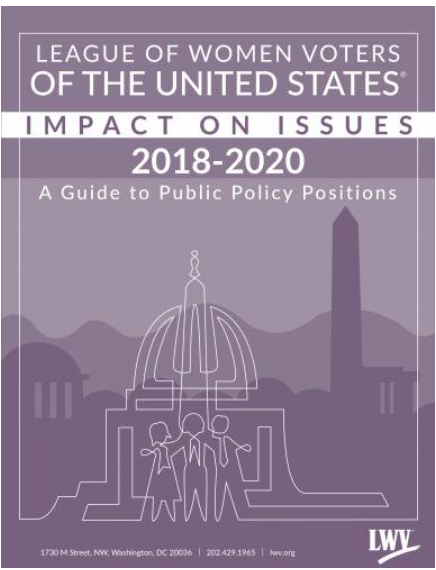 quick reference guide for the League's various positions. Impact on Issues contains national positions and documents the history of LWVUS action at the federal level. There are separate sections addressing four broad topics:  
Representative Government
International Relations     
Natural Resources
Social Policy