The Social Policy Committee was formed last spring and hit the ground runnning.  It is studying relevant social issues and pending social policy legislation, and will determine how to provide information to the public about these matters.  All interested league members are invited to join!  Your input and expertise are needed.  Meeting and contact information can be found at the bottom of this page.
The new committee is a result of member interest in exploring topics of concern to the group and those related to the positions of the League of Women Voters.  A core group met on March 8 to begin this work and the committee has met regularly since.   To date they have held a program about death with dignity and two forums on educational funding in our state.  Their most recent endeavors are listed first.
Education Funding in Delaware
The committee is concerned with the inequity of funding of public education in Delaware. As a result they have held two forums exploring the process for financing public schools, examining the needs and issues in Sussex County.  Information about those forums follow below, with the most recent listed first.  Resource information can be found in the presentations by the speakers.  Two such resources are Rodel's "At a Glance" which provides important statistical information about Delaware Public Schools and Rodel Legislative Monitor, a regularly updated list of state legislation related to public education.  A glossary of terms related to funding of education which was prepared by League member, Penny Deiner, can be found
here.
Forum:  The Funding of Public Education in Delaware, Part 2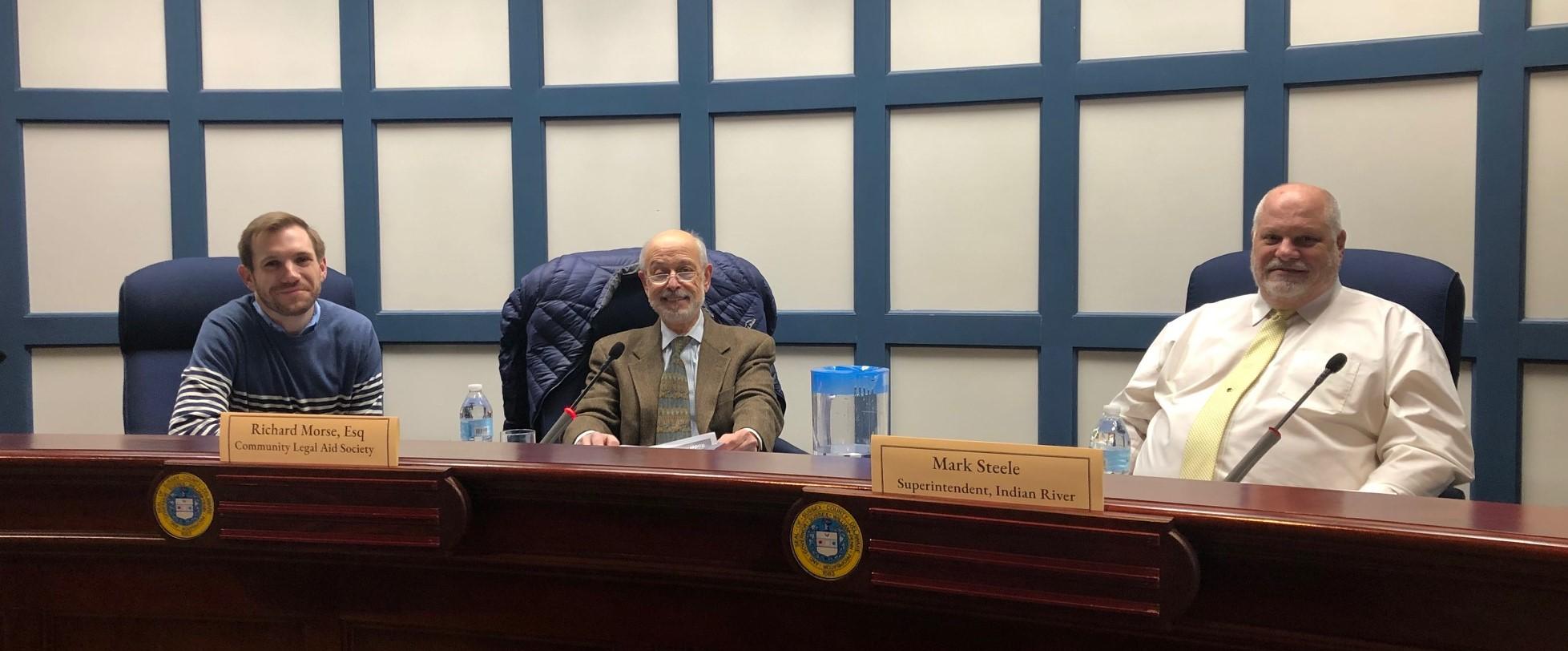 The Social Policy Committee of the LWVSC and AAUW held the second forum on the topic of the Funding of Public Education in Delaware on Wednesday, December 4, from 6:30 to 8:30 in the County Council Chambers, 2 on the Circle in Georgetown.  It was a follow-up to the forum held on September 25, which provided information about funding procedures and problems associated with these practices.  
Speakers for the December 4 forum included Neil Kirschling, the Director of Policy and Advocacy at Rodel, an organization working to change the education system in Delaware through research, policy, practice, and partnerships.  The second speaker for the evening was Richard Morse, Senior Council at Community Legal Aid Society, Inc (CLASI).  CLASI is a plaintiff in the lawsuit currently before the Court of Chancery which addresses education funding inequities and proposes solutions to address these issues. The third speaker was Mark Steele, Superintendent of the Indian River School District which is significantly impacted by the current funding formula.
The speakers addressed inequities in school funding, potential solutions, the genesis and current status of the lawsuit before the Court of Chancery on providing adequate education to low income and special needs students in Delaware, etc.   Following the presentation, the audience asked related questions.
Mr. Kirschling's presentation, Education Funding, Challenges and Solutions, can be found here.
Mr. Steele's, Indian River School District Model for Excellence, is viewable here.
A video of the presentation is available on our YouTube page.
Forum:  The Funding of Public Education in Delaware, Part 1

The 9/25/19 event was cosponsored by the American Association of University Women (AAUW) and held in Sussex County Council Chambers.  The panel of experts was comprised of:
Dr. Susan Bunting, State of Delaware Secretary of Education
Dr. Chuck Longfellow, Associate Secretary for Operations
Dr. Kevin Carson, Senior Fellow, Institute for Public Education, University of Delaware
Representative Ruth Briggs King,  District 37
These issues and others were addressed by the panelists:
How do funds flow into your local schools?
How are tax dollars distributed to fund public education in Delaware?
What are school referendums and why are they necessary?
What issues regarding educational funding are before the state legislature?
Their presentations were followed by a brief question and answer period involving the audience.
The power point presentation from Drs. Bunting and Longfellow, Public Education Funding Overview, can be viewed
here.
Representative Briggs King's presentation, Legislative Role/School Funding, is available
here.
Death with Dignity 
The group considered and discussed a study developed by the Utah League (entitled Death with Dignity) which presents reasoning related to whether state law should grant the option for a terminally ill person to request assistance from a relevant, qualified physician to terminate one's life.  Safeguards for the dying and/or medical personnel are a part of this position.  The Delaware State League has requested that local Leagues study this proposal to determine whether a concurrent stance should be taken by Delaware in support of the Utah position.  
Results of the League of Women Voters of Utah study on Death with Dignity can be found here. 
The Social Policy Committee presented a program on April 1st on the proposed action in the Delaware  legislature regarding the provision of medical aid in dying.  Maria Spencer, Eastern Regional Campaign Manager for Compassion and Choices provided information regarding the Ron Silverio/Heather Block End of Life Options Act.  
Next Meeting
The next committee meeting of the Social Policy Committee has been cancelled due to COVID-19 restrictions.  Please check back later for the date of the rescheduled meeting.  All members are welcome.
If you would like to attend, c

ontact

jkambrose

[at]

aol.com

(Janet Ambrose)

(Committee chair) to RSVP.

If you are not able to attend this meeting, but have interest in future meetings of the Social Policy Committee, please let Janet know.