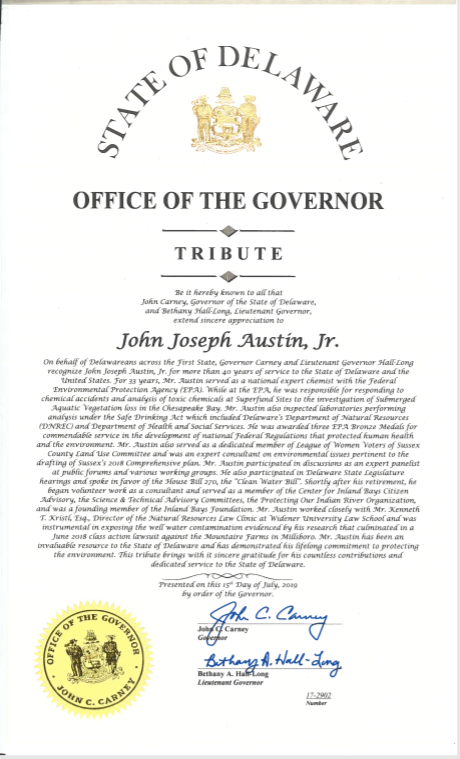 From Press Release
dated: 8/15/2019
by Jane Lord         
         The Delaware Office of the Governor issued a tribute to Sussex County environmental activist John Joseph Austin, Jr. on July 15, the anniversary of his death. Presenting a certificate to his wife Marti Austin, of Rehoboth Beach, Governor John Carney and Lieutenant Governor Bethany Hall-Long expressed their appreciation for Austin's more than 40 years of service to the state of Delaware and to the United States.
          While serving as a national expert chemist with the Environmental Protection Agency for 33 years, John Austin was awarded three Bronze Medals for commendable service in the development of federal regulations that protect human health and the environment. After retiring from the EPA, he continued to work as a volunteer consultant and environmental advocate in Sussex County. He was an active member of the Center for the Inland Bays (CIB), contributing to the resolution of environmental issues on their Citizen Advisory Committee and Science and Technical Advisory Committee. He was also a founding member of the Inland Bays Foundation and the Protecting Our Indian River Organization.
          A dedicated member of the League of Women Voters' Land Use Committee, Austin lent his expertise on environmental issues pertinent to the drafting of Sussex County's 2018 Comprehensive Plan, both as a panelist at public forums and as a participant in various working groups. His research was instrumental in exposing well water contamination that culminated in a class action lawsuit against Mountaire Farms in Millsboro in 2018.
          Recognizing Austin as "an invaluable resource," Governor Carney and Lieutenant Governor Hall-Long expressed their "sincere gratitude for his countless contributions and dedicated service to the State of Delaware."