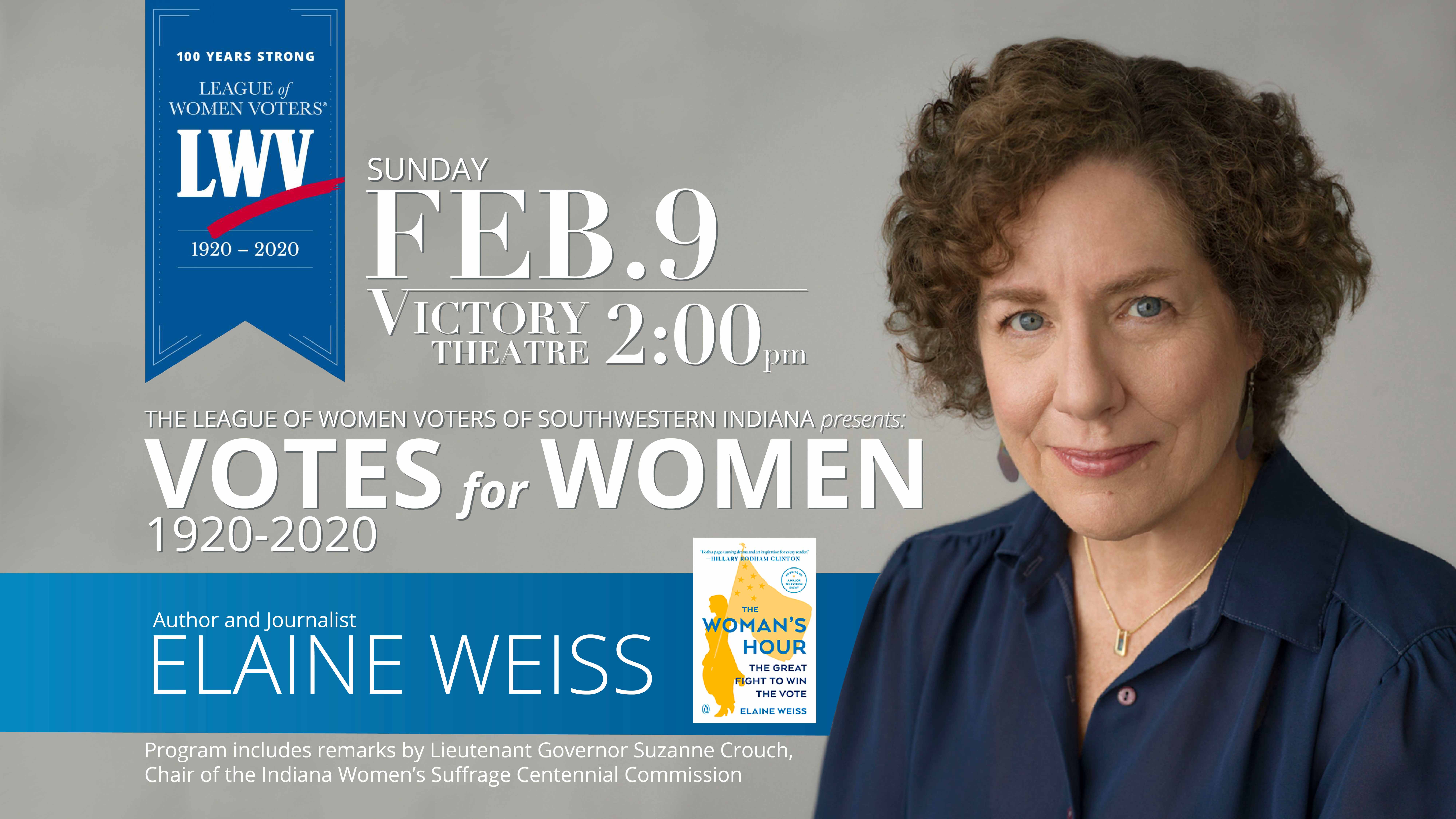 To commemorate 100 years since the passing of the Nineteenth Amendment as well as the birth of the League of Women Voters, the League of Women Voters of Southwestern Indiana presented Votes for Women: 1920 – 2020 on Sunday, February 9, 2020 at 2:00 pm in the Victory Theatre.
In collaboration with Evansville Vanderburgh Public Library's 2020 SPEAK: An Explorative Lecture Series, Votes for Women: 1920 – 2020 featured journalist Elaine Weiss.
Author of The Women's Hour: The Great Fight to Win the Vote, Elaine Weiss has been recognized with prizes from the Society of Professional Journalists, and her work has been featured in The Atlantic, New York Times, and Boston Globe.
An account of the 1920 ratification of the constitutional amendment that granted voting rights to women, The Women's Hour traces the culmination of seven decades of legal battles and cites the pivotal contributions of famous suffragists and political leaders.
The Women's Hour has been optioned by Steven Spielberg's Amblin Television, with former Secretary of State Hillary Clinton to Executive Produce.  "I am thrilled to be working with Elaine, Steven and everyone at Amblin Television on bringing this important project to audiences everywhere," Clinton said to The Hollywood Reporter. 
Indiana's Lieutenant Governor Suzanne Crouch also made remarks at Votes for Women: 1920 – 2020. Lt. Gov. Crouch serves as Chair of the Indiana Women's Suffrage Centennial Commission.
This event was made possible through generous support from its donors: the Women's Hospital (Deaconess), University of Evansville, the Evansville Vanderburgh Public Library, Scripps Howard, members of the League of Women Voters of Southwestern Indiana, Farmer Scott Ozete Robinson & Schmitt, LLP and Garrett Printing & Graphics, Inc.