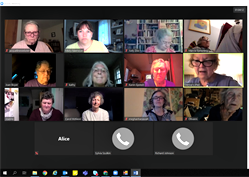 JOAN BOYER, STEERING COMMITTEE CHAIR
A North Falmouth resident, Joan is also currently webmaster. A long-time LWV member, she has been President, Treasurer, and Bulletin Editor. She also served as LWVMA Treasurer for two years. 
SYLVIA SZULKIN, STEERING COMMITTEE 

Sylvia Szulkin is a retired trial attorney who engaged in both civil and criminal trial practice in Massachusetts for 22 years. Since retiring, she has served on the following Town of Falmouth elected and appointed volunteer committees: Board of Trustees of the Falmouth Public Library, Affordable Housing Committee ("AHC"), and the AHC Roundtable Subcommittee. She has also served as an officer of the League of Women Voters of Falmouth, an officer of Health Imperatives, a private non-profit that provides health care and social services to low income residents of southeastern Massachusetts, and the Falmouth Public Library Support Fund, Inc., a private non-profit that raises and distributes funds for library projects, programs and services not funded by the Town of Falmouth. When not attending committee meetings, Sylvia can often be found perfecting the art of power napping. 
MAGGIE SWEASY, 2nd VP & STEERING COMMITTEE 
A relatively new resident of Falmouth, Maggie moved to the cape in 2016 from the Seattle-Tacoma area of Washington State. As a way of getting to know her community, she volunteers for local activities including the Senior Center driving program and LWV. For the past two years she has been the observer for the meetings of the Select Board in Falmouth. Her primary career until retirement in 2001 was in hospital administration.
JOANNE TREISTMAN, STEERING COMMITTEE

Joanne retired in Falmouth five years ago. She was a member of the National League of Women Voters while living in Puerto Rico. Once she settled here, she immediately joined the Falmouth League. Membership and working for voting rights and promoting voting is important to Joanne to keep her responsibility to our democracy. Joanne serves on the Board of Directors, Steering Committee and Voter Services Committee.
In town, Joanne is Co-Chair of the Affirmative Action/Diversity Committee, member of the Woods Hole Women's Club and on the fundraising committee for the Community Health Center. Joanne is on the Committee of Ministry at the Unitarian Universalist Fellowship of Falmouth! She is also working to bring a Y to the Upper Cape for youth development, healthy living and social responsibility. "I have spent the previous 40 summers here and love being a member of the Falmouth community!" 
KATHY MORTENSON, STEERING COMMITTEE
Kathy Mortenson moved to Falmouth in 1988 and immediately joined the League. She has served as Membership Chair twice, as a Natural Resources committee member, and communicator. A retired librarian, she also serves as a volunteer on the Town of Falmouth Board of Registrars. 
MISTY NIEMEYER, STEERING COMMITTEE
Misty is one of the newest members of the board . She is a biologist who works for a local non-profit organization and has a passion for environmental and marine conservation. She moved to Falmouth 15 years ago from the west coast and has since become involved in many aspects of local community work in Falmouth, including being a co-founder and member of the leadership for Engage Falmouth allowing her to work on variety of local issues.  She serves as the liaison between the two organizations and serves on the Falmouth LWV voter services committee, as the two organizations collaborate to get out the vote and educate local voters, allowing them to make informed choices and encourage them to get more involved in their community.
MARCIA EASTERLING, SECRETARY

Marcia Easterling joined the LWVF when she and her husband retired to Falmouth in 2008 and served as Publicity Chair for several years. She first joined the League in 1972 in Troy, NY. She is a volunteer for Neighborhood Falmouth and the Falmouth Service Center.
MEGHAN HANAWALT, TREASURER

Meghan moved to Cape Cod in 2004 when her wife joined the WHOI family. They live in East Falmouth with their dogs, chickens and goats. Meghan joined the Leaque of Women Voters in the winter of 2017 and became Follow-Up Coordinator in the summer of 2018.
 DENISE MORREALE, OBSERVER CORPS CHAIR
Denise lives in North Falmouth Village and serves as Chair of the Observer Corps. Denise is also the Bulletin reporter and editor. She has been a member of the League since the early 1990s. Denise was on the committee of study which produced "Children in Focus". She also previously served on the transportation committee. 
JOANNE VOORHIS, AT-LARGE
My husband and I came to Woods Hole with one baby in 1957. Within five years I had two more babies and was president of the League of Women Voters of Falmouth.
LWV of Falmouth organized as a provisional league in 1955 and within a year or two became a local league and part of the LWV of Massachusetts and the US. Our league was mostly comprised of women in their 40's and 50's plus younger women with small children. Each month the program was presented three or four times (Wednesday and Thursday mornings, Wednesday afternoon and Thursday night) to what were called units.
Early in the 1960's I was sent to speak to the Rotary Club about the Town Manager Form of Government which the LWVF had studied and was supporting. What hubris. How naive.
Based on league experience I ran for Town Meeting Member and served for 35 years. I think I and many other league members served well as TM members, and in elected and appointed town positions. We did our homework, studied the issues and listened to our constituents,
I dropped out of active league participation when I returned to college for teaching credentials. I then worked in the Falmouth Public Schools as an elementary teacher, a psychometrist and elementary assistant principal. Some time after retirement I became treasurer of our local league and continue in that role for now.
JACKIE WEBSTER, MEMBERSHIP CHAIR
Jacqueline joined LWVF in 2005, soon after retiring to Falmouth. Shortly after that, she joined the League's Observer Corps + observing in succession the Recreation Committee, the Conservation Committee, the Finance Committee, and the Zoning Board of Appeals. Being on the Corps was an excellent way to get to know Falmouth, and to understand the Town functions. In 2012 she took over the Membership Chair of LWVF, a position that has enabled her to get to know our members, and to connect with other League Leaders in Massachusetts. 
RICHARD JOHNSON, NATURAL RESOURCES CHAIR
Richard Johnson joined the League in 2017 and is the Observer for the Zoning Board of Appeals and Chair of the Natural Resources Committee and also the Centennial Committee. He is a registered Landscape Architect and has taught at Virginia Tech and Rhode Island School of Design. 
OLIVANN HOBBIE, PUBLICITY CHAIR
Olivann has lived in Falmouth since July 4, 1976. She was active in the League in Raleigh, N.C., but only rejoined the League in Falmouth after retiring from a 40-year teaching career (history and English) at Falmouth Academy. As a long-time witness to the enthusiasm of high school students, she feels very strongly that the League's efforts in Voter Services are crucial to keeping a strong and resilient democracy. She is in charge of Public Relations for LWVF, and hopes to build a small cadre to further information about League discussions and positions. She has also served on the town Cultural Council. 
JENNY PUTNAM, VOTER SERVICE CHAIR
Jenny, a Falmouth native, attended Falmouth Academy.  (Olivann Hobbie was among her teachers.)  She maintains a part-time practice as a clinical social worker and has been transferring her practice from her office in Mashpee onto clinical tele-therapy platforms from her home office.  
PENNY DUBY, SOCIAL MEDIA
Penny serves as the coordinator for Facebook outreach to members and the community.  This augments our website as a means to interact, share photos /videos and provide updates on news from Leagues at the national, state and regional levels in a close to real time available format. 
JUDY ZISS, LEGISLATIVE CHAIR
Judy is a lawyer who was born in the Bronx, grew up on a poultry farm in a small Connecticut town, and lived in New Jersey, New York and Wellesley before moving to Falmouth. Here in Falmouth Judy has been active in grass roots politics and also helped establish a group called Prevent Foreclosures Cape Cod. Her prior League work includes participating in the local study committees, beginning with a project several years ago studying civics education in our schools. As Judy's first project as Legislative Chair, her aim is to focus on new legislation; the civics education law recently enacted here in Massachusetts. We are looking for new committee members so please, please, please let her know if you are interested.