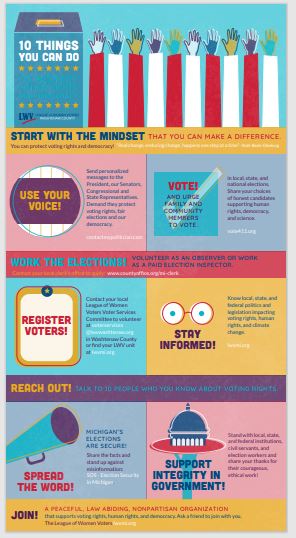 Years of relentless assaults on democracy, voting rights, and human rights have made many of us feel traumatized and powerless.
LWV-WC created the Voting Rights Workgroup to empower League members and our fellow citizens to save democracy and voting rights, and to stand up for human rights.  The VR Workgroup developed a poster 
The Ten Things You Can Do to Protect Voting Rights and Democracy 
 to create a pathway of inspiration, empowerment and effective action.  
Here's what YOU can do:  
 --
Share
the
POSTER
with friends, families, and groups you are involved with.
-- Sign the Promote the Vote Petition which aims to put on the ballot a powerful amendment to Michigan's constitution that would protect voting rights and voter access.
-- If you're active on social media
watch
for our campaign on 
Facebook
and 
Instagram
 and like and share the posts with your friends.     
-- Join the League of Women Voters and stay informed! If you are already a member, get active with your local chapter!