Have you moved lately?  Failed to vote for several years?  Should you check your voter registration to be sure it's up to date?  Go to VOTE411 to find out.
NEXT ELECTION:
Tuesday, November 7, 2023   General Election for Chelsea, Manchester, Milan, Saline, Scio Township, Lincoln Consolidated Schools.   Washtenaw Clerk's Official List of Candidates,  Official List of Proposals
RELATED DATES:                              
September 28        Absent voter ballots are available and Vote411 is published                           
October 23           Last day to register by mail or online for the November 7 general election.  (After this date, you must register in person at your clerk's office with proof of residency.) 
November 7            Election Day                                                 
NEXT YEAR
Tuesday November 5, 2024   General Election
CHANGES IN VOTING:  how they will be implemented in Washtenaw County.  In person event October 17, 2023,  with Ed Golembiewski, Director of Elections - Washtenaw County, and Jaqueline Beaudry, Ann Arbor Clerk.
 Election Protection Hotline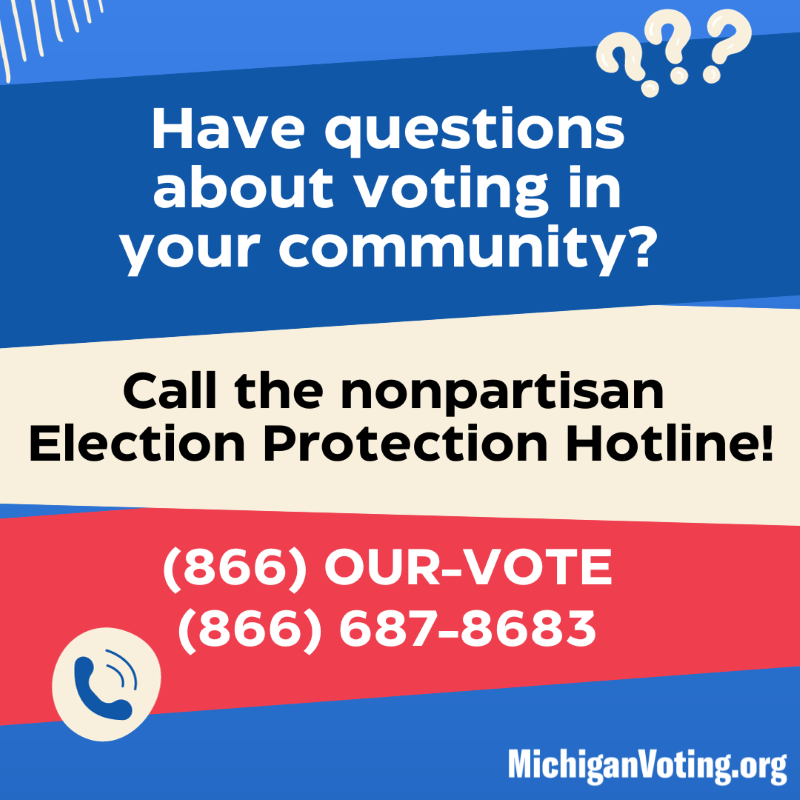 Learn about the candidates and issues 
Click on VOTE411.org, your source of information about your ballot, your registration status, candidate forums and more.   Prior to primary and general elections, LWV-WC holds candidate forums, which will be available to view on the LWV-WC YouTube channel and also at the CTN Channel 16 website.
 NEW  videos from LWV Macomb County-
Your Vote is Secure in Michigan - Local Clerks Lead the Way
Three clerks with a combined 40 years' experience running elections explain different parts of the process.
Before the Election:  registering to vote, absentee ballots, being an election worker, election equipment, students and more
During the Election:  equipment, election workers, absentee ballots, election law and more
After the Election:  counting absentee ballots, closing the polls, certifying the election, what is the Board of Canvassers?
Know Your Voting Rights Guide - a nonpartisan resource designed to help voters navigate Michigan's voting laws, so that we can all successfully cast our ballots. It is available in four languages (English, Spanish, Arabic, and Bengali) and contains answers to commonly-asked questions. Voters can view or download the Guide (in txt, word, pdf, or large print). 

LWV-WC videos about voting.
 Voting information provided by LWV Michigan.  Click HERE to read about
Registering to vote
Voting FAQs
Tips for college students
Voting rights
Absentee Ballot Tips for all registered MI voters
Request an absentee ballot online or download and print an application and send it to your local Clerk's office.  Or stop by your Clerk's office and get help in person.
You must request a ballot before every election.  Or to be on the permanent voter list and receive an absentee ballot application before every election go to the Washtenaw County Clerk's website. You can also check a box on the absentee ballot application to get on the permanent list.   
When completing your absentee ballot, use either a blue or black pen and be sure to sign the outside envelope on the indicated line
Mail early or deliver to the authorized ballot drop box for your voting district
Find the status of your absentee ballot (when it was went to you and if it has been received by your Clerk) at MI.gov/vote
 REMEMBER THESE SOURCES OF VOTING INFORMATION