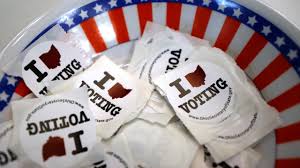 Absentee voting for the 2020 Primary Election has been extended to April 28.  If you haven't voted yet, click here to print an absentee ballot request form or call 330-643-5200 to request a form be sent to you.
Important dates and details:
Absentee ballot (vote-by-mail) requests must be received by the Summit County Board of Elections by 4/25. 

We recommend you mail in your request ASAP.

Voted ballots must be mailed back with a postmark of no later than 4/27, or for Summit County residents, dropped off by 4/28 at the Summit County Board of Elections, 470 Grant St., Akron, OH 44311-1193, 8:00am - 4:30pm, M-F.
The Secretary of State's office will mail voters a postcard with information about how to request a vote-by-mail application. 
Once you receive your ballot by mail, the return envelope will have pre-paid postage.
There will be limited in-person voting, but only for those with disabilities and for some without access to the postal service like the homeless from 6:30am - 7:30pm, April 28 at the Summit County Board of Elections.
To track your ballot, click here.
For information about the candidates and issues on your ballot, go to VOTE411.org.  
For more information about the election consult Secretary of State Primary FAQ.