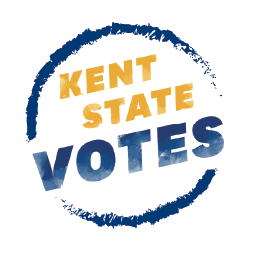 That's the new mantra across campus as Kent State students want to be counted – as voters, not just student residents. To kick off REV, Kent State committed to an all-across campus push.
The push will be handled in three stages - Registration...then Education, hopefully through a variety of forums and then pushing students to vote early, vote through absentee or to vote on Election Day, Nov. 6.
Led by students, faculty and staff, the Kent Votes coalition started mid-summer with an assembling of groups that included student government, NAACP, the KSU Library, May 4 Visitors Center, the Engaged Learning community, Black United Students, LWV-KENT, LGBTQ Center, the national Campus Vote-PROJECT DEMOCRACY, Student Multicultural Center, Political Science Department, the Centre for the Study of Gender and Sexuality, the KSU Women's Center, United Campus Ministries and many more. The coalition has been meeting every two weeks since.
Posters have cropped up across campus, throughout the residence halls and across town. Registration tables were set up periodically, drawing dozens in to change their registrations or to register anew. In social media, the group established a Facebook page as well as used a Twitter account.
What has been heartening to LWV-KENT is the group's enthusiasm for the end result -hopefully more students voting in future elections. President Stacy Yaniglos, Jane Preston Rose, Iris Meltzer and Barb Hipsman have attended meetings, offering historical perspective and also sharing some of the LWV-OHIO pamphlets and flyers.
Previously elections have found one or two or three groups asking for help, usually through now League member Donna Carlton. But with the emergence of this coalition, we hope voter service on campus will become habit! Thanks to all who have helped when we've asked.