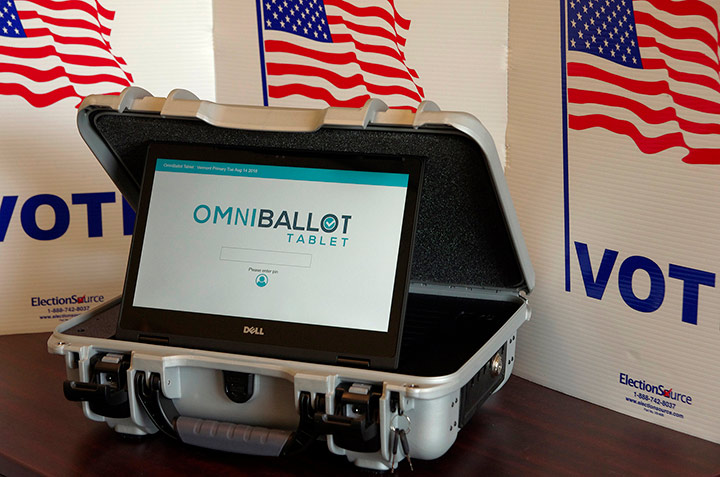 Your Voting Rights 

As A Person With A Disability
 

The right to vote (if you are otherwise qualified)

 

The right to access your polling place

 

The right to receive reasonable accommodations for your disability
WHAT KIND OF
ASSISTANCE CAN PEOPLE WITH DISABILITIES
EXPECT?
Vermont's election laws are designed to make it easy for all eligible Vermonters to vote and to register to vote. One of the specific purposes of the Vermont Election Laws is "to provide equal opportunity for all citizens of voting age to participate in political processes" 17 V.S.A. §2101.
VERMONT'S ACCESSIBLE VOTING SYSTEM
If you have a disability, ask to use the OmniBallot Tablet Accessible Voting System at the polls. This offers you three options – a touchpad on the screen, keypad with braille, or paddle system. Your selections will be printed on the same paper ballot used by voters at the polls. You can also access OmniBallot Online from anywhere so you can complete your ballot, print and return it by mail or in person to the Town/City Clerk during the early voting period. Read more about voting rights as a person with a disability.
IF YOU NEED ACCOMMODATIONS TO ASSIST YOU WITH VOTING
Contact your Town Clerk to request accommodations

Bring a person of your choice into the voting booth with you for assistance (not your employer or union representative)

Ask an election official for assistance with marking your ballot

Ask an election official to bring a ballot to your car

Bring a magnifying glass or other devices to help you use the ballot

Bring a list of candidates into the voting booth to help you

Ask for another ballot (maximum of 3) if you make a mistake

Use the 

Omniballot tablet accessible voting system

 at the polls
IF YOU EXPERIENCE PROBLEMS WITH VOTING, YOU MAY CONTACT
Disability Rights Vermont
141 Main Street, Suite 7, Montpelier, VT 05602
1-800-834-7890 or 1-802-229-1355
www.disabilityrightsvt.org
Vermont Center for Independent Living
11 East State Street, Montpelier, VT 05602
1-800-639-1522 or 802-229-0501
www.vcil.org
Green Mountain Self Advocates
2 Prospect Street, Suite 6 Montpelier, Vermont 05602
1-800-564-9990 or 802-229-2600
www.gmsavt.org
Vermont Secretary of State, Elections Division
128 State Street, Montpelier, VT 05602
www.sos.vermont.gov/elections
1-800-828-2363 
RESOURCES
1. Voter's Guide for People with Disabilities
2. Disability Etiquette - A Guide to Respectful Communication