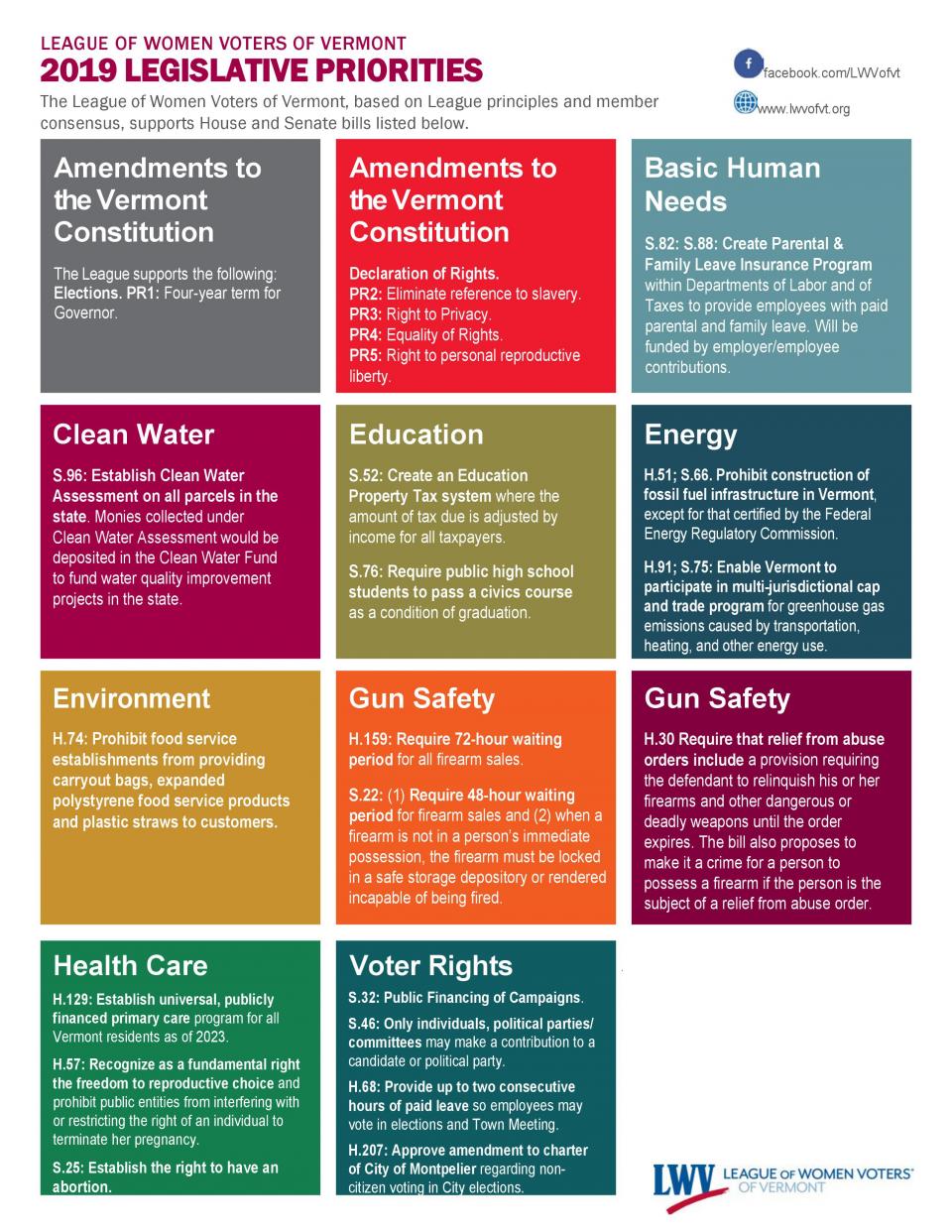 League Members made a preliminary of list of bills and issues to follow this 2019 session.
On January 22, 2019, we held a Legislative Review meeting, where members should review and evaluate bills before the Legislature and identify issue "specialists" and potential specialists who are willing to follow closely bills of particular interest.
Bills introduced later in the session (House bills numbered higher than 90) that were in our interest areas have since been added to this list.
General Categories of Interest
These are the general categories of legislation of interest, that have League members willing to follow the legislation.
Reproductive Rights
Clean Water 
Corrections 
Education 
Election Law (no committee members yet)
Energy 
Environment 
Gun Safety 
Health Care 
Taxation (no committee members yet)
Bills of Interest 
Below are the bills of interest chosen by members at the meeting, although we will not be actively following them all, and will advocate on fewer still.  Not yet filed, but also of interest are bills relating to Universarl Primary Care, the report on updating Act 250, and the state Ethics Commission
Reproductive Rights
S.25/H.57 (not identical bills, but probably one will be the lead bill)
Clean Water
H.64 – Proposes to ask JFO to identify contributors of pollutants to state waters and proposes exise taxes on those materials or activities; ANR to report on formation of stormwater facilities
H.55 – Microplastics study
Corrections
H.71 – prohibits contracting with for-profit prison or sent Vermont inmates out-of-state
Education
S.39, S.50, H.39, H.40, H.41, H.62, H.78 – All some variation on extending deadline or otherwise thwarting A.46 (surely not all will be taken up in committee)
S.46, H.3 – Companion bills for creating Ethnic and Social Equity Standards Advisory Working Group
H.110 - An act relating to the elimination of strikes and imposed terms in connection with collective bargaining for teachers' and school administrators' contracts
S.38 – Tuition-free Scholarship Program
H.141 - An act relating to public school choice (we haven't studied this bill yet)
S.52 - An act relating to creating an education property tax that is adjusted by income for all taxpayers
S.76 - An act relating to the requirement to pass a civics course for high school graduation
H.185 - An act relating to transgender and gender nonconforming student access to gender-segregated school programs, activities, and facilities
Election Law
S.11 – Limits senatorial districts to a maximum of three members
S.32 - Public financing of election campaigns
S.47 – Campaign finance;  limits contributions to political parties, individuals and political committees
H.68 – Provide up to two consecutive hours of paid leave for voting
S.164 - An act relating to creating a public school holiday on the date of the biennial elections under the Vermont Constitution
Energy
H.51 – To ban construction of fossil fuel infrastructure in Vermont
Environment
H.33 – Establish a $0.10 charge for each disposable carryout bag from a retail establishment
H.78 – Prohibits plastic carryout bags, expanded polystyrene and single-use plastic straws by food service establishments
The House committee on Natural Resources, Fish and Wildlife is working on Act. 250 amendments as a committee bill, which does not yet have a number.
H.91 - An act relating to a cap and trade program for greenhouse gas emissions caused by transportation, heating, and other energy use
H.126 - An act relating to a zero-waste economy (we haven't looked into this bill yet)
S.75 - An act relating to a cap and trade program for greenhouse gas emissions caused by t
ransportation, heating, and other energy use
H.171 - An act relating to water quality funding
Gun Safety
S.1, S2, S3 – all related to large capacity ammunition feeding devices
S.22 – 48-hour waiting period for firearms sales; safe storage
H.30 – relinquishment of firearms during relief from abuse orders
H.159 - An act relating to establishing a waiting period for firearms sales
Health Care
S.42, H.52 – Requires at least one member of Green Mountain Care Board to be a health care professional
H.22 – Expand the types of hospitals for which GMCB reviews annual budget
S.53 – GMCB to review allocation of health care spending to primary care
H.129 - An act relating to a universal, publicly financed primary care program for Vermont
Taxation
S.52 – Create an education property tax system adjusted by taxpayer income
H.136 - An act relating to a surcharge on income taxes (provide revenue to  increase state income tax credit)
Social
H.107 - An act relating to paid family leave
S.88 - An act relating to paid family leave
Proposals to Amend the Vermont State Constitution
PR.1 – Four-year term for Governor
PR.2 – Declaration of rights; eliminating reference to slavery in Vermont's Constitution
PR.3 – Declaration of rights; right to privacy
PR.4 – Inclusionary ERA (not yet filed)
If you'd like to be involved as a League member in following bills and possibly attending committee hearings, please indicate your interest below: