by Sonja Schuyler, LWV-Vermont State Board
In 2017, Act 73 was passed to create the Working Group on Water Quality Funding and gave this group the mandate to submit a report and legislative proposal for long-term funding for water quality improvement by November 15, 2017.
Here are the findings by the Working Group in the November 15 report:
Utilize existing state revenues and financial 

instruments to fund clean water through FY21.

Allow clean water priorities to guide how costs 

are shared across sectors.

Establish approaches for revenue collection and service delivery that are environmentally 

efficient and cost effective.

Pursue technological and regulatory innovation, including commoditizing phosphorus, 

developing flexible financing, and leveraging i

ntegrated planning and permitting models.

Commit to adaptive management.
While these are laudable findings, note that two things are missing from the report:
Proposal for long-term funding

Legislative Proposal
We were disappointed that the 2017 session of the Legislature "kicked the can down the road" on the long term funding issue.  Act 73's Working Group was the response to the need for long term funding.  It looks like their report kick's the can further down the road.
In January 2017, State Treasurer Beth Pearce recommended a parcel tax or an impervious area tax to close the gap between available funding and spending needs.  Her recommendations were not accepted at the time.  It seems that most leaders are trying to avoid the topic.  
VTDigger hosted a forum in Burlington on December 7th, Lake Champlain Clean-up – Who pays?  The three panelists were Chris Killian, Conservation Law Foundation; Julie Moore, Secretary of the Agency Natural Resources; and David Mears, Vermont Law School.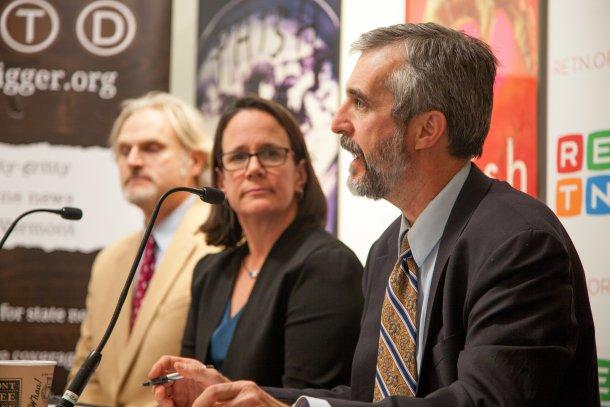 Chris Killian called for action now, and a change in the message from government from "Be Patient" to "It's a solvable problem".   Julie Moore explained the "All in" approach and talked about the many initiatives going on with cooperation between ANR and the Department of Agriculture and Markets.  David Mears re-iterated the need for a stable long-term funding approach.  But the question of Who Pays? seemed to elude the panel until the final minutes when David Mears responded to a direct question from the audience that he thinks we need a parcel tax. [Link to VT Digger news article on the December 7th Forum]
The Working Group report considers the administrative cost for either a parcel tax or an impervious area tax too high.  According to the report, the administrative cost for general tax collection is $0.01 per of revenue compared to $0.22 per $1.00  of revenue.  However, no other alternative is put forward in the report.  At the December 7th forum, Julie Andrews estimated that $100 million will be need annually with one-third coming from the federal funds, 1/3 from state funds and 1/3 from municipal funds.  Here we are with the question still there—Who pays?
The League will be working on this issue during the upcoming legislative session.
Issues referenced by this article:
League to which this content belongs:
Vermont