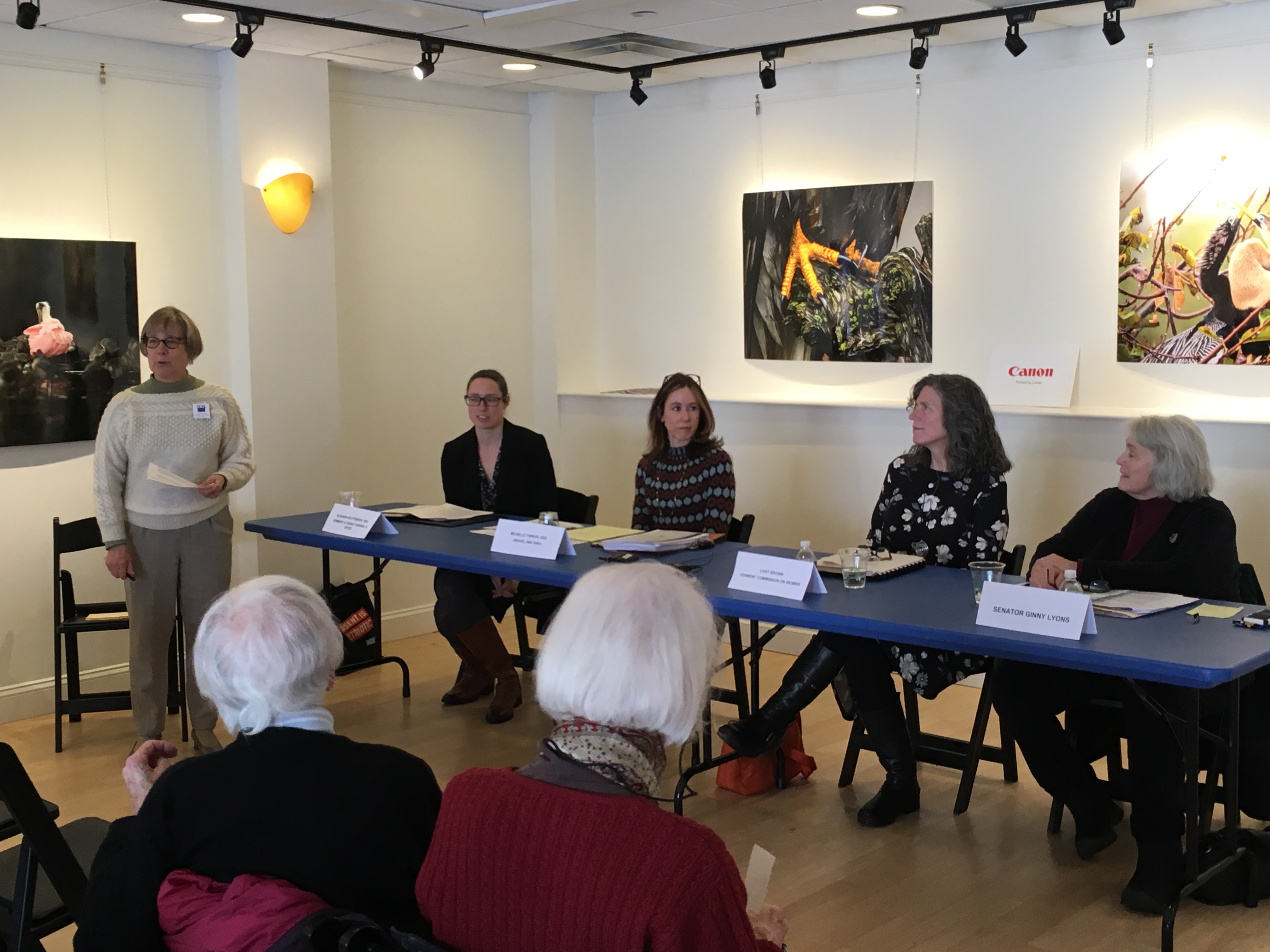 Champlain Valley League of Women Voters presented a panel discussion of amending the Vermont constitution with an Inclusive Equal Rights Amendment.  Main Street Landing hosted the event in the Gallery at 3 Main Street in Burlington.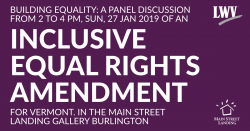 Each panelist made a succinct presentation of an aspect of amending the Vermont Constitution with a proposed Inclusive Equal Rights Amendment.
The Process of Amending the Vermont State Constitution
Senator Virginia "Ginny" Lyons, sponsor for the proposed amendment, spoke first.  Many Vermonters are surprised that equal rights for women are not already part of the Vermont constitution.  She acknowledged the hours of work already invested in this proposal, including  work by the women on the panel.  She then explained the process of amending the Vermont constitution, and what that timing would mean for a proposed Inclusive Equal Rights Amendment.  She explained the benefit of making these rights part of our constitution.  Laws are more easily rewritten, so they don't protect civil liberties as well as an amendment would.
A four-year process
Proposals for amending the constitution can only be introduced every fourth year.  This year, 2019, qualifies.  The next would be 2023.
A committee has been exploring what role an equal rights amendment would play in Vermont.  In the last legislative session, the senate adopted a resolution to amend the the state constitution with an inclusive equal rights amendment, which sets up this biennium to officially propose such an amendment.
2019: Propose the Amendment
The proposed amendment must be approved by a two-thirds majority of the senate (20 votes), before it is sent to the House to be approved by a simple majority.  Supporters of the amendment hope to accomplish this in the current biennium. 
2021: Approve the Amendment
Then, after the next election (in 2020), the succeeding legislature, informed by the vote that put them in office, would need to approve the Inclusive Equal Rights Amendment to the constitution again, but only by a simple majority in each house. 
2022: Ratify the Amendment
After this, the citizens of the state vote to ratify the amendment in the following election (2022).  It is interesting to note the governor has no executive vote or veto on state constitutional amendments, though he and his Secretary of State would have a role in placing the amendment on the ballot.
What Inclusive Includes
An Inclusive Equal Rights Amendment would reflect our values as Vermonters, in establishing equal protection under the law for many groups of people.  The language could include race, sex, age, religion, creed, color, familial status, disability, sexual orientation, gender identity, and national origin.
Reproductive Liberty may be the second part of an Inclusive Equal Rights Amendment, or it may be a separate amendment.
The History of Equal Rights Amendments in Vermont
Cary Brown, Executive Director of the Vermont Commission on Women, provided historical context for constitutional amendments regarding equal rights in Vermont.  She noted that the Vermont Commission on Women, part of the state government, was established in 1964 to advance rights and opportunities for the women and girls of Vermont.
Brown noted that Vermont ratified the National ERA in 1973, but not enough other states ratified to amend the US Constitution before the deadline, so the effort for a national ERA failed in 1982.
Without a national Equal Rights Amendment, an amendment to amend the Vermont state constitution with an Equal Rights Amendment was proposed in the 1980s.  Vermonters narrowly failed to approve this state amendment.  Among the concerns that led many Vermonters not to approve, was the fear that a state Equal Rights Amendment would lead to legalizing same-sex marriage.  Today's social climate is different, and marriage equality well established.  A new proposed inclusive Equal Rights Amendment would face different and possibly much fewer objections.
Other States have had Equal Rights Amendments for Decades
Michelle Farkas, attorney with Gavel and Shea, served on the initial committee that developed the Equal Rights Amendment resolution in 2018 (S.R. 11).  Her work included looking at constitutions of other states that include equal rights provisions.
There are 24 states with equal rights provisions.  Wyoming is the oldest, which includes this in its 1890 state constitution.  Many states ratified equal rights amendments in the 1970s concurrent or in response to the campaign for a national ERA.  These provisions vary in scope: for example the Illinois amendment is limited to actions of the state and local governments and school districts.  
Many of these other states' equal rights provisions are in language that lists other protected classes.  So, Vermont would be among many other states if it amends its constitution to protect equal rights in an inclusive way, including many protected classes.
An Equal Rights Amendment provides a higher legal standard that helps plaintiffs make their case.
Ella Spotswood is a Deputy Soliciter General with the Vermont Attorney General's Office.  She pointed out that rights we believe we have as Americans might not be as established as we think.  For example, consider Roe v. Wade, which we look to concerning the right to the seek an abortion.  This ruling is based on a right to privacy, which is an important established right but is not explicitly stated as "right to privacy" in the law.  Without explicit constitutional language, we've seen Roe v. Wade getting chipped at.  The legal test for racial discrimination in Vermont is a highest standard (what Spotsworth said was more technical), which makes it easier for plaintiffs to show that they way they were treated does not meet the standard of fairness.  Discrimination based on gender, however, which is not currently backed in our constitution, has a legal test that is only medium. Other classes have to prove against a lower "reasonable" standard, which is more difficult.  An inclusive ERA would apply a high legal standard for civil rights.
League to which this content belongs:
Vermont