WHAT IS MAIL-IN/ABSENTEE VOTING?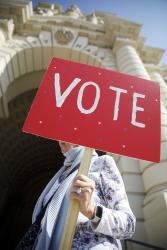 Here are the quick facts about mail-in voting.
Absentee voting allows any registered voter to cast a ballot without going to a polling location on Election Day. This is a convenient option, especially while we live through COVID-19. Absentee voting is also anonymous and completely secure. 
You can request an absentee ballot and, later, decide to vote in-person instead. In that case, do not send in your absentee ballot - once your ballot is received back at the town office, it is considered a cast ballot. If you do not return the absentee ballot, then you can still vote in person.
Keep in mind that in-person voting will also be available for the November 3rd election.
Vermont's General Election is coming up on Tuesday, November 3rd. If you are registered to vote, please vote absentee. That will reduce crowds at polling places and increase safety for poll workers and voters who need to vote in person.
Call your Town/City/County Clerk to make your request for an Absentee Ballot, which will arrive by mail.
The League of Women Voters of Vermont thanks FRONT PORCH FORUM for its support in helping us inform Vermont voters in 182 neighborhoods and towns about Early, Absentee, and Mail-in Voting through General Election Day on November 3, 2020.
GUIDE TO ABSENTEE VOTING
Completing your absentee ballot is easy and convenient! It requires three simple steps. 
STEP 1: REQUEST AN ABSENTEE BALLOT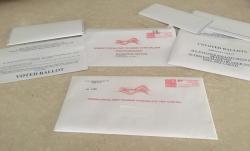 Absentee ballots are available at least 40 days before an election through Election Day. It is a one-time request and you must renew your request for each election. In 2020, due to the pandemic, you can make a one-time request for both the primary and general election.
Absentee ballots for the November 3, 2020, general election will be available no later than September 21, 2020. Absentee ballots for local elections—town meeting elections by Australian ballot—are available 20 days prior to the election. We strongly recommend that military or overseas voters request an early or absentee ballot at least 45 days prior to the election.
VOTER TIPS
Due to the COVID-19 pandemic, most Town Offices are not open to the public. Please

call your Town or City Clerk

to find the best way to get your absentee ballot.

Check your Town Office hours, https://sos.vermont.gov/media/vh1jv3oj/2019townclerkguide.pdf.  Some offices are CLOSED the day prior to an election.

Election time is busy!  Be sure to allow adequate mailing time for your absentee ballot to be mailed to you and to be returned to your clerk's office.

Absentee ballots may be hand-delivered to your assigned polling station during voting hours on Election Day.
REQUESTING AN ABSENTEE BALLOT
Mail. Contact your Town or City Clerk to mail you your absentee ballot. Make your request early to allow enough time for the ballot to be mailed to you, which can take 5-7 days.
Online. Go to mvp.vermont.gov to request your absentee ballot using your My Voter Page Account. Click here for a printable request form that you can submit by mail or fax to your Town or City Clerk.
Unregistered voters may also request an Early Absentee Ballot. A voter registration application will be provided along with the absentee ballot. Applicants must register to vote in the town or city where they currently reside. First-time voters will need to supply an acceptable form of ID which could be a driver's license, passport, current utility bill, or bank statement. 
In-home Ballot Delivery. If you are sick or have a disability, an absentee ballot can be delivered to your home on Election Day. You may request an absentee ballot up to 5 p.m. the day before the election. Two justices of the peace (of different parties when possible) will deliver a ballot to you and bring the ballot back to the polling place so it can be placed in the ballot box and counted.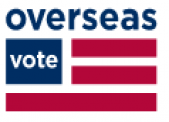 For uniformed service members and US citizens living abroad, the Federal Voting Assistance Program (FVAP) established by the Department of Defense, ensures you have the tools and resources to vote from anywhere in the world. Fill out the Federal Post Card Application (FPCA) which serves as, both, a voter registration application and absentee ballot request. It is available through various branches of the military and U.S. embassies and consulates, or online, www.FVAP.gov/election-materials. If requested, absentee ballots may also be sent by email.
STEP 2: COMPLETE YOUR ABSENTEE BALLOT
You will receive an absentee ballot envelope that says Vermont Official Early or Absent Voter Ballots and it will be from your Town or City Clerk. Inside you will find three ballots, one for each of Vermont's major political parties (Democratic, Progressive, Republican) and three envelopes. You can only vote on one party ballot. When marking your ballot, be sure to use a black or blue ballpoint pen. Fill in the bubbles completely and do not use check marks or an X to mark the ballot.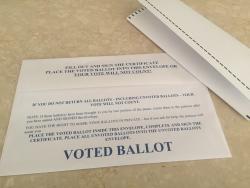 After you fill out your ballot, place it in the Voted Ballot envelope also known as the certificate envelope and seal it. Next, complete the reverse of the Voted Ballot envelope (certificate) - your name, Town or City, signature, and date. Check once more that you have signed the Voted Ballot envelope. Your absentee ballot is not valid if the envelope is not signed. 
Place the two unvoted ballots in the Unvoted Ballot envelope and seal it. Enclose both the Voted Ballot and Unvoted Ballot envelopes in the postage-paid Return Envelope addressed to your Town or City Clerk. Please know that your vote will not count if you do not return all three ballots and envelopes. 
If you make a mistake on your absentee ballot, call your Town or City Clerk to request a replacement ballot. You may receive up to a total of three absentee ballots. Spoiled ballots must be returned by mail or in person to the Town or City Clerk before receiving another ballot. 
STEP 3: RETURN YOUR VOTED ABSENTEE BALLOT
In order to be counted, absentee ballots must be received by the Town or City Clerk before the close of business on the day before the election or at your assigned polling station by 7 p.m. on Election Day. If you lost or did not receive your ballot, you can sign an Affidavit Form for  Undelivered or Lost Absentee Ballots and the Town/City Clerk will provide you a replacement ballot.
Absentee ballots may be returned by mail or in person at your Town or City Clerk's office. If you mail back your ballot, allow for 5-7 days to make certain it gets to your Town or City Clerk on time. Post marks are not accepted.
If you wish to hand-deliver your ballot, be sure to check your Town or City Clerk's hours
QUESTIONS
Call or visit your Town or City Clerk. If you need additional assistance you can email the Elections Division at sos.elections [at] vermont.gov () or call 800-439-VOTE.
WHEN IN DOUBT, CONTACT THE LEAGUE
If you have a question about absentee voting or elections, email us at league [at] lwvofvt.org. We are here to assist all voters.