Sign-up to help! Democracy depends on voters having a voice in the electoral process. Gerrymandering suppresses that voice. Together, let's End Gerrymandering!
Together we will have Fair Maps in Virginia | Our Partner in Action | Read LWV's Position on Redistricting Reform
Together We Will Have Fair Maps in Virginia
We can make Virginia fairer for voters!
Public education campaign is how we bring fair maps to Virginia! Our partner at OneVirginia2021.org has local grassroots chapters throughout the state. And we're in luck because we're next door to the Fairfax Local Action Group (FLAG), and this team of passionate volunteers has aspirational goals to have a presence at nearly every community event in the Fairfax area! Join their volunteer corps and help get the word out about why voters must be the priority when it comes to drawing district maps.
To volunteer to do voter outreach about Redistricting Reform and Fair Maps (aka End Gerrymandering), sign-up for any of the dates listed in this signup genius form.
When we have compact, continuous districts that represent communities of interest and abide by the Voting Rights Act, voters will have an electoral process that meets their expectations and truly allows them to express their voices through their votes. 
Join the movement to end gerrymandering
Up the task! Virginians are standing up for fair maps!
Today, in Virginia, representatives are picking their voters. They are literally drawing the electoral maps and choosing who their voters are. But shouldn't voters pick their representatives? OneVirginia2021 and League of Women Voters believe so!
Our partner in action, OneVirginia2021, has a great list of way to learn about gerrymandering and redistricting reform as well as ways to get involved:
Need to SEE why we're taking action? Check out the maps!
Virginia House of Delegates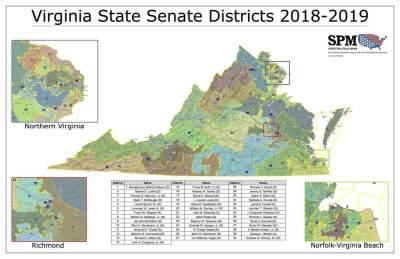 Learn more about One Virginia 2021!
Watch the documentary NOW - click this link or watch below!