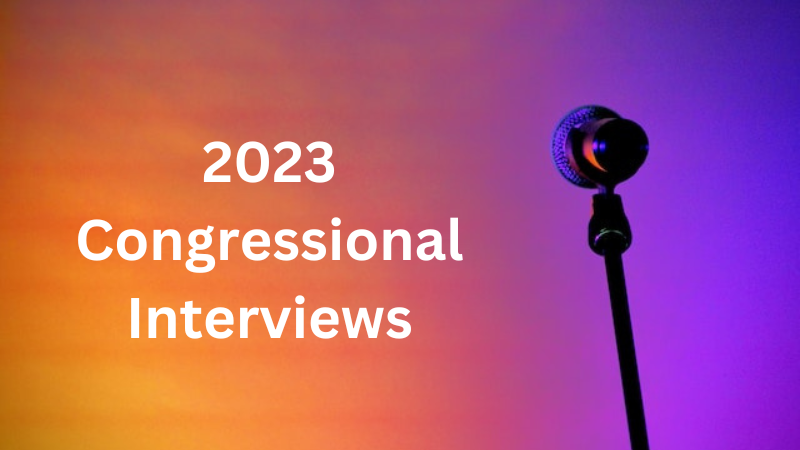 2023 Congressional Interviews in the League of Women Voters of Orange Coast
One of the many ways our League of Women Voters of Orange Coast, which League folks typically refer to as COAST, does its work is by maintaining relationships with the members of Congress who represent our Coast cities. Among other things, we periodically conduct  "Congressional Interviews," a national project of the League of Women Voters of the United States (LWVUS). 
The interviews are structured according to the League's current national priorities and serve both to share our priorities with our representatives and for us to learn more about their priorities and how they may both align with our goals – and may not. 
The information gleaned is shared with the LWVUS which can, in turn, use it to support its interactions with the Congress members.
Local Leagues interview the representatives, and State Leagues are responsible for the senators. Where a representative is shared by two or more Leagues, Leagues may interview together or agree that one League will interview but share the information.
This year the LWVUS requested that Local Leagues nationwide meet with congressional representatives during the August recess to raise our voices for Congress to pass stronger voting rights protections.
The League's goals for the Congressional Interviews were:
To develop strong, two-way relationships with legislators for future advocacy;
To communicate LWV's support for voting rights to congressional offices; 
To learn about legislators' priorities; and  
To build relationships with lawmakers locally which will help strengthen relationships on the local level.
They provided tailored questions to ask our members of Congress in the interview: 
What issues are a top priority for your office in this Congress?
How important is it to your office to enact policies that make it easier for eligible voters to vote?
What concerns are important to your office to see addressed in any federal bills that would affect voting?
Are there specific voting bills that your office supports or opposes this session? The ACE Act? The Freedom to Vote Act? Others?
We reported back to LWVUS on the provided reporting form with the results of our interviews. The information we gathered will be valuable to LWVUS's strategizing and lobbying efforts in Washington, DC.
A small group of our members was able to meet with a representative from Katie Porter's office and with Mike Levin.
Katie Porter represents the 47th district, including the COAST cities of Costa Mesa, Huntington Beach, Irvine, Newport Beach, and Seal Beach, as well as portions of Laguna Beach, Laguna Hills, and Laguna Woods.
Mike Levin represents the 49th district, including the COAST cities of Laguna Niguel, San Clemente, Dana Point, and San Juan Capistrano.
We were not able to schedule a meeting with Young Kim, who represents the 40th district, including  all or portions of COAST cities Aliso Viejo, Irvine, Laguna Woods, Lake Forest, Mission Viejo and Rancho Santa Margarita.
We met our goals as outlined with both Representatives Porter and Levin. Based on their responses to the questions asked: voting, voting rights, climate, and finance reform were the top priorities for both of these Representatives. 
In addition,  they discussed their support of the LWV, DACA, addressing housing/homelessness, consumer protection, women's rights and the ERA, Ukraine, their opposition to book banning, and the increase in gun violence,.
State Interviews Coming Up! Every year in February, the League of Women Voters of California (LWVCA) has all Local Leagues conduct similar specific targeted question interviews with their local State representatives. If you think you might be interested in being on an interview team with your representative, contact legislative.interviews [at] lwvorangecoast.org (Anne Stone) at legislative.interviews [at] lwvorangecoast.org.
The Last Word: If you are not sure which member of the House of Representatives serves you, use the Orange County Registrar of Voters district look-up tool at: Find My District - Lookup Tool.
Rebecca Newman
Issues referenced by this article: