DEMOCRACY MATTERS
League of Women Voters Solano County
DEMOCRACY simply stated is a government of, by, and for the people. (We The People.)
It is NOT something that we have, but something that we DO.
DEMOCRACY MATTERS (DM) is LWV Solano's Civics education program which offers Project-Based Hands-On Civics Learning Activities that incorporate the League's tested, practical processes and tools that support the collective voice of we-the-people to control our government.
DEMOCRACY MATTERS:
HIGHLIGHTS the importance of educating citizens and leaders not only in local government processes and voting but also on how to engage effectively and with civility on the issues and solutions that concern them.
SHARES the League of Women Voters hallmark, practical, and civil tools on how and what citizens must do to make democracy work, thereby, challenging citizen apathy and cynicism toward government that is rooted in political ignorance.
DEMONSTRATES how informed citizen participation in the local government process sustains democracy by:

Providing a platform on which education about democracy's promise—a government of, by, and for the people—is transmitted from one generation to the next.
Ensuring that respect for humanity and dignity for all be part of local laws and issues policy solutions that support quality of life by engaging new voices and fresh ideas.
Critical Thinking, Active Listening, and Communication Skills: Through a project-based, hands-on collaborative approach, DM develops the ability to self-reflect and self-express while inspiring a community mindset.

Good Citizenship: DM provides a better understanding of how government works as well as empowering participants with active, impactful learning experiences on the ways and means to perform citizen responsibilities to help make government work.
Transparent/Accountable Government: DM creates a civically engaged and empowered local citizenry that connects elected/appointed officials with constituents and their issues.
TRAININGS and HANDS-ON CIVICS LEARNING OPPORTUNTIES
Observer Corps Training: DM encourages students to participate in local government by attending governing boards and agency meetings. The training includes information on the constitutional right-to-know laws as well as instruction on how to participate and engage elected officials with civility. Hands-on-Activities include a mock city council meeting and the creation of a student observer corps.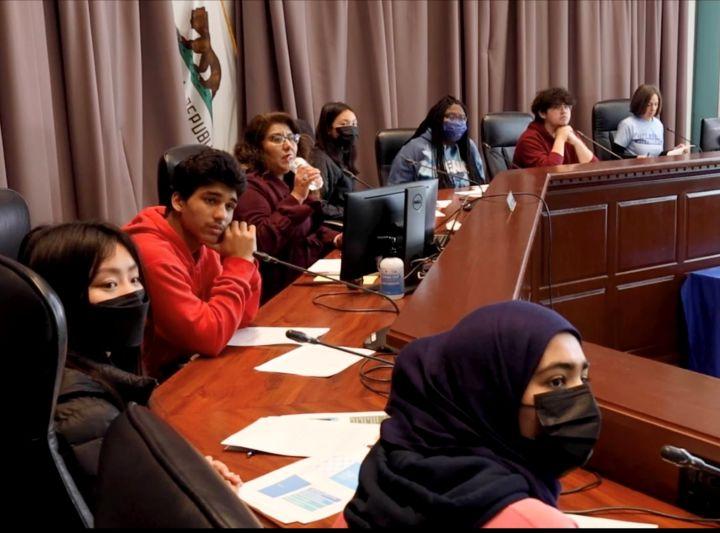 Voter Registration Training: DM encourages students to not only register to vote, but how to perform peer-on-peer voter registration and work at a poll on election days. This hands-on training is conducted by Assistant Registrar of Voters, John Gardner and his team and includes training on how to use voter and voter registration equipment and technology, as well as how to work at a poll on election day. Hands-on-Activities include working at a poll on election days, (Adopt a Poll) registering voters at school activities, and VOTING.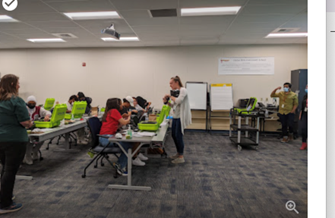 Forum Training: DM uses Forum Training to encourage students to not only attend candidate and issue/policy information forums, but how to organize and present their own forums using the rules of engagement and civility practices used by the historic League of Women Voters. Hands-on-Activity includes how to plan, organize, and conduct a student-led forum.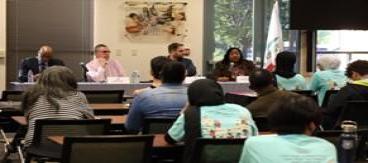 Launched in 2020, the Democracy Matters program was started and continues to be spearheaded by LWV Solano Board Member Alice Fried. The program started with an initial partnership with the Solano Youth Coalition (SYC). Program partners now include Golden Hills Community School, Mare Island Technology Academy, and the Vacaville Police Activity League (PAL), with future programs planned with ARC-Solano for students with disabilities, Adult Ed/Vacaville, and Adult Ed/Fairfield.
The Democracy Matters program's high value was acknowledged in 2023 with the LWV California Convention's Making Democracy Work Award. For award details click here or visit https://lwvc.files.wordpress.com/2023/05/mdw-solano.pdf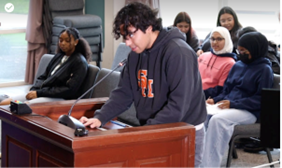 DEMOCRACY MATTERS
View DM in Action: View DM videos on YouTube at LWV Solano Democracy Matters. Videos include Observer Corps, Mock City Council, Voter Registration, and Forum activities along with participant interviews.
For more details on the program and its curriculum, check out the attached documents at the bottom of this page including the LWVSC Observer Corps Training Guide, 2023 LWVSC Award Application for Democracy Matters Program, and 2023 LWVSC Democracy Matters PPT for LWVC Annual Conference.
Be part of this important work and Join the Democracy Matters Committee! Email:alicefried89 [at] gmail.com