The La Grange Area
Empowering Voters - Defending Democracy
The League of Women Voters is a nonpartisan political organization encouraging informed and active participation in government. It influences public policy through education and advocacy.
Join Us for This Program on 

Gun Violence: The Impact on Our Communities

DATE/TIME: Monday, November 26, 2018, 7 pm - 8:30 pm

LOCATION: LTHS South Campus, Performing Arts Center (PAC), 4900 Willow Springs Road, Western Springs, IL

Join us for this free, public Event!

PANEL MEMBERS:
Dr. Cichon, Professor and Chairman, Dept. of Emergency, Medicine, Loyola, Medical Center
Officer Tim Andries, La Grange Police Dept. and LTHS North Campus School Resource Officer
Theresa Hirstein,  LTHS Social StudiesTeacher; and Pat Callahan, LTHS Teaching Assistant: both Sandy Hook Promise Leaders and SAVE Co‐sponsors
This program is co-sponsored by the League of Women Voters of the LaGrange Area (LWVLGA), Students Against Violence Everywhere (SAVE), Indivisible of Brookfield, LaGrange, LaGrange Park, and Western Springs, La Grange Area Moms Demand Action, and St. Francis Xavier, Peace and Justice Committee.
Download Flyer Here.
LaGrange LWV and Lyons Twp High School Host Mock Election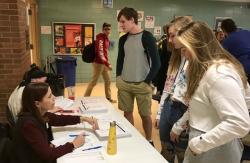 The League of Women Voters of the La Grange Area (LWVLGA) partnered with Lyons Township High School (LTHS) and held the Mock Election 2018 event on October 23, 2018, during lunchtime periods.  It was a school wide event and held at both the north and south campuses of the high school.
The results of the mock election are as follows:
For Governor of Illinois, the winner was JB Pritzker with 56% of the votes. Bruce Rauner received 26%, Grayson Kash Jackson received 5%, and William Sam McCann received 3% of the total vote. 
For Attorney General of Illinois, the winner was Kwame Raul with 46% of the votes. Ericka Harold received 27%, and Bubba Harsy received 11% of the total vote.
923 students voted! 
LaGrange LWV Helps Prepare the Voters of the Future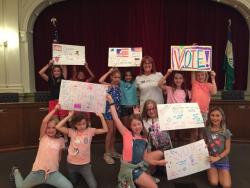 On September 12th, Melissa Lieb of the LWV LaGrange spoke to the Cossitt School 3rd Grade Girl Scout Troop about the League of Women Voters history, how the League of Women Voters promotes and defends voting, the history of voting, the Voting Rights Act, and the importance of Voting.  
 Following the presentation, the group made a poster to encourage voting that will be posted in the Village Hall and local libraries. 
League of Women Voters of the La Grange Area Sponsors Training Event for New Deputy Voting Registrars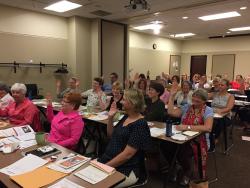 The League of Women Voters® of the La Grange Area (LWVLGA), along with the La Grange Public Library, sponsored a deputy voter registrar training on August 29, 2018, at the La Grange Public Library.
Twenty-seven volunteers were sworn in and can now register any Illinois citizen to vote in the midterm election on November 6th. Individuals who serve as deputy registrars play a vital role in the democratic process by registering people to vote, encouraging voter participation and enhancing the electoral process.
League of Women Voters of the La Grange Area Hosts "Local Elections April 2019: How Can I Get Involved?"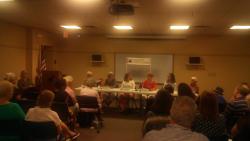 The La Grange Area League of Women Voters and the La Grange Park Public Library hosted a program informing our residents about the upcoming Local Elections in April, 2019. We had a great panel of speakers, four of which are members of LWVLGA, a tribute to the active involvement of our league members in their local governments: Jeanine Jasica, former Village Clerk for the Village Western Springs; Ann Lee, former Trustee of the La Grange Park Public Library; Lara Taylor, Member of the Delegate Assembly for District 102 School Board, and Pat Rocco, Trustee for the Village of La Grange Park. Also serving on the panel were Beth Augustine, former Chairman of the Citizens' Council of La Grange, and Karen Council, Chairperson for the La Grange Park Caucus. Laurie Braun, our excellent league moderator and previous Trustee for the La Grange Public Library, kept things moving along, allowing for enough time to answer all questions from the audience of approximately 40 attendees.
League Hosts Program on Legalizing Marijuana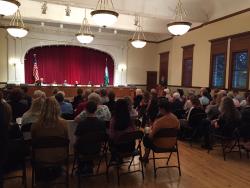 Over 150 people crowded into the La Grange Village Hall on August 28th to listen to an expert panel discussion on the pros and cons of legalizing marijuana in Illinois. The "Great Marijuana Debate" was co-sponsored by the League of Women Voters of the La Grange Area and the Coalition for a Drug Free Lyons Township. Panelists included Heather A. Steans, Illinois State Senator – 7th District, Jim Durkin, Illinois House Minority Leader, Will Jones, SAM Communications Outreach Associate, Dr. Aaron Weiner, Director of Addictions (Linden Oaks), Reverend Alexander Sharp, Executive Director, Clergy for a New Drug Policy, and Chelsea Laliberte Barnes, MSSA, Director/Cofounder, Live4Lali Inc. Read all about the debate in the Doings article. And watch a video of the debate here!
Now Pay Your League Dues Online! 
Save a stamp! You can now use PayPal to pay your dues directly! Just follow the Join button here.
Ever Wonder Who Our Leaders Are?
Many of us have been asking for a listing of elected officials. If you go to our page on Facebook, select TOWN HALL from the sidebar and it will bring up all your representatives based on your address.
If you want a listing of phone numbers, websites, email addresses and mailing addresses for more than 4,000 federal, state, county and local officials elected in Cook County, the Cook County Clerk has just completed the 2017 Directory of Elected Officials (DOEO). Click here to access the DOEO and download a PDF copy of the document.
College of Dupage - Observer Report
Your LWV Coalition for College of Dupage observers will be paying close attention to further developments between the faculty and the Board at future meetings. The faculty association does not strike us as a group that will give up easily. Just when things seemed quite peaceful and calm, this controversy about faculty hiring pops up. One can't help but remember that it was a letter from the faculty association to the Board of Trustees in September 2014 about a vote of no confidence in President Breuder which led directly to the election of the Clean Slate candidates in April 2015. Click here for the current report.
Get LWV Action Alerts on your Mobile Device Using this New App!
The LWV of NYC has partnered with the Voices app, which is a mobile platform for different advocacy groups, including the ACLU and the National Organization for Women, to publish calls to action.
Please Visit Other LWV Sites
Here are some other great League websites to visit: