The La Grange Area
Empowering Voters - Defending Democracy
The League of Women Voters is a nonpartisan political organization encouraging informed and active participation in government. It influences public policy through education and advocacy.
Welcome to Our New Site!
We have upgraded to a new format, and will be adding exciting new features (Alerts, Postions, and Research) over the next few weeks. Check back often!
LaGrange LWV Program to Detail Medicare for All on October 10th
Date: 10/10/18
Time: 7:00 to 8:45 pm
Location: LaGrange Park Public Library, 555 N La Grange Rd, La Grange Park 
Medicare for All has become one of the most important issues in the 2018 midterm elections. What is Medicare for All? How would it affect you and your family? How would it impact healthcare costs? Have your questions answered by an expert. John Perryman, MD, a practicing pediatrician and co-president of Physicians for a National Health Program in northern Illinois, will present information on Medicare for All and will take questions afterward.
LWVIL Is Set to Launch Their Illinois Voter Guide on October 1, 2018
The League of Women Voters® of Illinois (LWVIL) is set to launch their Illinois Voter Guide on October 1, 2018. The guide, available at www.IllinoisVoterGuide.org, empowers voters across the state to access candidate information up and down the ballot in every precinct. Voters can find their ballot, learn about candidates, and print out their choices so they are prepared when they vote. The Illinois Voter Guide will function as an online voter tool to provide critical information about what's on the ballot in national, state and local elections.
League of Women Voters of the La Grange Area Sponsors Training Event for New Deputy Voting Registrars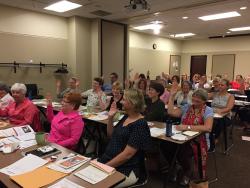 The League of Women Voters® of the La Grange Area (LWVLGA), along with the La Grange Public Library, sponsored a deputy voter registrar training on August 29, 2018, at the La Grange Public Library.
Twenty-seven volunteers were sworn in and can now register any Illinois citizen to vote in the midterm election on November 6th. Individuals who serve as deputy registrars play a vital role in the democratic process by registering people to vote, encouraging voter participation and enhancing the electoral process.
League of Women Voters of the La Grange Area Hosts "Local Elections April 2019: How Can I Get Involved?"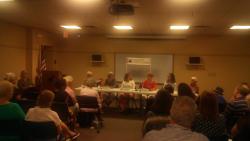 The La Grange Area League of Women Voters and the La Grange Park Public Library hosted a program informing our residents about the upcoming Local Elections in April, 2019. We had a great panel of speakers, four of which are members of LWVLGA, a tribute to the active involvement of our league members in their local governments: Jeanine Jasica, former Village Clerk for the Village Western Springs; Ann Lee, former Trustee of the La Grange Park Public Library; Lara Taylor, Member of the Delegate Assembly for District 102 School Board, and Pat Rocco, Trustee for the Village of La Grange Park. Also serving on the panel were Beth Augustine, former Chairman of the Citizens' Council of La Grange, and Karen Council, Chairperson for the La Grange Park Caucus. Laurie Braun, our excellent league moderator and previous Trustee for the La Grange Public Library, kept things moving along, allowing for enough time to answer all questions from the audience of approximately 40 attendees.
League Hosts Program on Legalizing Marijuana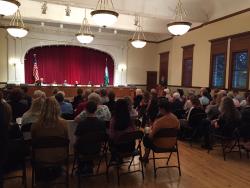 Over 150 people crowded into the La Grange Village Hall on August 28th to listen to an expert panel discussion on the pros and cons of legalizing marijuana in Illinois. The "Great Marijuana Debate" was co-sponsored by the League of Women Voters of the La Grange Area and the Coalition for a Drug Free Lyons Township. Panelists included Heather A. Steans, Illinois State Senator – 7th District, Jim Durkin, Illinois House Minority Leader, Will Jones, SAM Communications Outreach Associate, Dr. Aaron Weiner, Director of Addictions (Linden Oaks), Reverend Alexander Sharp, Executive Director, Clergy for a New Drug Policy, and Chelsea Laliberte Barnes, MSSA, Director/Cofounder, Live4Lali Inc. Read all about the debate in the Doings article. And watch a video of the debate here!
La Grange Area League Members Attend the Wear Orange Events at Hadiya Pendleton Park in Chicago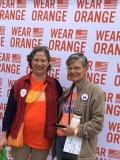 On Saturday, June 2, LWVLGA members attended the Wear Orange event at Hadiya Pendleton Park.
Hadiya's parents established the event to remember the Chicago girl who was fatally shot after returning from President Barack Obama's inauguration. This would have been Hadiya's 21st birthday. 
 April Meeting Details: Carbon Tax as Legislative Approach to Climate Change
On April 24, LWVLGA member Linda Christianson presents material prepared by Citizens Climate Lobby to help viewers understand the current extent of global warming, the environmental, social, and economic benefits of bipartisan legislation that would impose a fee on carbon at the source, how revenue generated by the fees would be redistributed to citizens in a way that favors the lowest-income citizens and could yield economic growth, and the progress already made on moving this idea forward.
Support for Citizens' Climate Lobby's Carbon Fee and Dividend comes from economists, scientists, business leaders, faith leaders, local governments, and editorial boards across the political spectrum. Visit their website for more information.
Now Pay Your League Dues Online! 
Save a stamp! You can now use PayPal to pay your dues directly! Just follow the Join button here.
Ever Wonder Who Our Leaders Are?
Many of us have been asking for a listing of elected officials. If you go to our page on Facebook, select TOWN HALL from the sidebar and it will bring up all your representatives based on your address.
If you want a listing of phone numbers, websites, email addresses and mailing addresses for more than 4,000 federal, state, county and local officials elected in Cook County, the Cook County Clerk has just completed the 2017 Directory of Elected Officials (DOEO). Click here to access the DOEO and download a PDF copy of the document.
College of Dupage - Observer Report
Your LWV Coalition for College of Dupage observers will be paying close attention to further developments between the faculty and the Board at future meetings. The faculty association does not strike us as a group that will give up easily. Just when things seemed quite peaceful and calm, this controversy about faculty hiring pops up. One can't help but remember that it was a letter from the faculty association to the Board of Trustees in September 2014 about a vote of no confidence in President Breuder which led directly to the election of the Clean Slate candidates in April 2015. Click here for the current report.
Get LWV Action Alerts on your Mobile Device Using this New App!
The LWV of NYC has partnered with the Voices app, which is a mobile platform for different advocacy groups, including the ACLU and the National Organization for Women, to publish calls to action.
Please Visit Other LWV Sites
Here are some other great League websites to visit: