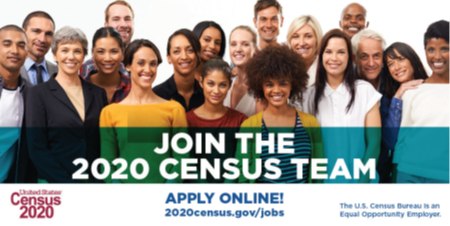 CENSUS BUREAU NEEDS CENSUS 2020 TEMP WORKERS, BADLY…..
COMPLETE CENSUS AT RISK
 In advance of the 2020 Census, the U.S. Census Bureau is recruiting hundreds of thousands of people for temporary jobs across the United States and Puerto Rico. The jobs pay competitive wages, weekly pay, paid training, and flexible hours.
Without enough of these workers, the Census cannot achieve a "Complete Count," and the reapportionment of Congress may not accurately reflect the actual "number of whole persons living in each state," and election district lines may not contain the required equal number of people in each.
Working in one of these jobs would be a community service, whether or not you need the money.
Jobs include Census Takers, Census Field Supervisors, Recruiting Assistants, Clerk, and Office Operations Supervisor.
 Full information is here: 2020census.gov/jobs. Or call 1-855-JOB-2020.