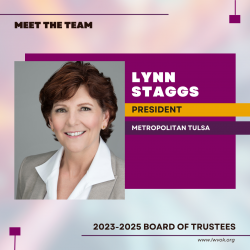 Lynn Staggs has served on the League of Women Voters of Metropolitan Tulsa board of trustees since 2017.  She has held the position of president, vice president, and is currently serving as a trustee. She also served as chair of the Madam President fundraiser for three years. Lynn was editor and project manager for the Oklahoma League's Voter Guide in 2018, 2020, and 2022.   
She is a graduate of The University of Tulsa and has lived in Tulsa for more than 40 years, where she has raised her son and daughter with her husband, Randy. She currently works as Chief of Staff at Tulsa Regional STEM Alliance.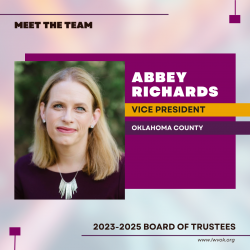 Abbey Richards is an experienced higher education attorney who currently serves as Senior Counsel in the General Counsel's Office at The George Washington University where she has worked for 19 years.  Her practice areas include non-profit governance, finance, tax, regulatory compliance, and transnational legal issues.  Additionally, she frequently works with university administrators and the OGC team on strategic thinking, complex problem solving, team building, and project management.  
 Mrs. Richards is a life-long advocate for education, civic engagement,and voter registration, information, and turnout. In addition to being a member of the State Board of the Oklahoma League of Women voters, she serves as member of the nominations, budget, and convention planning committees as well as working on bylaws drafting at the state and Oklahoma County level and as a LWVOK representative to the civic engagement round table.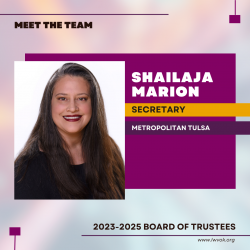 Shailaja Marion has served the Tulsa League since 2018 as the Administrative Director, expanding her skills in volunteer management, social media marketing, graphic design, and fundraising. In her spare time, she has helped run a Japanese anime and culture convention which has been going strong since its inaugural event in 2008.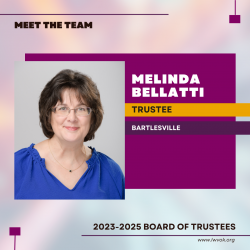 Melinda Bellatti is a lifelong educator currently working as a full-time communication professor at Tulsa Community College where she serves as Department Chair. As a state trustee for the League of Women Voters of Oklahoma she leads the Voter Outreach committee. Melinda serves on the Board of Directors for Hopestone Cancer Support Center in Bartlesville and as a House Board Trustee for a women's fraternity at Oklahoma State University. She also has nonprofit management experience leading youth arts organizations in Oklahoma and Texas.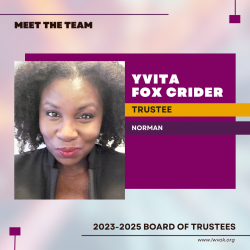 Yvita Fox Crider is an Independent Consultant with the Fox Crider Consulting Group. Her current work involves helping to spearhead the Oklahoma Square One Project, a statewide initiative to reimagine Oklahoma's responses to safety and harm and to change the damaging narratives that drive Oklahoma's carceral punishment system. 
Her previous work included serving as the Director of Statewide Engagement for Oklahomans for Criminal Justice Reform as well as leading a task force of educators to research Oklahoma's juvenile justice system and propose recommendations for its improvement and population reduction. Before transitioning to the reform sector she was an educator and then served as the Director of Leadership Development for the Oklahoma City region of Teach For America. Her work involved advocating for the equitable access of marginalized communities to high-quality education and training educators to more effectively address harmful systems and policies affecting their classrooms and the communities in which they serve.  
Prior to moving to Oklahoma, Yvita lived and worked overseas in faith-based ministry as well as in the international humanitarian sector at the United Nations in Geneva and with various other INGOs.  
She remains active in her community and has served on several boards in the arenas of education and justice reform.  
Yvita holds a M.A. in Political Science, International Relations, and a Certificate in International Human Rights from Webster University Geneva, as well as a Human Rights Consultancy certification from the US Institute of Diplomacy and Human Rights in Washington D.C.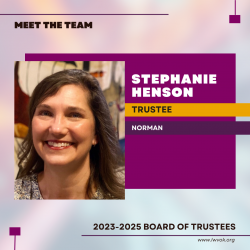 Stephanie Henson is thankful for the opportunity to serve on the board of the League of Women Voters of Oklahoma. I have especially enjoyed opportunities to speak to Oklahomans throughout our state: swapping pecan recipes with voters in Luther; doing a voting dance with an inflatable monkey at the Madill Sandbass Festival;
dressing up as a suffragette for the Victorian Christmas in Guthrie, and talking about the 19th amendment. I have loved float building and marching with fellow League buddies in the Martin Luther King, Jr. parade and running all over Oklahoma City with Betty and the Suffra(Jets).  
I have loved opportunities to advocate for positive policy change: Medicaid Expansion, Criminal Legal Reform, Freedom to Vote Act….so many wonderful moments with League friends, and I feel like we're just getting started.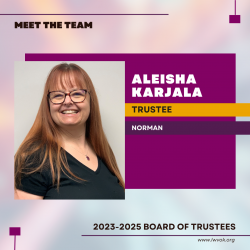 Aleisha Karjala joined the League of Women Voters in Norman in 2015. She joined the steering committee quickly thereafter and currently serves as the co-chair. Aleisha has experience in local government and elections, serving on the Norman City Council and having run for a statewide legislative seat. By day, Aleisha is an award-winning professor of political science at the University of Science and Arts of Oklahoma in Chickasha. Her interests are in civic education and voter turnout. She is committed to the work of the League of Women Voters.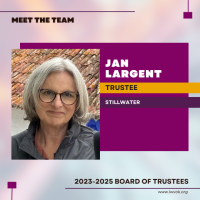 Jan Largent has served on the LWVOK Board of Trustees for eight years with four of those as board president.  During her terms, the emphases were fair district maps, voter access, school funding, and criminal justice reform.  Also, she was involved in three successful fundraising events that put LWVOK on good financial footing.  
She previously taught in Ponca City with most of her career at East Middle School in the Special Education Department.  She and her husband Rex live in Stillwater.  There she volunteers with her local League, the Weekend Food Sack Program, and also works with differently abled adults.  Her hobbies include traveling, reading, and water exercise.  She and Rex have two sons, a daughter-in-law, and grandson who all live in Houston.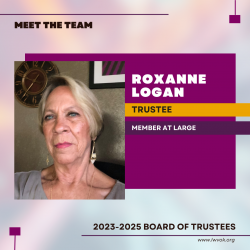 Roxanne Logan is the Southeast Regional Organizer for Oklahoma Policy Institute / Together Oklahoma.  Her region covers the 14 counties in SE Oklahoma.  She has worked in this position for four years. She works to bring legislative issues to advocates in the region, host community meetings training advocates about how the legislative process works, and provide information about current democracy and criminal justice reform legislative issues so they will be knowledgeable, and confident when reaching out to elected officials.  
Roxanne also leads the Oklahoma Policy Institute Criminal Justice Reform Affinity Group. The group of advocates meets monthly, hearing from Oklahoma Policy Institute criminal justice policy analysts, and guest speakers who work in the criminal justice reform arena.  This group of advocates focus only on criminal justice reform legislation, learning about current legislation, and action needed. 
Roxanne is currently enrolled in Murray State where she is studying social psychology, and criminal justice.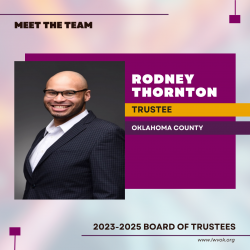 Rodney Thornton is a co-founder of Untapped Potential where he serves as the Director of P.R. & Events / Civic Engagement. Rodney's passion for creating a pathway and giving a voice to the African American, Biracial, and LGBTQIAP+ community inspired the foundation of Untapped Potential. Through his work, Rodney works with minority young professionals and aspiring leaders, providing them with a platform to speak up and make a difference in their communities. 
Rodney's focus on driving change, economic growth, education, and higher quality of life for Oklahomans is reflected in his campaigns. He holds an Associate degree in Applied Science, Biochemistry, and Engineering from Oklahoma City Community College, a B.A. in Political Science and Public Administration and an MPA from the University of Central Oklahoma, and an MBA from Oklahoma Christian University. Rodney is currently working toward his Doctorate in Higher Education and Human Services leadership policy at Oklahoma State University. 
In addition to his role in Untapped Potential, Rodney co-owns Thornton Construction which has successfully executed numerous projects while ensuring timely delivery and quality. Also, he co-owns The Washington Guide, which is an unbiased news organization that is dedicated to providing factual and truthful news reporting to the American people.