Complete Guide to College Voting
 provided by edubirdie.com
Today, the voters aged between 18 and 29 constitute more than 20% of eligible voters in the US. Unfortunately, too many students squander their voting privileges. They think there are more important things than spending half an hour to express their political will. Given that the next presidential election in the United States will take place in 2020, we shall discuss why you should vote and the most convenient ways to do it in college.
The electoral college divides the country into 538 electoral units. Imagine them as 538 individual voters. Regardless of how many people live in, for example, Washington D.C., it will have the same number of votes as an average big state. So, you might say that your vote doesn't matter as you live in Vermont which holds only 3 out of 538 electors. Your position on the issue sounds fairly logical, right? But is it? Do not listen to those saying that you will have to back all the way westward to Los Angeles to vote if you live and study in, let's say, New York.
You should vote because:
Your vote matters;
The electoral college does not reduce the weight of your political will;
You can vote from wherever you feel comfortable;
You can get an absentee voting certificate;
The myths about the need for traveling throughout the country are busted;
Step 1. Define Where You Would Like to Register
Step 2. Always Check on Deadlines and Eligibility 
Step 3. Decide on the Party 
Step 4. Register
 Step 5. Request the Absentee Voting Certificate
 Step 6. Do It!
 click here for the full article and a list of voting resources for students!
_______________________________________

Best Colleges Voting Toolbox
provided by bestcolleges.com
A state-by-state directory explores voter eligibility criteria, residency requirements, registration deadlines, and other voting guidelines in all 50 states and the District of Columbia. Their key issues guide takes a bipartisan look at the major talking points of this election, and reviews each candidate's stance. Their voting rights manual outlines the registration process for college students in all circumstances. Finally, our voting resources list includes links to campus organizations, registration portals, and other sites geared toward college voters.
Click https://www.bestcolleges.com/resources/student-voting-guide/ to be redirected to their page where you can be further directed to links over the Voting Guide For Students, Voting By State, Voting In College, Voting By The Issues, and Voting Resources. 
_______________________________________
Surge in College Student Voters May Impact 2020 Election
Written by SEPTEMBER 30, 2019 in The Daily Illini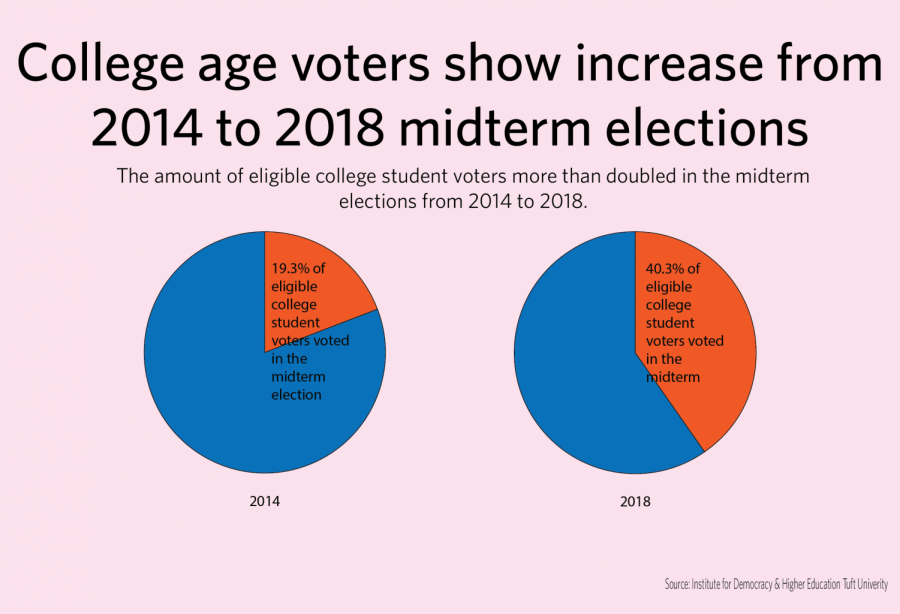 A surge in college student voters may show an ongoing change in the political landscape on college campuses and could affect the upcoming primary elections next year. 
A research study recently published by Tufts University's Institute for Democracy and Higher Education shows that college student voter turnout, from 2014 midterm elections to 2018 midterm elections, more than doubled. In 2014, 19.3% of eligible college-age voters voted, whereas 40.3% voted in 2018. The study reports an increase in all voters throughout the United States but reports a significantly greater increase in voters that are college students.
Brinker said he has seen a general rise in student activism on college campuses and more students are feeling they can voice their political opinions. Voicing political opinions is becoming more of an integral part of being a student and the student experience, and is now being considered a bigger part of the purpose of college, Brinker said. 
Click https://dailyillini.com/news/2019/09/30/surge-in-college-student-voters-may-impact-2020-election/ to read the rest of the article on how College Students may affect the 2020 election.