Persons convicted of a felony shall be eligible to register to vote when they have fully served their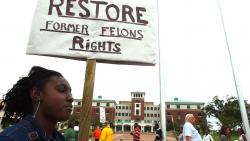 sentence of court-mandated calendar days, including any term of incarceration, parole supervision or a completed period of probation ordered by any court.  A convicted felon who has been pardoned may register to vote.
The Oklahoma Baptist State Convention (OBSC) Prison Ministry can assist with inquiries from adults released from incarceration. Please contact Donna Thompson at 405.209.6750 or email her at obscprisonministry [at] yahoo.com for assistance.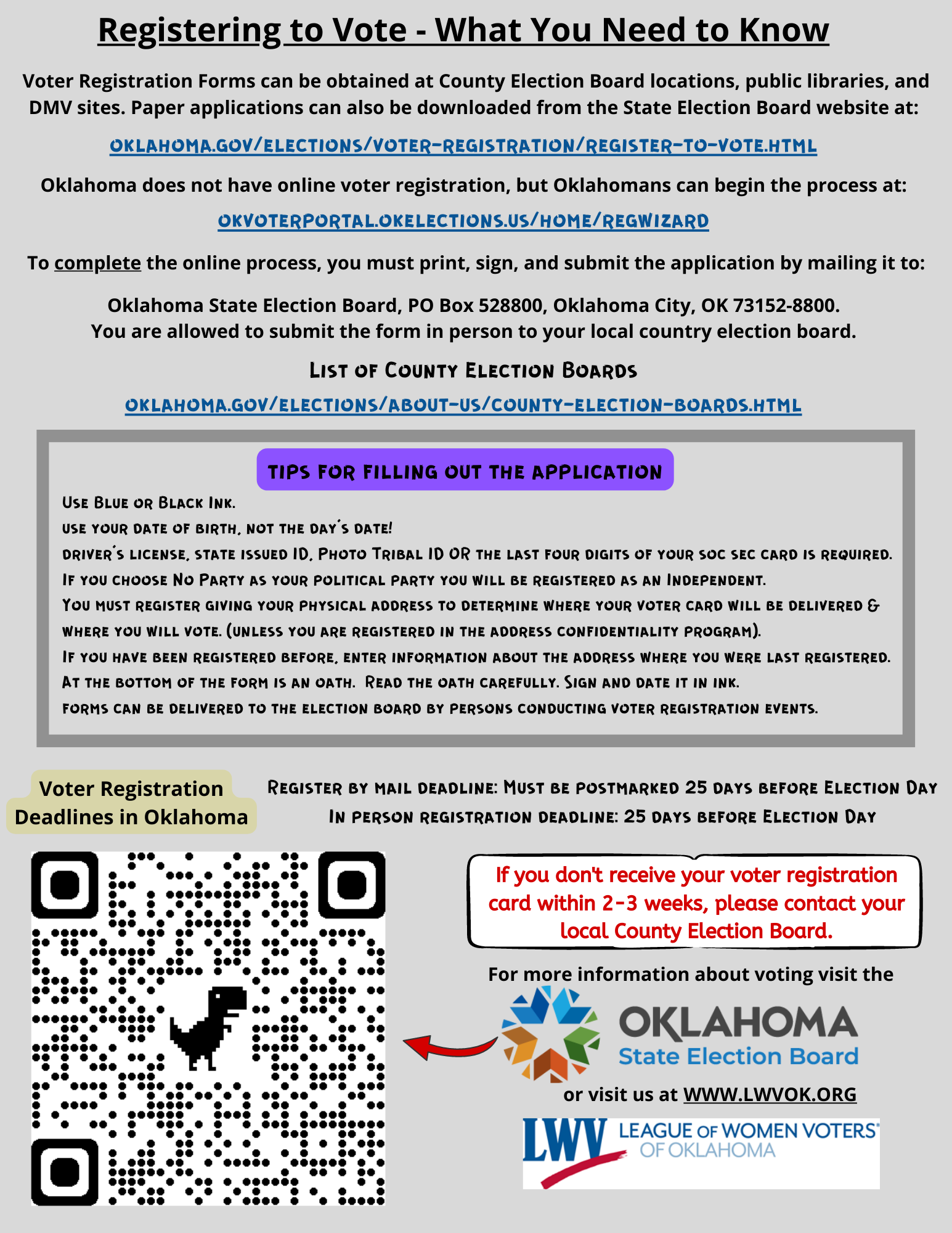 ============================================ 
 
After Prison, Many Oklahomans Are Banned
from Voting for Years
 click here for original article, June 18, 2018 from Oklahoma Watch
For Robin Wertz, the wait will be long before she can cast a ballot at an Oklahoma polling place.Wertz, who runs a nonprofit center in Oklahoma City that helps people transition from prison back into society, is prohibited from voting in any election until 2024. That's in spite of the fact that she has been out of prison for 11 years, works full-time, has never re-offended and can travel abroad with no restrictions.
"I've never even received a traffic ticket," Wertz said of her time since leaving prison. "It's like I'm still being punished."
Wertz, 54, is among the tens of thousands of Oklahomans who have been convicted of felonies but are unable to vote until their sentences have been completed, including completion of probation or parole. Just as Oklahoma's incarceration rate is projected to rise in coming years unless more reforms are enacted, the state also, by extension, could see a growing number of citizens banned from its voting booths.
As of last week, the Oklahoma Department of Corrections counted 27,131 incarcerated inmates and another 34,257 under community supervision, including probation and parole. Another 1,164 offenders were awaiting transfer to prison from jails. That brings the total number of people barred from voting because of felonies to more than 62,500.
The total is higher than the 58,302 estimated for the state in a national 2016 study of "felony disenfranchisement" by The Sentencing Project, a nonprofit that researches disparities in the criminal justice system. Oklahoma's number represented nearly 2 percent of the state's overall voting-age population. The organization estimated that 6.1 million people nationwide cannot vote in their state because of felony convictions – a figure that nearly doubled over the past two decades. Oklahoma's rate was slightly below the national average, the study found.  
============================================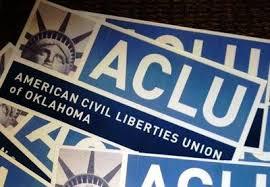 Voting With A Criminal Conviction In Oklahoma
If you were convicted of a felony in Oklahoma, you must fully complete your sentence before registering to vote. In Oklahoma, this means you must complete incarceration, probation, and parole. If you are released from supervision early, you cannot register until your original sentence handed down by your sentencing judge expires. Your right to vote is restored automatically at that time and no action on your part is required. If a court has issued you a deferred sentence you are eligible to vote if you meet all other requirements.
If you were convicted of a misdemeanor in Oklahoma, you can vote. If you are in jail, you have to vote by absentee ballot. You must request an absentee ballot in advance from your County Election Board, the State Elections Board. You can click on this number one to print and mail the absentee ballot. Click on this number two to file it online; you will be redirected to the Oklahoma Voter Portal where you will input your name and date of birth. Find and click on the box that says Absentee Ballot then complete your regustration from there. Please call the office for the League of Women Voters for assistance if needed.
Felon and misdemeanor information provided by the ACLU of Oklahoma. Click here to read this information in the full article and to view other legalities provided by Oklahoma's ACLU to understand rights related to incarceration.
Their address and telephone number is:
AMERICAN CIVIL LIBERTIES UNION OF OKLAHOMA
3000 Paseo Drive
Oklahoma City, OK 73108
405-524-8511
405-524-8511
============================================
Prison ministry leader helping eliminate confusion about felons' voter eligibility
by CARLA HINTON
Thompson, director of the Oklahoma Baptist State Convention's Prison Ministry, said over the years, she's heard stories from countless Oklahomans during her quest to inform them of their voting rights. The Oklahoma Baptist State Convention is the state affiliate of the National Baptist Convention USA Inc., the country's largest and oldest Black religious denomination.
The local prison ministry leader recently began partnering with Sen. George Young Sr., D-Oklahoma City, to clear up confusion on the voting eligibility of people who have been convicted of felonies.
As part of the effort, the two, along with Cam Cox and the Rev. Derrick Scobey, have produced a series of videos they are posting on social media. Each video includes Young interviewing people about their journey to have their voting rights restored after being convicted of a felony and Thompson also talks as well. The videos have been posted to the Facebook pages of Young, Thompson and Scobey.
Sen. Regina Goodwin, D-Tulsa, introduced a bill several years ago aimed at clarifying the conditions of voter eligibility. At the time, Goodwin said the wording of the existing law was confusing. In 2019, Goodwin sponsored the bill in the House of Representatives while it was sponsored by Sen. Stephanie Bice, R-Oklahoma City, in the Senate. Gov. Kevin Stitt signed the bill into law in 2019.
Thompson said the law essentially changed the wording to be more straightforward to say that a person convicted of a felony shall be eligible to register to vote when they have fully served their sentence of court mandated calendar days, including any term of incarceration, parole or supervision or completed a period of probation ordered by any court.
click here to read the full article
For more information, call Thompson at 209-6750 or email obscprisonministry [at] yahoo.com.