A small group of League members gathered late in November to discuss how our Civics Education program might proceed.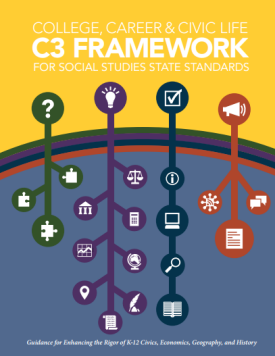 The meeting began with a brief discussion of  College, Career & Civic Life C3 Framework for Social Studies State Standards recently adopted by the State Board of Education to replace the History and Social Sciences Grade Expectations.  It was the consensus of the attendees that the program appears to micromanage how the  social sciences should be taught, and that Martha Deiss of the Vermont Agency of Education should be invited to speak to interested league members about the new standards.
We then addressed how the mission of our program could be accomplished.  The following list is a rough first prioritizing of possibilities.
"One Pagers" are electronic notices sent to teachers about current issues of interest.  Perhaps the League could provide such a resource, listing pertinent links on civic engagement and how our government works, annotated to give a thumbnail sketch of what each offers.
Video Contest for high school students on appropriate topics – How to Run for Office,  etc.
What Do You Do?  Another video project, not a contest.  Short videos produced by students, interviewing public officials at every level describing what the job entails.  This would be just one video for each office, from local (Selectboard, Planning Commission) to statewide. This would have to  be organized so one student interviews just one official, with no duplication of office.  We would have to figure out how to promote this and make the assignments.
Statewide Mock Election, done electronically.  We might partner with the Secretary of State's office to accoomplish this.
Other Thoughts:  Help with high school Capstone Projects, League members providing ideas and helping to identify resources.  High Schools use mentors to help students with problem subjects.  Could League members volunteer for this?  We briefly reviewed "Vote 18," a lesson plan for a facilitated interactive voting game for high school classes, designed by the LWV of Mobile, AL.  We thought perhaps retired teachers could be recruited for this activity, perhaps making it easier to get schools' cooperation.
We now have to decide which of these might be most doable, and find people to take a task on.  This program was adopted by the membership at our convention in June. Before that, several attendees at our meeting in Middlebury in August 2016 expressed an interest in working on this issue.  Now is the time to act on your interest.  
Issues referenced by this article:
League to which this content belongs:
Vermont