Your Go-To Voter Tool: VOTE411 | Upcoming Elections | Register to Vote! | Here's what's on Your ballot | Past Voter Guides
Your Go-To Voter Tool: VOTE411
Vote411 is the League's one-stop voter tool! It was created for you, the voter! Compare candidates, read the background and pros and cons of the Constitutional Amendments, build your ballot, print it, and take it to the polling place with you. This one-stop voter tool will let you know everything you need to know to be a confident, informed voter.
In the run-up to a General Election, you will find our Voters' Guide here. During the rest of the year, you will find links to information about your elected officials, your polling place, and your registration status.
Upcoming Elections
General Election Date: Tuesday, November 6th, 2018 General Election
Deadline to register to vote, or update an existing registration, is Monday, October 15th, 2018.
Deadline to request an absentee ballot to be mailed to you is 5:00 p.m. Tuesday, October 30th, 2018. Your request must be received by your Registrar by 5:00 p.m.
In-person Saturday Absente voting in for City of Falls Church eligible voters is Saturday, October 27th and and Saturday, November 3rd from 8 a.m. to 5 p.m.
To learn more about important Election dates and voter deadlines, go Virginia Department of Elections.
Learn about and compare the candidates who want to serve and represent You! Check out Vote411.org.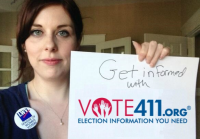 To register to vote, you can register online or change your registration at www.Vote.Virginia.gov, or you can download the voter registration application. You can also meet your Falls Church city staff at the Falls Church City Registrar located at 300 Park Avenue, Suite 101.
Register to Vote!
Please remember that photo identification is required to vote in person in Virginia. And, a photo ID is not required if you vote via absentee ballot.
To learn more about Absentee voting, voter identification, upcoming election dates, and how to become a candidates, visit City of Falls Church Election's website.
For all of your questions, contact the Falls Church Office of Voter Registration and Elections office at 703-248-5085 (TTY 711), or visit the Virginia State Board of Elections website for more information or call 1-800-552-9745.
Here's What's On Your Ballot
Federal races for Falls Church (22046) voters:
For the 2018 General Election (November 6th), you'll find these races on your ballot:
U.S. Senate (one) (six-year term)
U.S. Representative (one) (two-year term)
Learn About Past Election Issues and Former Candidates
The League of Women Voters of Falls Church maintains an archive of voters' guides it has prepared to inform voters about their choices at the polls.