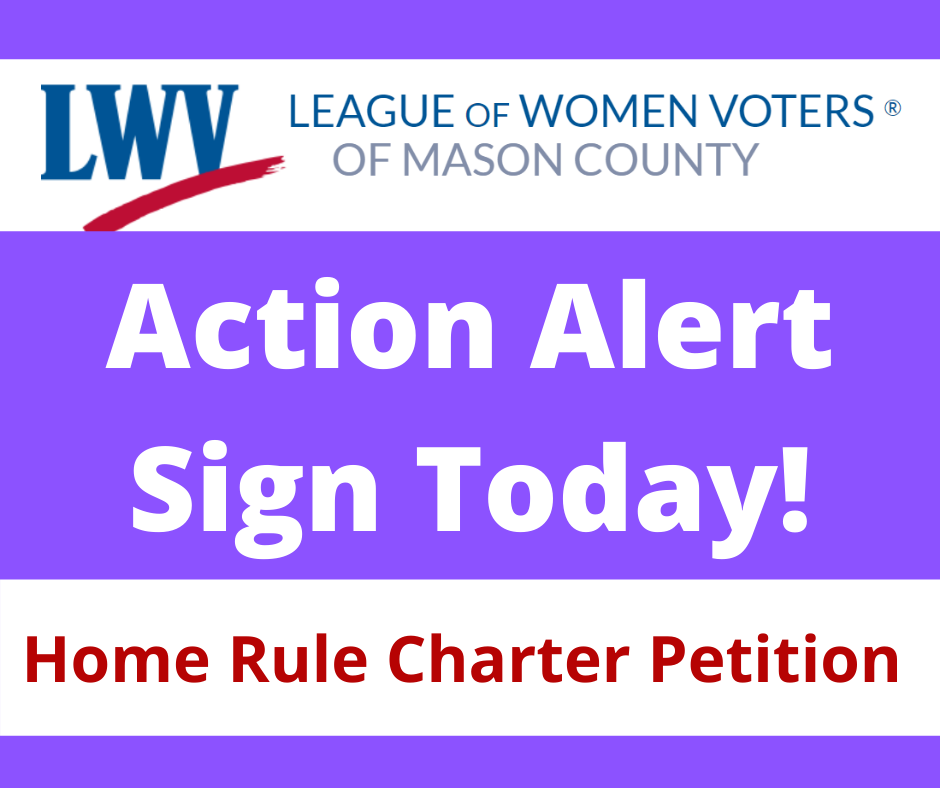 CONCISE EXPLANATION OF HOME RULE CHARTER
As a local League, we support the concepts, principles, and practices that make for effective local government. In advocating for Home Rule Charter (HRC), we should promote a system that is representative, accountable and responsive.
Home Rule Charter is a document designed by the community to be used as the guiding principles for local government operations. It offers opportunities to customize local government not readily available under the commission form of control. For instance:
Ability to increase the number of commissioners to provide wider representation.
Ability to delegate some or all of the commissioners' executive authority.
Ability to provide powers of initiative and referendum to county voters.
Ability to create and adopt a binding code of ethics.
The voters will ultimately decide whether home rule  better represents them, but first they must have the option to choose a formal study of home rule by electing freeholders who will then (with much input from the community) propose a charter to the voters in a countywide election.
The Freeholder Process:
Freeholders are an essential component to the Home Rule Process.  Freeholders are citizens who have been elected to carry out a singular, constitutionally mandated duty:  to write the home rule charter and propose it to the country-wide electorate. 
There are two ways in which Freeholder positions can be placed on the ballot:
By County Commissioners submitting a Resolution to the County Auditor
By signature petition
Since the County Commissioners have declined to submit a Resolution, an on-line signature petition is being circulated.  If successful, the County Auditor will open a "special filing period" for candidates to file for these positions. 
What does it take to become a Freeholder?
Candidates must be a registered voter
Candidates must be a resident in the county for a minimum of five-years prior to the election
Specifically to Mason County - a total of fifteen (15) Freeholders are elected - the top five (5) candidates in each commissioner district who receive the most votes
Freeholders take office the day following certification of the November election
Their term of office ends the following November election, or upon submission of a draft charter for a public vote, whichever comes first
All positions are non-partisan