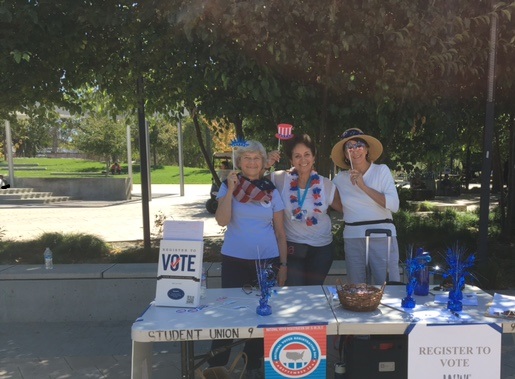 January 2020 Update:
Shawn Gilbert, Co-Chair, School Voter Education Team
We were at Antioch High on January 28, and registered 88 new voters. We will be returning a second day in the first week of February. 
We will be at Pittsburg High on February 10 to register seniors in their library.  
 Mt. Diablo High social science teachers have been registering seniors and will be holding a mock primary election on February 19. A date for LWVDV to be on their campus for registering is being determined.
May 2019 Update:
Shawn Gilbert, Co-Chair, School Voter Education Team
As presented at the April board meeting, Co-Chair Tammy Moulton is working on the map of election participation to determine the lowest turnout areas for us to focus on. It is fairly clear that East County is in need of attention.
I presented a History of Suffrage Powerpoint at DVC for their brown bag lunch series in March for Women's History Month.
A number of members did training and observation for the DVC Student Government election this month.
I've connected with the Student Activities' director and the College Career tech at Antioch High about partnering to develop a student position in leadership who will help promote student voter registration during the two times a year that the state has designated. We still are waiting to hear back from the state about the change in their second date for high school voter registration, due to the primaries now moving to March.
Finally, I spent a day recently in Mr. D. Busboom's government classes at San Ramon High doing voter registration. He was happy to have the League be available to do student registration. He wants to stay connected and would like me to come each semester next year.