THE FIGHT FOR WOMEN'S RIGHT TO VOTE
When the the U.S. Constitution was written in 1787 it did not delineate who was eligible to vote. This was left to the individual states. At the time, no state permitted women to vote.
In 1848 women began to organize to seek the right to vote. In 1890 the National American Woman Suffrage Association (NAWSA) formed out of a merger of previous groups. The NAWSA pursued women's suffrage at both the state and federal levels.
States and territories began to grant women the right to vote, but there was little success on the national level. Women in California gained the right to vote in 1911.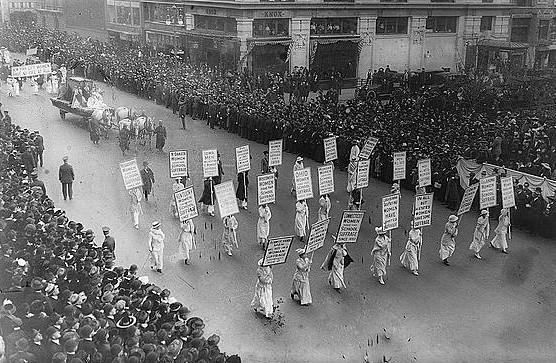 In 1913, just prior to the inauguration of Woodrow Wilson (who opposed women's suffrage) a massive women's rights march  was held. For five years American Suffragists continued to protest in front of the White House.
Finally, in 1918, President Wilson changed his position, and supported the adoption of the 19th Amendment to the constitution.
The 19th Amendment to the Constitution was ratified in August, 1920. It stated:
The right of citizens of the United States to vote
shall not be denied or abridged 
 by the United States or by any state on account of sex.