South San Mateo County
Be Informed! Be Active! Be Democracy in Action!
The League of Women Voters encourages informed and active participation in government, works to increase understanding of major public policy issues, and influences public policy through education and advocacy.  We never support or oppose candidates or political parties.

Watch our 2018 Candidates Forum Videos! 

San Mateo County Sheriff Candidates Forum - April 25, 2018

San Mateo County Superintendent of Schools Candidates Forum - April 28, 2018

Regional Measure 3 - Bay Area Traffic Relief Plan
Learn about the 
Future of Voting in San Mateo County
Important Information on Voting by Mail for June 5th Primary Elections

LWVSSMC Voter Services in Action!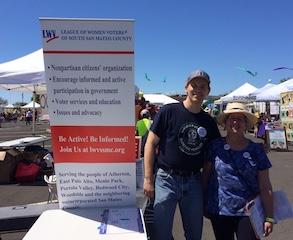 On May 12, LWVSSMC members Pam Jones, Kathleen Weisenberg, and Geoff Ryder, and SF Peninsula People Power members Charmaine Conui and Diane Leeds set up a voter services booth at Facebook's Bay Area Brew & FanFest held at Facebook headquarters in Menlo Park.   Our Voter Services volunteers provided voter registration assistance, LWV positions on ballot propositions, and Pros & Cons meeting schedules. 
LWVSSMC Upcoming Events