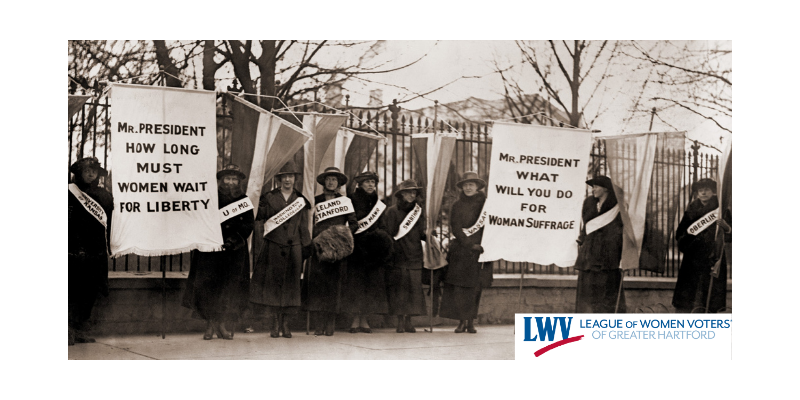 Never doubt that a small group of thoughtful, committed citizens can change the world.  Indeed, it's the only thing that ever has.

--Margaret Mead
Power of the Vote
The League of Women Voters celebrated its 100th anniversary on February 14, 2020. 
The attached 
presentation was given at Bloomfield Public Library as a way to celebrate our past and encourage one another to keep up the cause into the next century.
In The Beginning
Although Margaret Mead was speaking generally, her statement could be specifically directed to the League of Women Voters of Greater Hartford. The League has come a long way since its formation in 1923: paralleling the emerging suburban town where it was formed; tracking the changing lifestyles, interests and needs of the women (and men) who formed its membership; and finally, influencing the local, state, and national issues of its day. Consider the Town of West Hartford in the early 1920s—a rural area of 23 square miles with a population of about 8,000, three stores in the center, and housewives who visited local dairies for their daily milk supply. Yet West Hartford was progressive. It boasted a town planner, a regular town judge, chief of police…and, on September 13, 1923, a newly formed chapter of the League of Women Voters.
Four years earlier the leaders of the National American Woman suffrage Association heard Carrie Chapman Catt propose, "A League of Women Voters to finish the fight (for woman suffrage) and aid in the reconstruction of the nation (following the World War)." Although women had attained the vote in several states already, an amendment to the Federal Constitution was about to make national woman suffrage a reality. Mrs. Catt saw the League as a living memorial for the suffragettes. In February 1920, at the final convention of the National American Woman Suffrage Association, the League of Women Voters of the United States was formed.
The League, like the Woman Suffrage Association, was organized by state with local chapters, and it grew rapidly. In September 1923, the formal organization of the League of Women Voters of West Hartford was announced, with Mrs. Ernest Stiles as president. Our town had joined more than 30 other Connecticut towns with local Leagues, and a total state membership topping 3000.
Carrie Chapman Catt envisioned the National League as a non-partisan organization, providing political education for the 20 million new voters, working for needed legislation, and challenging the electorate to participate in government. The genesis of the League - embedded in the woman suffrage movement - meant that its early direction would be toward encouraging citizens, especially women, to make use of the newly-won franchise. An important aspect of that direction, however, was focusing on the intelligent and informed use of the franchise. Thus evolved the League's emphasis on issues and the program method: study, consensus, and action. The ultimate goal: to work toward the " success of democracy". The founders anticipated that this task would be completed in five years, at which time the organization would disbanded.
Our forebears would be proud. We, as members of the League of Women voters, continue to focus on study, consensus, and action, challenging the electorate "get out and vote", always moving toward the "success of democracy". We're still pursuing these important goals—75 years later.
Informing Our Members, Interesting the Public
League program in the early days was very comprehensive. With Leagues organized at the three levels of government (national, state, and local), League members found themselves plunged quickly into a myriad of national issues. And discussion was the order of the day.
Initially, general membership meetings were held. Attendance was a social, as well as an educational occasion. So, on "November 3, at the home of Mrs. S", the membership would gather in hats and gloves for a cup of tea, some sociability, and, incidentally, to hear the speaker--on a "topic to be announced"!
Recognizing that this method led to ew experts and a poorly informed total membership, League leaders gradually changed the format. Topics came to include state and local issues, with a chairman in charge of each subject and responsible for member education in that area. The committee members met in "units" to develop specialized information on an issue, and to plan program presentations to the local membership.
Our local membership has never been a group to shy away from the big issues of the day. Peace has been a continual agenda item as our League has charted its progress through the League of Nations to today's United Nations and US involvement in that organization's actions worldwide. International relations has long been a subject of concern—and interest—for our local League. The 1980's found our members wrestling with nuclear arms control in a national security study, as well as taking a hard look at issues such as election laws, jury selection reform, and public policy on reproductive choice. The '90's focused on such topics as national health care, economic welfare, mass transportation, and campaign financing.
Non-Partisan But Political, Then and Now
One of the primary reasons for the success enjoyed by the League over the years is its ability to be political, but non-partisan. We work hard to get out the vote and inform voters—with a reputation for never taking sides in a partisan way.
The League, as an organization, does not support or oppose candidates in an election, nor does it identify itself with the stand taken by a political party. It is oriented toward issues, not personalities, and lobbies with one and all to promote its position on the issues. League members, as individuals, of course may join and be active in political parties, and are encouraged to do so. Certain League Board members—visible as the "face and voice" of our League - must refrain from overt party activity or candidacy for office while they remain in positions of League leadership. But it's the League's constant attention to non-partisan action that has enhanced our reputation, and public support, for more than 85 years.
The League has proven its worth as a springboard from which members launch other careers. In 1983, Nan Streeter, a past League president and former Mayor of West Hartford, became State Senator. Many other League members can be counted, in the past and the present, in the General Assembly, Town Council, Board of Education, and on numerous local boards and commissions. Since 1975, men have been admitted as full members of the League. When Bill Meyer retired, he looked around at all the organizations in town and decided that the League of Women Voters was the most exciting one. It gave him intellectual stimulation and taught him in a practical way to be useful to the community. He joined committees and was an enthusiastic participant in studies of international relations, the future of West Hartford Center and the elderly in West Hartford.
The relationship between the Town and our local League has prospered over the years. The League is not only listened to, but sought out for, its informed opinions and its ability to serve as non-partisan moderator in times of stress. The League process—of study, discussion, and consensus - has not been tarnished over time, and indeed, has been gratefully copied by other groups.
The West Hartford League has always tried to be active in the region as well. In 1974 a committee took an in-depth look at our town's place in the regional picture—shared areas of interest concerns, and problems—and encouraged the town to seek innovative (and cost-reducing) ideas of combining services. 1983 saw us respond positively as the Metropolitan Hartford League turned to West Hartford for support—sharing membership lists, meetings, and mailings, while retaining autonomy in voter service and fundraising activities. The early 90's saw our League take the forefront in supporting regional educational activities efforts to improve urban education. And our 75th birthday marked our "formalized" effort to reach out on a regional basis. Our name is no longer linked solely to one town: we are now the League of Women Voters of Greater Hartford.
Although we continue to provide valuable services to the Town of West Hartford, we now are able to examine more regional issues as our membership expands beyond West Hartford. For example, in addition to focusing on the development of Blue Back Square and the Town Center of West Hartford, we developed a consensus statement on mental healthcare and got this consensus approved as a Regional Program at the 2003 State Convention.
We're justifiably proud of our yesterday, and are confident of our ability to confront the issues of today. But what of tomorrow? What will the League look like in 20 years? No one knows. Only that, when faced with the challenges of tomorrow, the League of Women Voters of Greater Hartford will be there.