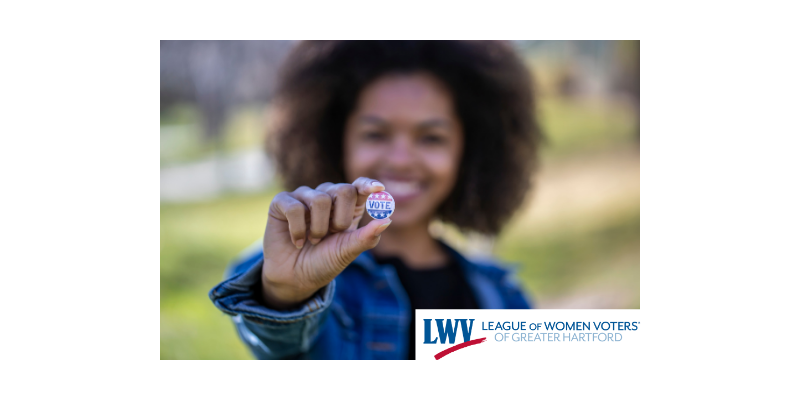 Early Voting is Coming
In 2022, Connecticut voters made their voices known and asked for early voting. Now the League is working with the Secretary of the State and others to help define how early voting will work. 
Stay tuned for how you can help!
Link to the Early Voting page
2022 Early Voting Toolkit from LWV Connecticut 
2022 Early Voting Program recording  and Spanish-language promotion
Vote 411
Vote 411 is a one-stop information center on current candidates, provided by the League of Women Voters.
From the home page, select "Find What's on Your Ballot." Enter your address to find your polling place, create your personalized voter's guide and find everything you need to vote! 
Absentee Voting
Not able to get to the polls on election day? You can apply for an absentee ballot. 
The State of Connecticut, via Public Act No. 21-2, June 2021 Special Session, has determined that the existence of the COVID-19 virus allows you to vote by absentee ballot if you so choose for your own safety.
Register to Vote
Are you 18 or older and a U.S. citizen? You are likely able to Register to Vote in Connecticut. 
Before You Vote
Confirm your registration information using the Voter Registration Lookup Tool. This is especially important if you have moved, changed your name or party affiliation, or have not voted for several years. 
Town Ballots are available through the Secretary of the State's website.

2021 Hartford Board of Education Ballot 
Voter's Guides: This year, we are using Vote411 to provide information about candidates. Our goal is to collect responses from candidates for Town Council and Board of Education for each town in Connecticut.
If you would like to help connect candidates in your town to Vote411, please let us know info [at] lwvgh.org (by email). 
Partners in Voting Rights
We are proud to work with other organizations in our state including Everyday Democracy and Hartford Votes! 
Other Resources:
How to host a voter registration event (link to come)
How to evaluate a candidate PDF (link to come)
How to listen to a debate (link to come)
Other resources are available through our state league.