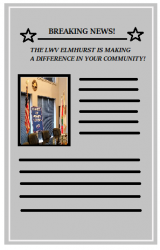 Stay current with updates about our efforts, as well as announcements about how you can keep democracy in action! Click on the link in red to get important infomation fast.
Elmhurst Articles
Looking for the latest headlines on relevant issues? Check back soon for articles related to the LWV Elmhurst and/or the stories we care about.
Want a peek at our monthly online newsletter,
The Voter
? Access multiple editions of the
The Voter
, plus other methods of keeping up with us, by clicking
here
.