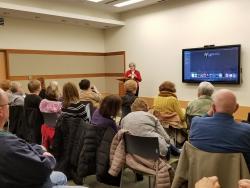 We host programs for the general public, special events for League members, and regular meetings for our Board. In addition, we offer information on events organized by  state and national Leagues. Resources related to past program are provided below; click on the links in red for further information. Please check back often for updates and view
our homepage
for details on upcoming events.
SATURDAY, FEBRUARY 15, 2020: Annual LWVIL Issues Briefing
On February 15, 2020, the LWVIL hosted Issues Briefing: 2020 Vision for the Future from

9:00 AM to 4:00 PM at the Northeastern Illinois University Student Union Building

. During this all-day conference, attendees gathered with legislators, community influencers, and issues specialists to coverse about a wide range of topics that impact every individual in Illinois. The event included a continental breakfast, two plenary sessions (that opened and closed the event), and lunch and afternoon break-out sessions. Click here for a recap of the 2020 Issues Briefing.
 FRIDAY, FEBRUARY 14, 2020 (100th Anniversary Celebration)

On Friday, February 14, 2020, the League of Women Voters of Illinois (LWVIL) celebrated a century as a grassroots nonpartisan civic organization! They hosted their centennial anniversary at the
Congress Plaza Hotel
in the Gold Room, the very room in which the League was founded in 1920. Attendees enjoyed remarks from community influencers and local and state legislators, a presentation of a state and city proclamation marking the significance of this date, a celebratory birthday cake, and much more.
SATURDAY, JANUARY 18, 2020 (Marching with the LWVIL)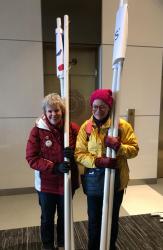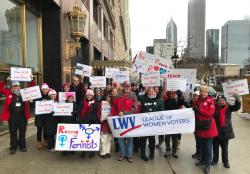 This year, the Chicago Women's March will be hosting TWO marches! The first was on Saturday, January 18, 2020.
We were "in charge" of the sidewalk on the last block of the five-block march (Adams between State and Dearborn), which was themed GET OUT THE VOTE. Thanks to everyone who braved the winter weather to represent the League!
THURSDAY, OCTOBER 24, 2019 (What You Need to Know about the 2020 U.S. Census)
According to the U.S. Census Bureau, "Partners are critical to the success of a complete and accurate count in 2020."  Thanks to all those who joined the LWV Elmhurst on Thursday, October 24, at 7:00 PM at the Elmhurst Public Library for an informational presentation on why your participation in the upcoming census matters. We are especially grateful for the time and effort of our speakers and our cohost, 
Progressives for Change
. 
THURSDAY, SEPTEMBER 26, 2019 (The Firearm Restraining Order [FRO] Law)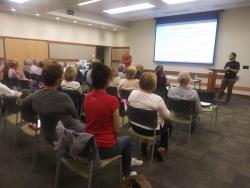 The impact of gun violence is undeniable--and often overwhelming.
On Thursday, September 26, our monthly program focused on the
Firearm Restraining Order (FRO) law. Presenters included representatives from t
he Illinois Council Against Handgun Violence and Moms Demand Action.
Those in attendance learned that FROs are at the center

of many "red flag" or "extreme risk" laws that have already been passed in 17 states and the District of Columbia. These laws allow family/household members or members of law enforcement to petition the courts to temporarily remove firearms from an individual exhibiting dangerous behavior.  

FROs have gained attention following increased rates of suicide, domestic violence homicides, and mass shootings around the country.Governor Bruce Rauner signed Illinois's FRO legislation in the summer of 2018. Like most laws, however, its impact will have more meaning in communities that are aware of the facts.
Thanks to those who joined us and those who gave their time to share their knowledge as presenters! Photos of this well-attended LWV Elmhurst event can be viewed
here
.