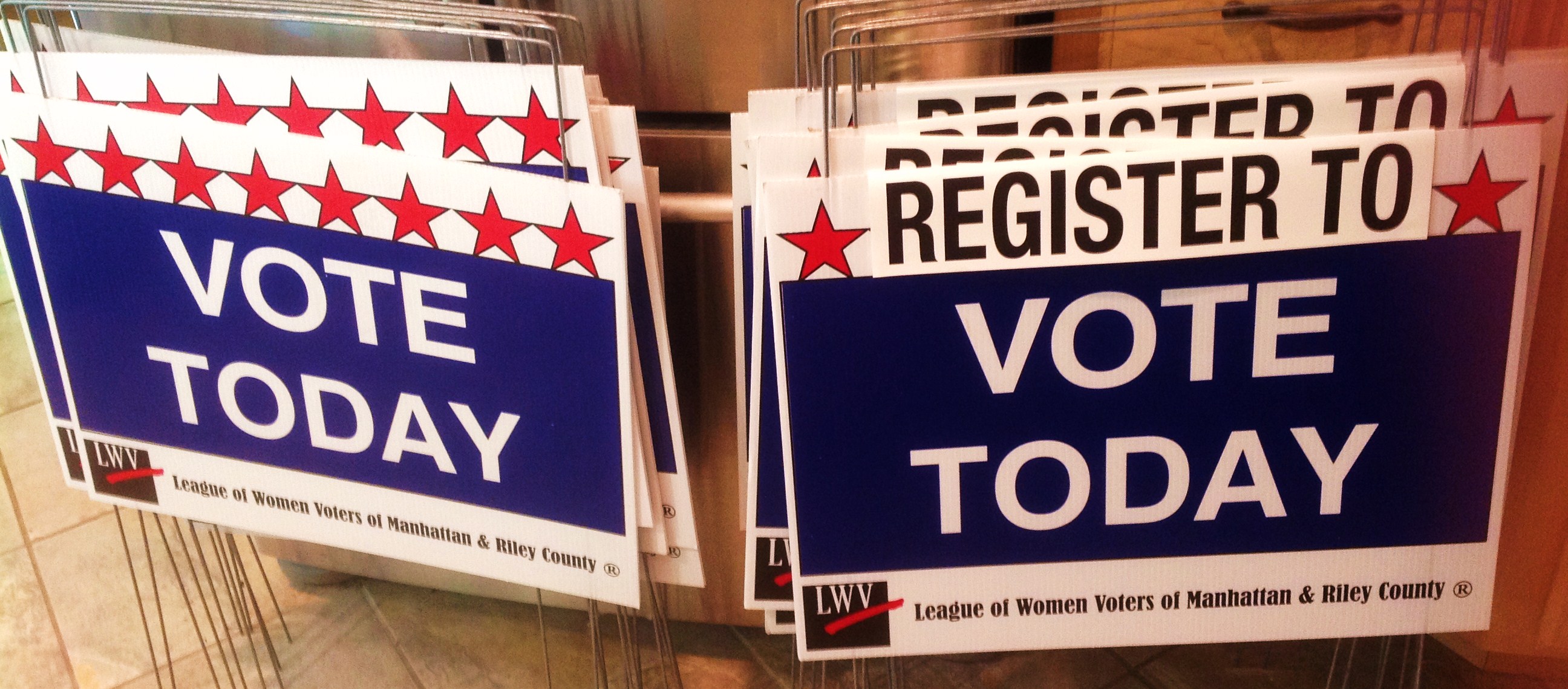 If you are here as a student and are away from your family home, where you should register to vote?
Should you register at your dorm or college address or at your old/family's address?  If you are already registered in your home town, are you required to change your registration?
Actually, you have a choice. You may choose either one...but only ONE.  There are advantages and some disadvantages to each...but the most important choice is to Register and Vote!
(Important note:  If you don't have a mailing address at another home, you must register at your new address to vote.)
 Registering (or keeping your registration) at your family's address:
The ADVANTAGE of registering (or keeping your registration)  at home is that you will be registered and won't have to mess with address changes. (Since re-registering can be done very quickly on-line now, it isn't the pain it used to be.) Some of you know your original community and feel you have a stake in the hometown election or you plan to return there and stay connected.  Then, you will likely want to vote at home or get an advance/mail-in ballot from home.
The DISADVANTAGE is that you will have to remember to  apply for an advance ballot and remember to send it in on time, or be willing to drive home on election day.  (If you are from out-of-state, that is really difficult!) With the current situation, many may want to get a mail-in ballot anyway.  (Evidence is that those with a mail-in/Advance ballot vote at higher rates.) If you are from out-of-state, you will want to check the requirements early for an "absentee ballot."  Some states won't let you vote without a notarized excuse. (Check Vote411 for requirements.)
Then how to fill out the forms? 
Put the address where you want to be registered to vote under "permanent address."  You will be officially registered to vote in that town and must request an advance ballot from that county (or state, if you are from out of state.) Put your college address under "Mailing Address."  You will want to get notifications about your status and they will be sent to your college address.
Registering at your university/college/school address:
The ADVANTAGE of registering at the university is that there is advance voting (voting a full ballot ahead of election day.) This will be at the Kansas State Union this year, so it is convenient to vote.  If you want to vote on Election Day, it will be at a site near your address. You will vote at your precinct on Election Day, usually at a nearby school or church. You can't just vote anywhere in town! You can look up or will be notified where you should vote. Besides being more convenient, registering locally means your vote will have an impact on local services.  Access to information to the candidates is easier, and you can walk to the polls with a friend!
The DISADVANTAGE is that when you move, even across the the hall in a dorm, you need to re-register.  (That is easy to do online.)
Then how to fill out the forms?
To register with your dorm, apartment, or college address,  put your new address in the section PERMANENT Address.  Do not put in your home town address.  Your mailing address will be the same address as your permanent address.  You will be officially registered to vote at that new address/new precinct.  You will not have the option to vote in your hometown. 
So...it really is up to you to choose where YOU want to be represented. Again, all of this means you will take that final step and Vote!
Thank you.
Next time you move (even across the dorm hall) or if you change your name or sex, you will need to re-register.  (That is much easier now and only takes a few seconds on-line.)
For more information:  
 A good place to start is: https://www.vote411.org/first-time-voter-checklist
A source for all information, including candidate answers (when they submit it)  is at : https://www.vote411.org/kansas#id-needed-for-voting