Working with Your League's Menu (Navigation)
Working with Your League's Menu (Navigation)
Click to watch a video explaining how to work with your menu.
The "menu" is another word for your League site's navigation or structure. 
There are two types of links on a menu: internal (meaning, links to content within your site) and external (meaning, links to content outside of your site). In the case of MyLO, links to any League site within MyLO, or any national level MyLO content, is also considered "internal." 
Manage Menu Items
To re-order the menu items or add new links, select MANAGE MENU from the Administer League menu in the left sidebar of your League landing page. The list of links that appears is your menu. You can rearange the order of and enable and disable menu items here.
Unchecking "Enabled" causes the item to not appear on the menu, but won't remove the item from the menu list.
There are a handful of menu items you want to be sure to disable rather than delete. For more on this, see Menu items not to delete.
This is especially valuable if you want to store a link for potential later use, but aren't ready to use it immediatley.
Add content directly to the menu from content edit form
You can also manage your menu by creating or editing the page of content itself.
When you are editing the content, at the very bottom of the form you will find a tab labeled "Menu settings."
Check the "Provide a menu link" checkbox to expand more options
Choose whether this piece of content appears at the top level of your menu by simply choosing your League name,  or
Choose another menu item to be the parent of this new piece of content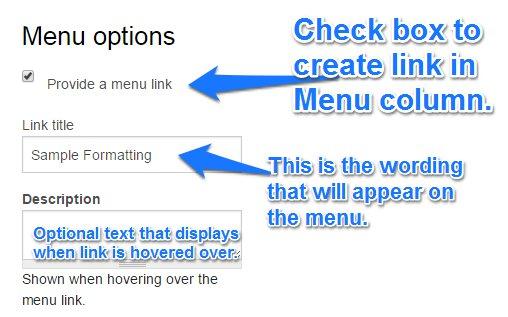 If you click on "Provide a menu link," a "Parent" field will appear that will allow you to place your content where you want it.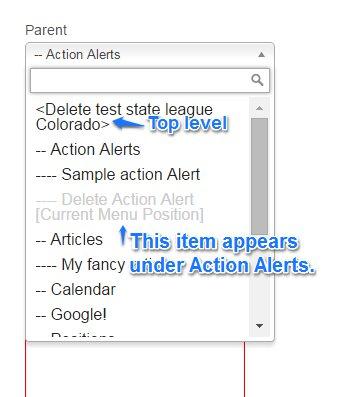 MyLO FAQ Category:
General, Menu, navigation, or site structure