MyLO Essentials for Beginners
MyLO Essentials for Beginners
MyLO Essentials for Beginners
Welcome to MyLO, your platform for bringing your local League online.
You are brand new to this and probably saying to yourself, "Ok, what do I do now?" The good news is that because you've chosen MyLO you already have a website ready to go and with a few changes you can be online quickly.
First Steps
Inspiration
The first thing you should to get started is to take a look at what other Leagues are doing with MyLO. You might find inspiration for things you would like on your own site. Links to all MyLO sites are listed on the MyLO homepage. Look at what a few particularly ambitious Leagues are doing with their MyLO sites:
Customize the Basics
Your site will look similar to the example below. The biggest difference is that your League Name will most likely be the name of your city (or state in the case of a state league). Since this is an example, the name is "Documentation Demo."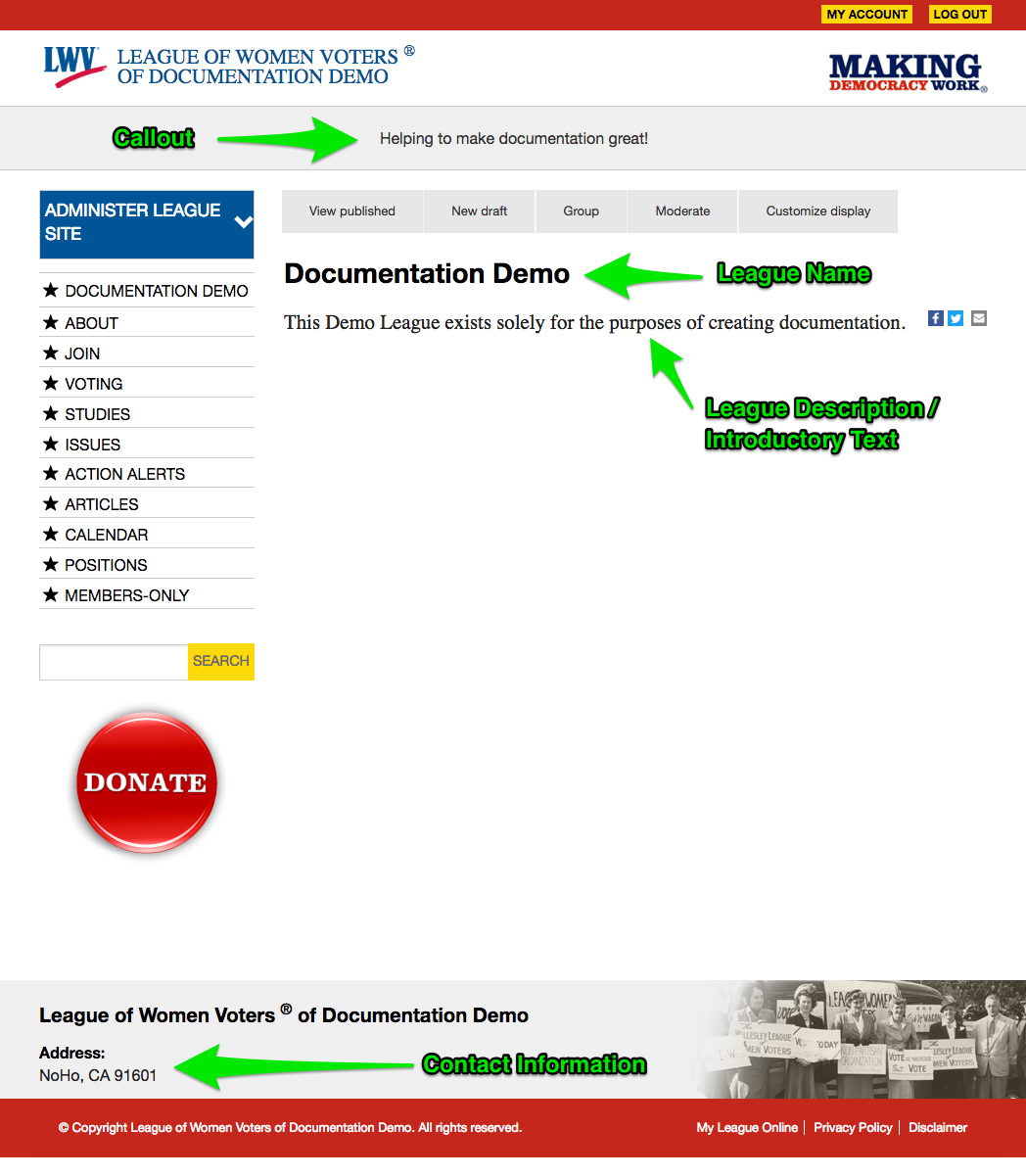 Your MyLO site already has a lot of autogenerated content on it. You should now change it to what is appropriate for your local League. 
Description & Introductory Text
The first thing you probably want to do is edit your League Description and Introductory Text.
Click "New Draft" or "Edit Draft" in the row of buttons below the Callout. A new page will load where you can edit the Introductory Text in the field labeled "Home Page Main Body Content."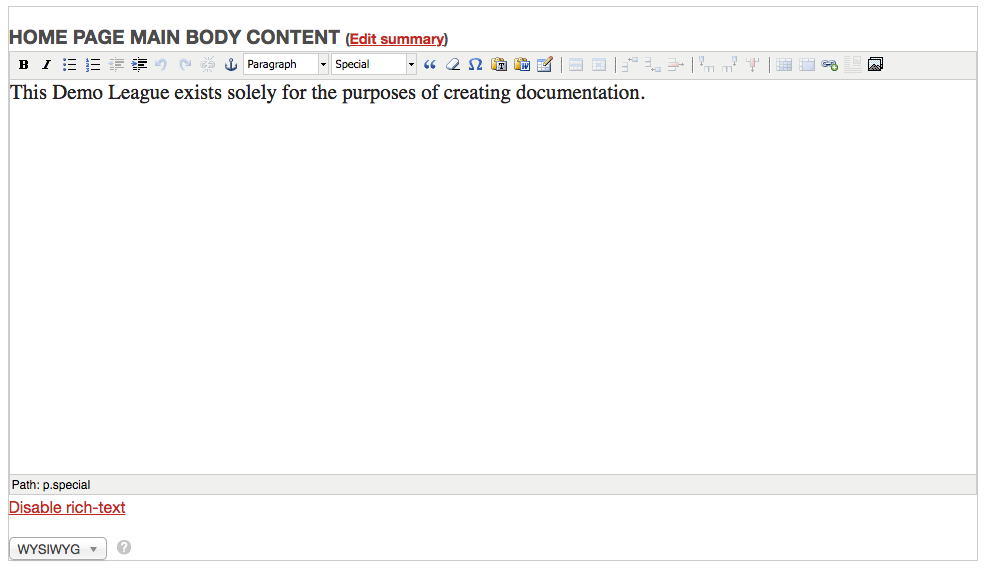 Change the text to whatever you wish and at the bottom of the page click "Save."
Please note that you have only saved a DRAFT of your homepage. The chanage is not visible to anyone but you until it is published.
To publish the change, once again click on "New Draft" or "Edit Draft."
At the bottom of the page, click on the Moderation State menu and change it from "Draft" to "Published."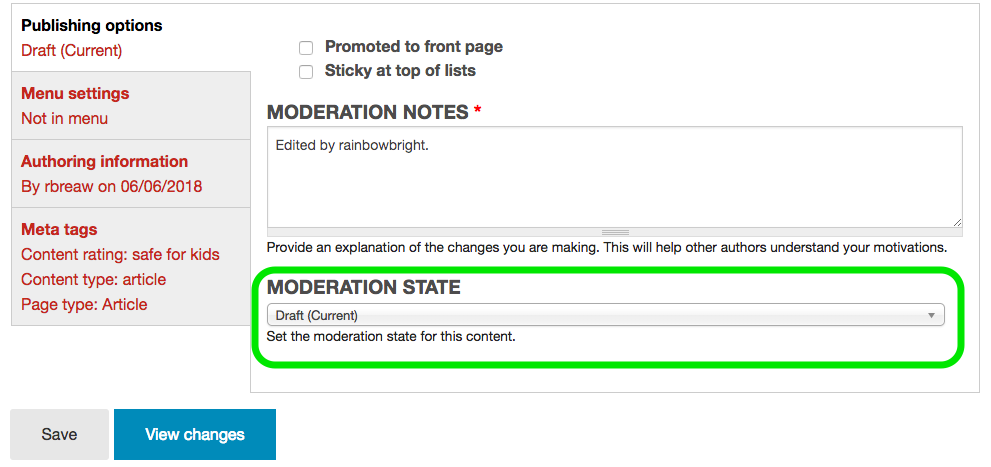 Click "Save" and your changes will be live.
Contact Information
The contact information for your League displays in the footer of every page on your MyLO site. You edit it from your League homepage just like you did with your Descriptive Text above.
The Edit League Contact Information page gives all the details for changing this for your League. 
Social Links for Footer
You add the links (URLs) to your League's social media accounts. When you add a URL to one of the fields, the link will display as a social media icon in the footer right next to your League's contact information. The social media button only displays when the URL has been added.
Here's an example of the buttons from the LWV Pasadena Area MyLO site:

The Edit League Contact Information page explains how to add/change these for your League. 
Callouts
The Callout is the grey banner near the top of all pages on your MyLO site. You have two different callouts that you have control over: the one on your homepage, and a second one for all other pages on your site.
To edit your Callouts, click on "New Draft" or "Edit Draft" on your homepage.
Scroll down to the section labeled "Callouts for the Top of the Page & Areas Served Fields."
Click on that text to reveal the fields.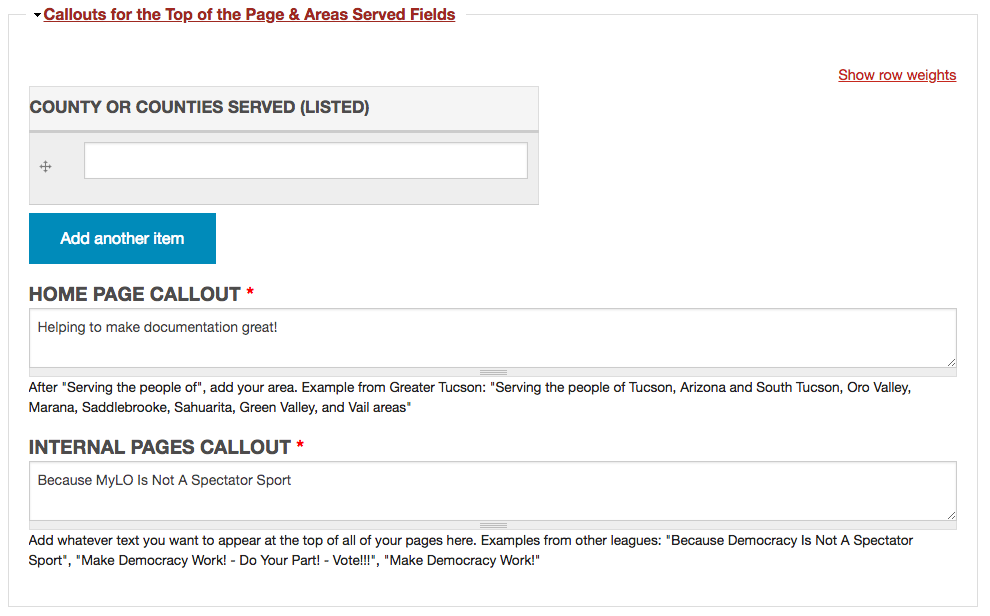 Change the Home Page and Internal Pages Callouts to whatever you like.
Click on "Save" at the bottom of the page. Remember that you need to change the Moderation State to "Published" for the changes to be live.
Subscriptions
One of the very powerful features of MyLO is that your site can automatically pull in content from other Leagues on MyLO. You can subscribe to content from the National League, State Leagues, and Leagues in other communities that you work with. There are four categories of content that you can subscribe to: Action Alerts, Articles, Events, and Positions.
The only limitation is that the League must use MyLO. If they do not, the Subscription tool cannot pull in their content. 
Click on "New Draft" or "Edit Draft" on you homepage.
Scroll down to the section labeled "Subscriptions."
Click on the text to reveal the fields.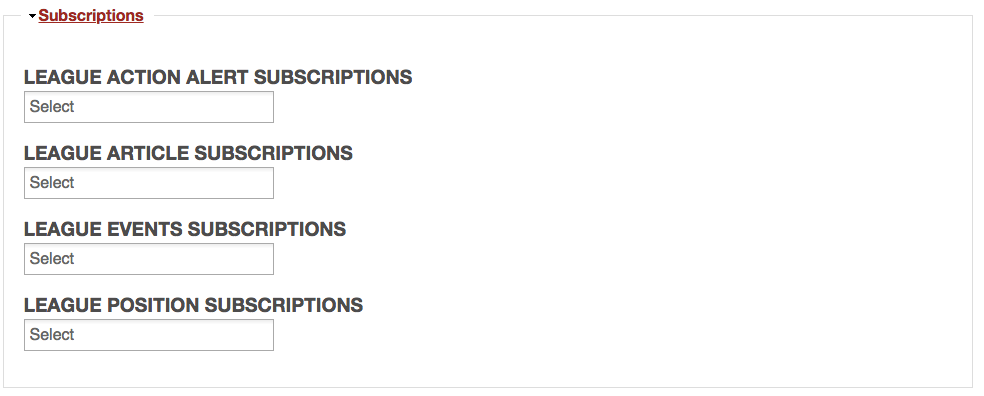 Clicking in a field reveals a drop-down list of all Leagues on MyLO.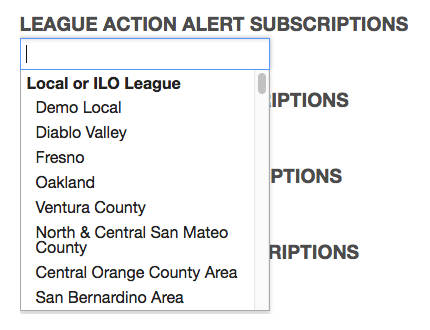 Clicking on a League in the list subscribes to that League's content of that type. You can also start typing a name to narrow the list down.
If you want to subscribe to the National League, type "US" in the field and select "the US (LWVUS)."
If you want to subscribe to a State League like California, start typing "CAL" and select "California."
Once you have subscribed to a League or two your page will look something like this.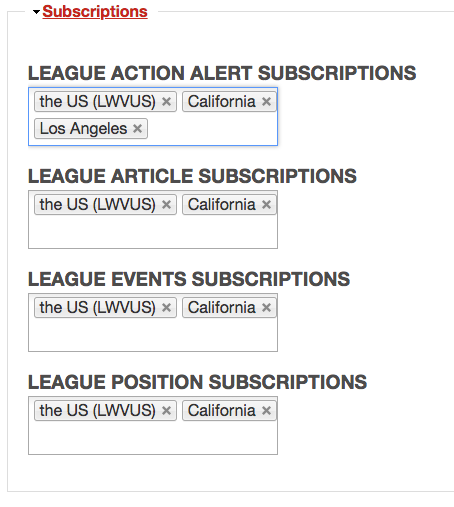 You can remove any subscriptions by clicking on the X next to the name of the League.
When you have made the selections you want, scroll to the bottom of the page and click "Save," remembering that the subscriptions won't be live until the change is "Published" as mentioned in the sections above.
Going Live
You have made several changes to your MyLO site. You are starting to like what you see. But right now, you are the only one who can see it. By default, MyLO sites start as "Private," only visible to the webmaster. You have to set the site to "Public" for everyone to be able to see it.
The document, Make your League Site public for the world to see, describes the process.
Second Steps: Customize Menu Pages
As mentioned previously, your MyLO site starts with a lot of auto-generated content. Some of it is ready to go—you should be aware what is there, but you can probably leave it as it. Some if it you will want to customize to your own needs. The pages linked off of your menu are what you will want to explore and customize next.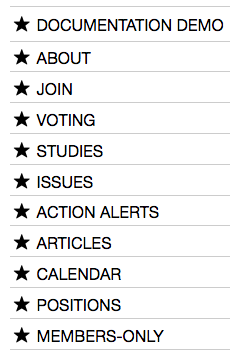 Editing, Formatting & Linking
You can edit any page your are currently viewing by clicking on the "New Draft" or "Edit Draft" button at the top of the page, just like you did on your homepage to make some basic changes to your website.
The Body field has a toolbar at the top which will help you customize the look of your text through formatting. There are a few documents with a good overview of formatting on MyLO.
Another important part of creating a website is linking to other pages.
Inserting Links, Including Email and Telephone Numbers will get you started with links.
About
The About page and its three sub-pages—Action and Advocacy, Education Fund, and Vision, Beliefs and Intentions—are already done for you. All of the text has been fully vetted and approved. You don't need to change any of it. It is probably a good idea to read through them so that you know what is on your website. 
Join
The Join page is the first of the pages that to which you will need to add some of your own customization. Currently the bottom half of the text has placeholder text referencing making a payment via PayPal without any links to actually make that work.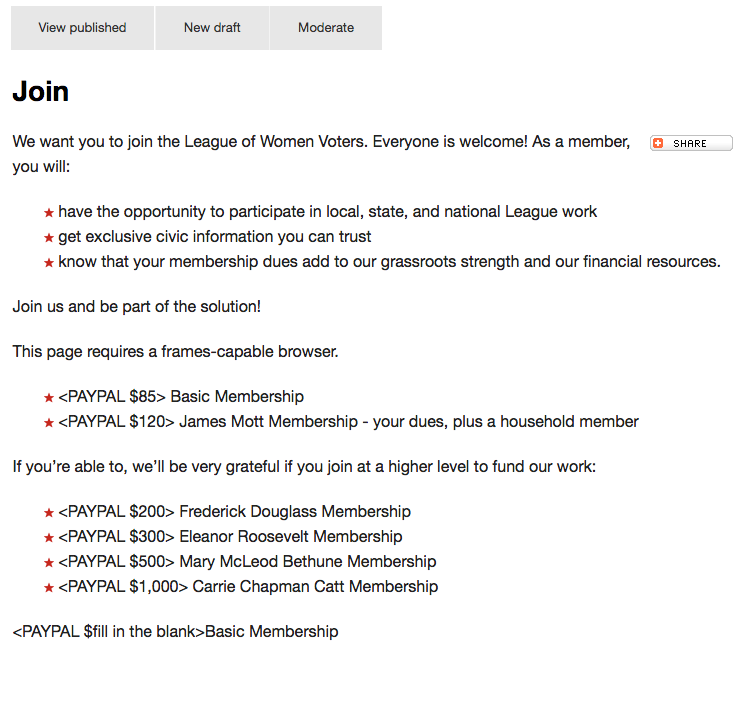 You will need to set up your own method for collecting payments and add that embed code to this webpage. PayPal and Stripe are two methods that other Leagues are using successfully.
The document, Embedding Videos, Forms, PayPal, 3rd Party Code, gives a good overview on how to accept payments on your site.
Voting
This is a page that you should customize for your particular League's needs. Currently is has two sections, the first for voters in California and the second for voters outside of California.
Both sections make use of embed code. If you haven't already, you might want to read the Embedding Videos, Forms, PayPal, 3rd Party Code document mentioned above. 
Also note that some Leagues like Los Angeles have decided to get rid of the Voting page all together and have added the voting widget to their sidebar. This is an advanced topic that won't be covered right here, but I want to make you aware that it is possible.
Studies
Studies is another page of fully vetted and approved text that you don't need to change if you don't want to do so. Again, it's a good idea to read through it so that you are aware of the content on your website. 
Issues
This page too is one with approved text. You don't need to change it if you don't want.
Some Leagues have decided to remove this page entirely and rework the presentation of their information. Los Angeles has changed their sidebar quite extensively from the default.  
Content List Pages
The last five links on the sidebar—Action Alerts, Articles, Calendar, Positions, and Members-Only—are not "pages" in the strictest sense of the term. They aggregate all content on your site of the same type, and content from any subscribed Leagues, and display it there in a list. Any Action Alerts you create will be listed on the Action Alerts page. Any Events you create will be listed on the Calendar page.
And yes, this where those League Subscriptions you added from First Steps come in to play. If you click on Action Alerts or Articles, or any of those links, you might already have content on your website contributed by the National League or your State League depending on who you subscribed to.
This is the Action Alert page on the Documentation Demo site.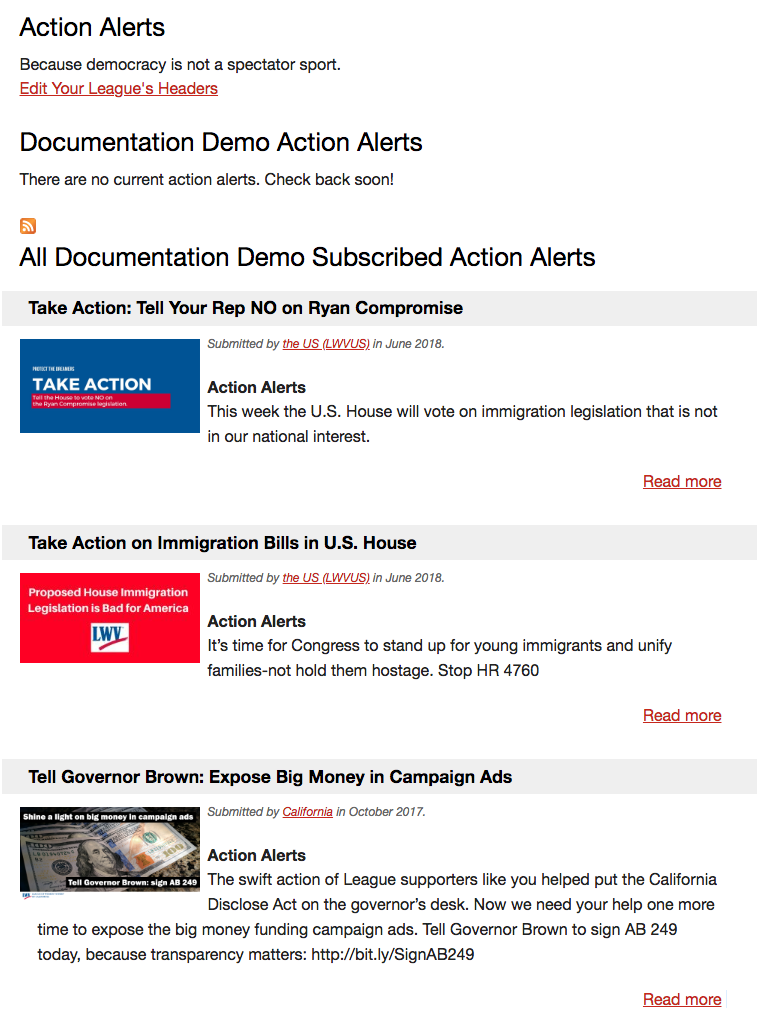 At the top is a default header. You can change the header by following the instructions on the Editing Custom Headers page.
Below that is a list of your Action Alerts. In the case of this example site, there are no Action Alerts because I haven't created any yet.
However, below that is the list of my subscribed Action Alerts. In the image above, you can see two from the National League and one from California. I didn't have to do anything to get that content other than subscribe to those Leagues as was previously described in First Steps above.
These pages have information about creating your own Action Alerts, Articles, and Events.
Further Steps
Beyond this starting point is a lot more you can do to customize your MyLO site. The main documentation page talks about how to get more information. This section of the document will eventually be expanded with more customization information.
These are pages that will help you expand your site.
MyLO FAQ Category:
League front, home, or landing page, General