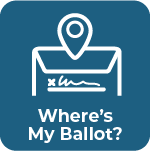 The Delaware County Election Bureau has mailed 114,760 mail-in and absentee ballots, the bureau reported Wednesday, Oct. 7.  
Everyone whose application was processed should receive their ballots sometime in the week of Oct. 12-16. Ballots can be returned through the mail, at drop-off boxes, and at the County office and at two satellite voter service centers.
The Election Bureau also announced:
Two satellite voter service centers – at Chester City Hall, 1 E. 4th Street, Chester, and the Delaware County Department of Human Services, 20 South 69th Street, 4th floor, Upper Darby – are up and running in addition to the Election Bureau itself at the Government Center, 201 W. Front Street, Media.
A new website https://delcopa.gov/vote/  is providing up-to-the-minute election news and answers to all your election questions.
A new voter hotline – 610-891-VOTE (8683) – is operating Monday through Friday 8:30 a.m. to 8 p.m. and Saturdays 9 a.m. to noon.
A mobile or "pop-up" voter service center will be held Oct. 16, 17, and 18 at the Saburu (Union) Soccer Stadium in Chester and other pop-up voting centers are being planned.  Voters can register to vote or apply for a mail-in ballot that they can receive and fill out on the spot.
Thirty-eight municipalities have approved drop-off boxes where voters can deposit their mail-in ballots, bypassing the Post Office. Most of the boxes have not yet been installed but it is expected they will be within the next couple of weeks.
In addition, the Election Bureau will soon launch a massive information campaign covering print, TV, and digital platforms to inform voters of all of these developments.
The bureau has been overwhelmed by telephone calls and workers are hoping people will use the new website and hotline instead as they continue to organize polling places and prepare for counting the ballots on Election Day.